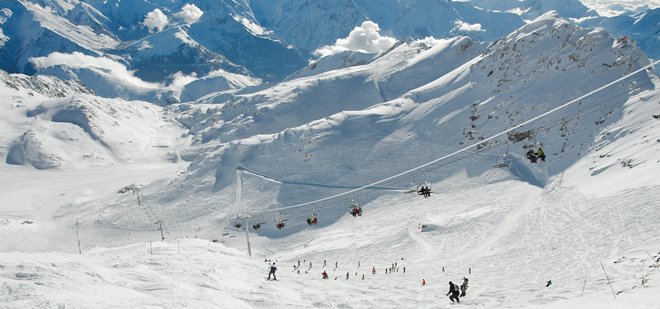 New lifts arrive all the time in the Alps; they are a part of the constant revitalisation of ski resorts everywhere. From new cable cars in Val d'Isere to the forward thinking implementation of disabled ski areas in Courchevel, constant innovation is a part of what makes skiing in the Alps so great.
Those changes, momentous though they always feel, rarely have as large an impact as the uncoming gondola link between Les Deux Alpes and
Alpe d'Huez
. Both previously known for their reasonable prices and snow sure slopes, this new link will change the face of ski areas in the French Alps.
Once the ski area is finished, it will have 800km of ski pistes, more even than the Trois Vallees and the Portes du Soleil. Between them Alpe d'Huez and Les Deux Alpes, along with the off-piste haven La Grave (currently linked to Les Deux Alpes), will have access to some of the best skiing in the Alps.
The new gondola will cut the journey between Alpe d'Huez and Les Deux Alpes down to just 18 minutes, and the construction of the gondola will cost 60 million euros in total. While a link between the two resorts has been routinely proposed for 30 years now, recent months have seen some genuine progress with approval finally being granted for construction to begin.
This is by no means an immediate development mind you; even with consent, work on the lift isn't set to start until 2018. If all goes to plan, the link between the two resorts will be finished by 2021, forming an enormous three resort area with three glaciers and some of the most reliable snow in the Alps.
We can't wait to see how the other European ski resorts react to the newest French mega ski area on the map.