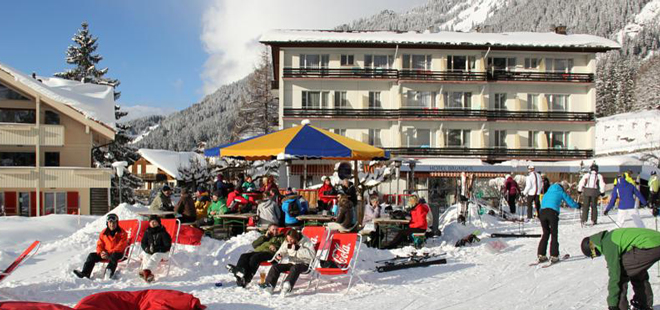 When it comes to buying ski property, the rules in Switzerland can be pretty exclusive, especially if you're buying Swiss property as a foreigner. There are, after all, tight laws about the size of the property you can buy if you don't have a Swiss B or C permit. What you need, if you're looking for Swiss ski property, is something a little outside the box.
So, why not turn your attention to hotels?
Hear us out, here; buying a hotel in the Swiss Alps when you started out looking for a luxury chalet isn't as mad as it might seem at first and there are plenty of reasons for it to be a better fit than you think. After all, a well run hotel can be quite an overseas investment. A well run hotel in Switzerland is even better; for example, the Hotel Caprice in Wengen is a stunning boutique hotel that would make a great investment for anyone looking that way.
Popular resorts like Wengen and Saas Fee rarely have larger properties for sale, and the ones that do come available are normally over the 250 sqm limit for foreign purchase. Hotels on the other hand, have no such problem, and can offer some much needed flexibility.
Somewhere like Hotel Brunner offers the sort of location that rarely comes up in chalets or apartments; ski in, ski out, right on the side of the piste with the kind of access most people can only dream of. While the Lodge in Lenzerheide-Arosa only caters to up to fourteen guests and forms a perfect example of a hotel that could be refurbished and adapted into a fantastic luxury ski chalet.
Elsewhere, buying a hotel can be a great way to get a foot in the doorway of resorts that might not have property readily available too often. Places like Les Crosets (one of the smallest and prettiest of the ski resorts in the Portes du Soleil, as well as being the highest of them) are normally amongst the more inaccessible ski towns for property buyers.
If you do choose to look into hotels for sale in the Alps, don't hesitate to get in touch with us; when it comes to buying Swiss property as a foreigner this is definitely an option worth considering.