Here we investigate which ski resorts have the quickest transfer times in the Alps. The ski resorts that allow you to glide from passport control to pistes in a single morning, from customs to chairlifts in a single afternoon or from flight to fondue in a single evening.

The Dream:
Snow-sure skiing, hundreds of kilometres of ski piste, a traditional village, a lively atmosphere, winter and summer use. These are just a few of the most-commonly cited criteria people look for when selecting a resort in which to buy a ski chalet or apartment.
Probably the number one, most common request though is proximity to an international airport.
Where can you buy a ski chalet with a transfer time of less than 90 minutes? Better still, where can you buy a ski chalet that you can drive to in 60 minutes?
The answer (unless you own a private jet) is almost certainly somewhere in the vicinity of
Geneva
,
Innsbruck
,
Salzburg
or
Sion Airport
.
So we have drawn up some maps showing the ski resorts within a 30, 60 and 90 minute radius of these 4 key airports. In addition to this, we have highlighted some of the resorts and properties that are less than a feature-length movie away from them and that tick some of those key boxes for prospective buyers.
Geneva: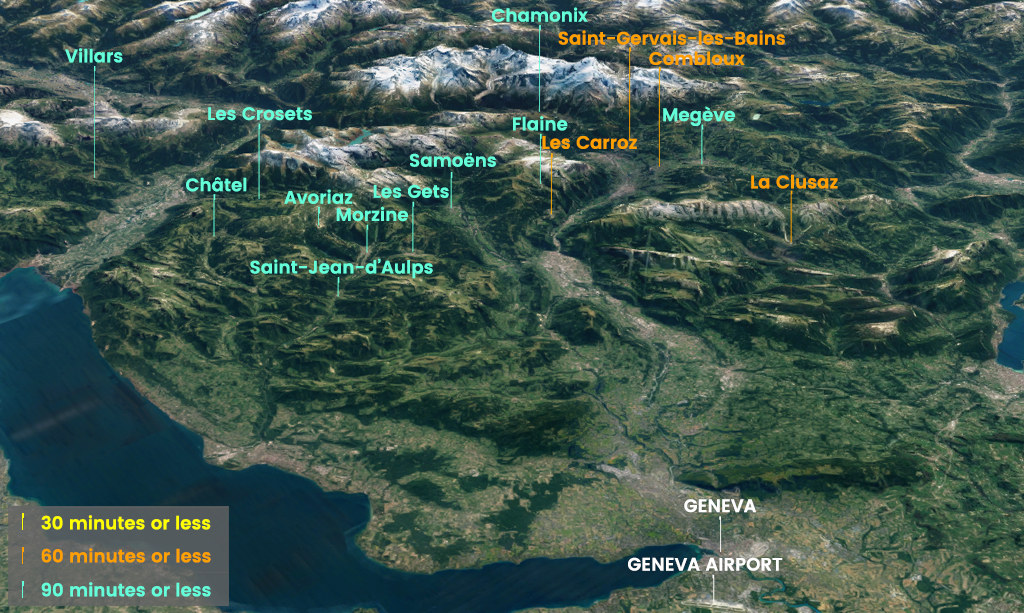 Geneva is Switzerland's second busiest airport, handling around around 15 million passengers every year. This won't be a surprise to anyone who has passed through Geneva Airport on a Saturday in the height of the ski season.
Superbly placed within the Alps, Geneva is the closest airport for the majority of France's major resorts as well as large number of those in Switzerland. The entire Portes du Soleil ski area, comprised of 13 interconnected ski resorts and home to over 650 kilometres of ski piste, is within reach of Geneva Airport in under 90 minutes.
Chatel
- a very traditional French ski village with direct access to some of the most exciting skiing in the Portes du Soleil - is a great option for potential buyers. Located in the centre of the resort and benefitting from spa and wellness facilities, La Perle de Savoie is our top property in Chatel at the minute, but there a few different apartment developments available here.
Imagine driving for an hour or less to reach your second home in the Alps though. Wouldn't that be great...
In
Les Carroz
this could be a reality. Here we have maybe
the
affordable apartment development of the moment in Le Grand Cerf. This development of 40 apartments is ski in, ski out in the centre of this beautiful village, your apartment will be fully furnished and a local agency is set up to manage rental. The 60 minute transfer time only adding to the appeal and the rental potential of these apartments.
Sion: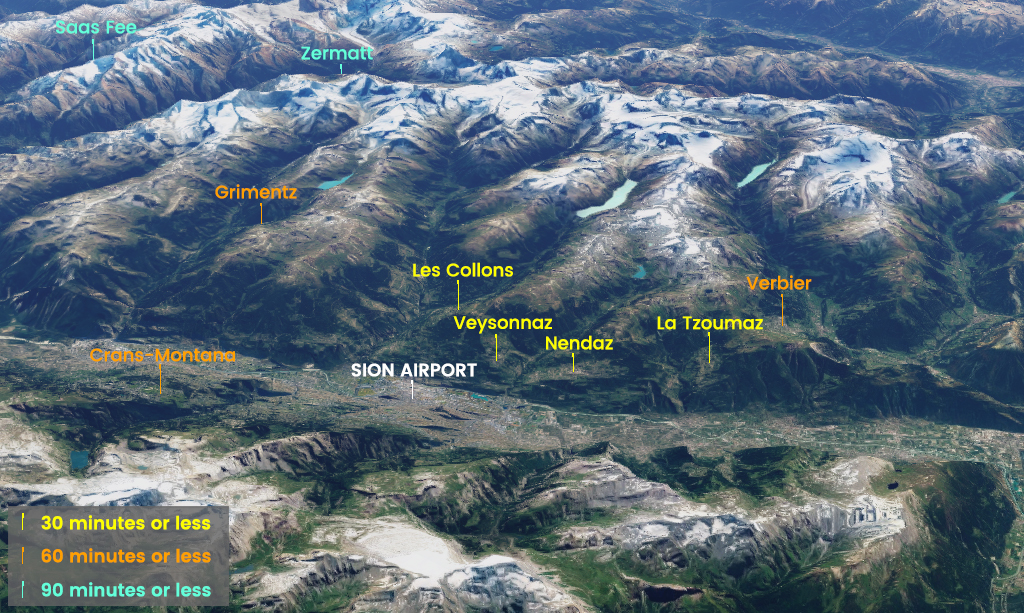 With the Swiss military soon to pull out of this airport, commercial airlines are moving in. Swiss Air trialled London to Sion flights in February 2017 and Irish airline PowdAir will be commencing a winter charter service to Sion from destinations across the UK and Belgium for the 2017/18 Winter Season. So all the signs would suggest that flights into Sion are going to become more and more prevalent.

This is great news for Valais skiers, owners and prospective buyers alike as transfer times could be reduced by more than 50% when flying to Sion rather than Geneva.

Anyone looking to buy an apartment or chalet in the Swiss Alps should be happy to see transfer times also slashed for the snow-sure village of Saas Fee - a quaint village with an incredible snow record and a good range of renovated, new and resale properties on the market. Property prices in Saas Fee, given the altitude and the charm of the resort, are very reasonable. Chalet Pyrit still has a newly renovated duplex apartment available (in a ski in, ski out location!) and would make a great base in the Alps for a family.

Perhaps the biggest winners, though, from the growth in stature of Sion Airport are the 4 satelitte resorts in the Verbier ski area (the 4 Valleys) - Veysonnaz, La Tzoumaz, Nendaz and Les Collons - which are all less than 30 minutes' drive away.

Of which, probably the most compelling for potential buyers are Les Collons and Veysonnaz.

Les Collons sits above an extremely picturesque valley with access to some of the most scenic and quietest pistes in the region. Here you can have a 4 bedroom chalet built to order for just under 1 million CHF. You can have total control of the finish of the property and will end up with a chalet with great views, miles of skiing and plenty of space.

Veysonnaz is around 20 minutes from Sion Airport. The drive up to the resort is easy and there is a great range of new and newly renovated properties here, which tap directly into the middle of the Verbier ski area. The resort is built around a traditional mountain village and has a selection of great bars and restaurants.

Innsbruck: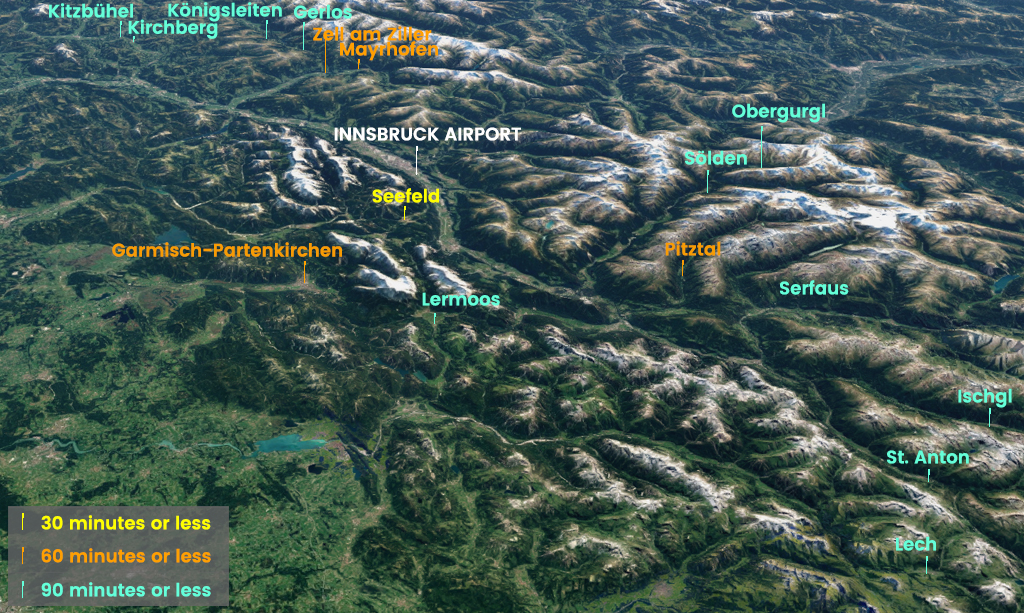 Austria's third biggest airport, Innsbruck offers direct transfers to a wide range of ski resorts at the western end of the Austrian Alps. From St. Anton in the west to Kitzbühel in the east, a great many of these transfers take, on average, 90 minutes or less.

Obergurgl, 90 minutes from the airport, has a flourishing property market with 3 well-priced new apartment developments currently available. With snow-sure, high-altitude skiing, a traditional village feel and easy international access via Innsbruck, this resorts ticks most of our clients' boxes and has proved a top-seller in Austria.

Just 60 minutes from the airport, Mayrhofen is a great option too for skiiers seeking a dual-season resort with easy international access. There is just 1 apartment left in the Mayrhofen Apartments and when you factor in this rapid airport transfer alongside the spa and wellness facilities, managed rental and the vast amount of skiing in the Zillertal Valley, you can see why this development has proven so popular.
Salzburg: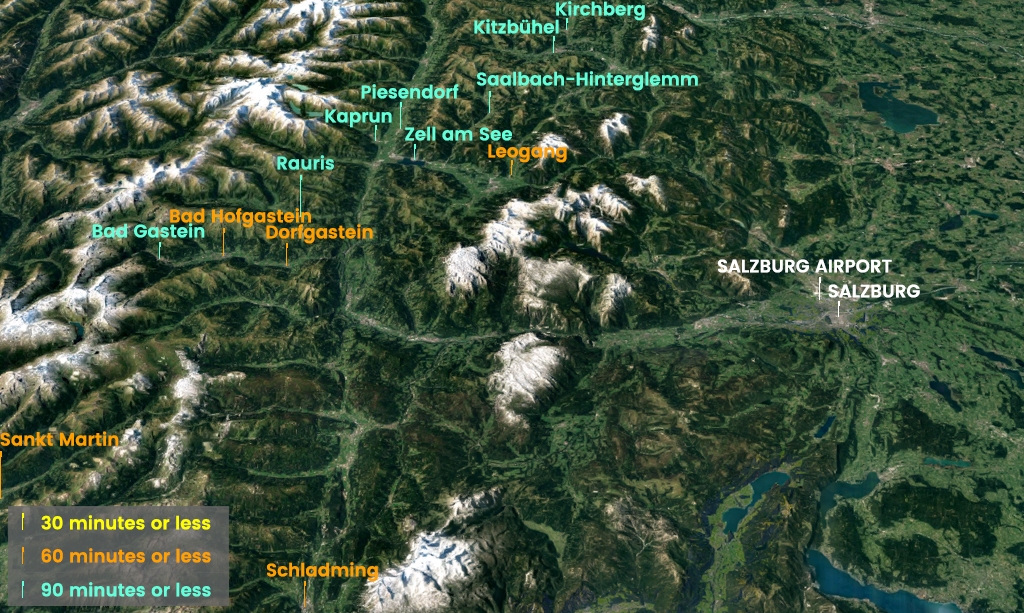 The final place to look for ski resorts less than 90 minutes from an international airport is in the vicinity of Austria's Salzburg Airport. The second busiest airport in Austria, Salzburg handles around 1.8 million passengers per year many of whom are headed for mountains directly south of the airport.
Most transfers from Salzburg are in the 60 to 90 minute range with only Schladming of the big name resorts coming in under the 60 minute mark.
Zell am See
and Piesendorf are some of the quicker transfers in this area, both around 1 hour and 15 minutes. These resorts are great options for a dual-season base in the Alps, especially as Salzburg has flights scheduled year-round.
The Zell am See/Kaprun/Piesendorf area offers glacier skiing, the scenic combination of lake and mountains and plenty of shops, restaurants and bars, particularly in Zell am See. The Kitz Apartments, therefore, tick a lot of boxes for potential buyers including the "under 90 minutes from airport" box. With the Kaprun Mountain Retreat offering a more affordable alternative.