The idea of arriving for your ski holiday by rail is an attractive one. Travelling by rail can be a relaxing and civilised experience in a way that a journey by road cannot - a reminder of a bygone era of tourism. In this article we investigate the best ski resorts in the Alps for access by rail.
Straight away we should make it very clear that we are not talking about getting the train all the way from London/Paris/Amsterdam to the Alps. With the demise of sleeper trains across Europe, this is just too time consuming, expensive and frequently requires sleeping in upright chairs rather than cabins (e.g. Eurostar's ski train from London to Bourg St. Maurice). Instead, we are talking about transfers from airport to ski resort by direct rail.

Why travel by train?
You might not have considered using railways for your resort transfer before. Perhaps you have got used to the hassle of renting a car. Or you might have become accustomed to shared minibus transfers, but for property owners especially there are some useful benefits of travelling by rail.
1. More flexibility.
If you own a property in the Alps the chances are you will have friends, family and relatives visiting you at various times and from various different locations. If you have older kids they might want to head out to the Alps for a weekend with friends and older relatives may not feel up to driving the mountain roads.
A ski resort that can be quickly accessed by rail provides a solution to all these problems allowing you to maximise the usage of your chalet and saving you shuttling people from the airport to your holiday home.
2. Less hassle.
Renting a car from Geneva Airport during peak season can be a grim experience. After an early morning flight, a wrestle with luggage and a savage queue at the rental desk, a long journey up to your chalet or apartment can be truly draining. Getting the train - especially from Geneva where it is so easy to get to the station - makes a lot of sense and removes a lot of the hassle. Rail journeys in the Alps can be scenic, trains are spacious and the whole process is more relaxing.
3. Added sense of adventure.
There is something to be said for getting a train to go on any holiday but the idea of a train whisking you up the mountains adds a drop of adventure to the whole process. With stunning scenery and large windows designed for the lazy sightseers, the train up to Zermatt captures this idea perfectly.
France - Not really an option
If you are thinking of buying in a ski resort with access from the airport by train then you should rule France out straight away.
Saint Gervais Les Bains has a mainline train station but the route from Geneva Airport is extremely convoluted (3 trains and approximately 4 hours of travel as opposed to a 1 hour drive).
Similarly getting the train to Chamonix is possible but the route is very inefficient and in spite of a funicular railway linking Les Arcs with Bourg St. Maurice station, there is no quick way of getting from an airport to this area by rail.
Austria - A handful of very good rail-to-resort links
In Austria, on the other hand, there are a number of ski resorts - some of them big names - where it is both possible and very convenient to get a rail transfer from the airport.
Top of the list is St. Anton. With the help of a short bus to link the rail station and the airport, you can get from Innsbruck to St. Anton in just over an hour. St. Anton is also accessible directly from Zürich Airport in around two and a half hours.
Other straightforward options include Zell am See, which is accessible from both Innsbruck and Salzburg in around 2 hours 20 minutes, and Bad Gastein, which is 2 hours 20 minutes from Salzburg Airport.
Kitzbuhel is another good option with trains running to Innsbruck in just 1 hour and 20 minutes.
Switzerland - Many quick, easy transfers & scenic routes
In Switzerland there is a large number of ski resorts linked up to major airport by rail allowing some genuinely rapid, convenient transfers. What's more, resorts like Wengen, Mürren and Zermatt are solely accessible by rail and routes like the Glacier Express are popular not just for their convenience but for the scenery and sense of adventure involved.
Whether due to the timing of the development of ski villages, the topography of the Swiss Alps or just a Swiss attraction to railways as a mode of transport, this seems to be the place to focus if you want a resort that is easily accessed by rail.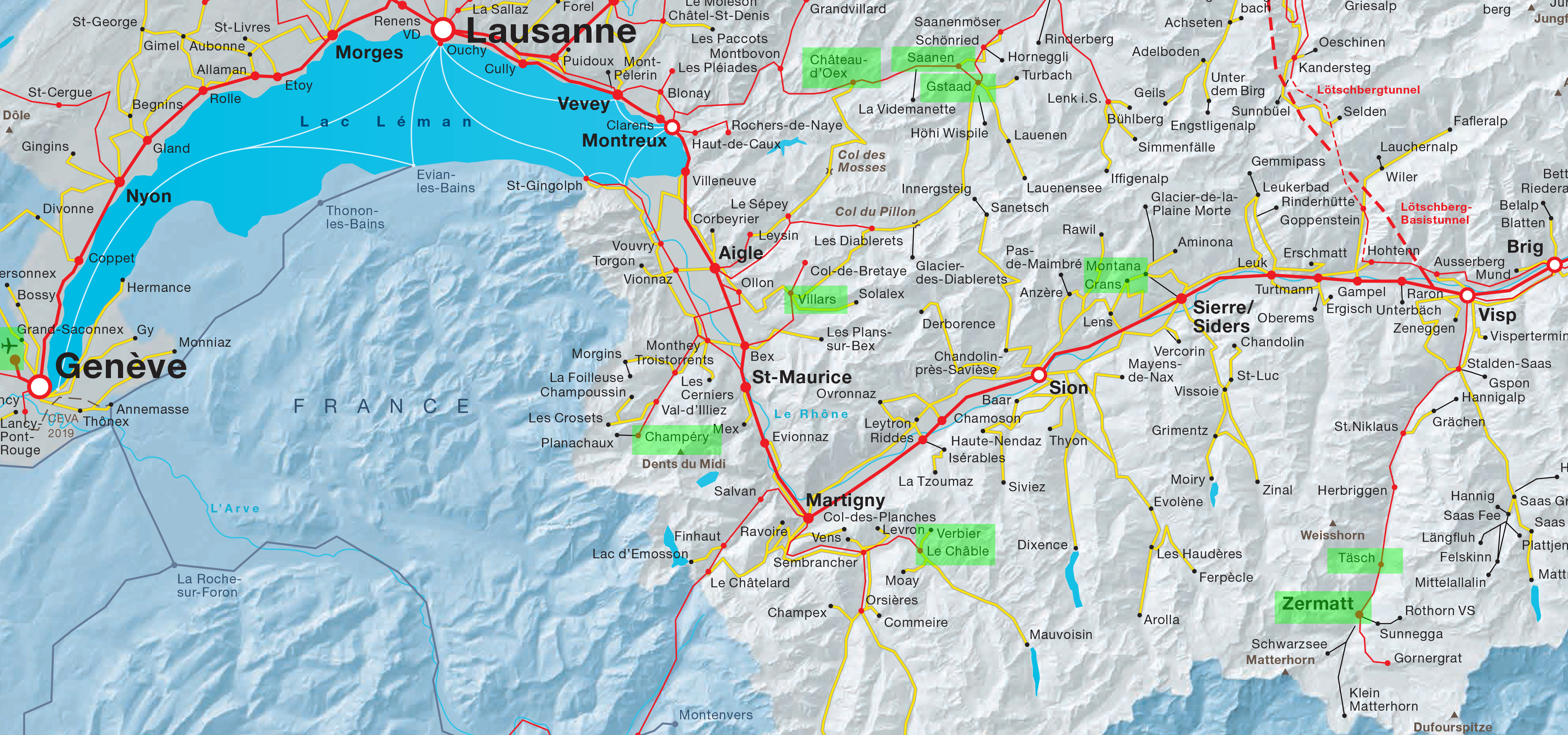 On the map above you can see rail connections (red), buses (yellow) and cable-car connections (black) eminating from Geneva Airport where the train station is just a 5 minute walk to the left out of the arrivals hall.
The IR90 runs from Geneva Airport to Brig providing rail and bus connections to a large number of resorts in Vaud and the Valais. Villars and Champery can be reached in 2 and a half hours and Gstaad, Rougemont & Chateau-d-Oex can be reached in under 3 hours.
In November 2018 the Le Châble train station redevelopment was completed allowing passengers to transfer directly from the train to the Verbier cable-car. Two years in the making, this development means it is possible to reach Verbier in 2 and a half hours from Geneva Airport - a major investment in the future of this iconic resort.
Crans-Montana is accessible by funicular railway from Sierre station, allowing passengers to get from Geneva Airport to the centre of the resort in approximately 3 hours.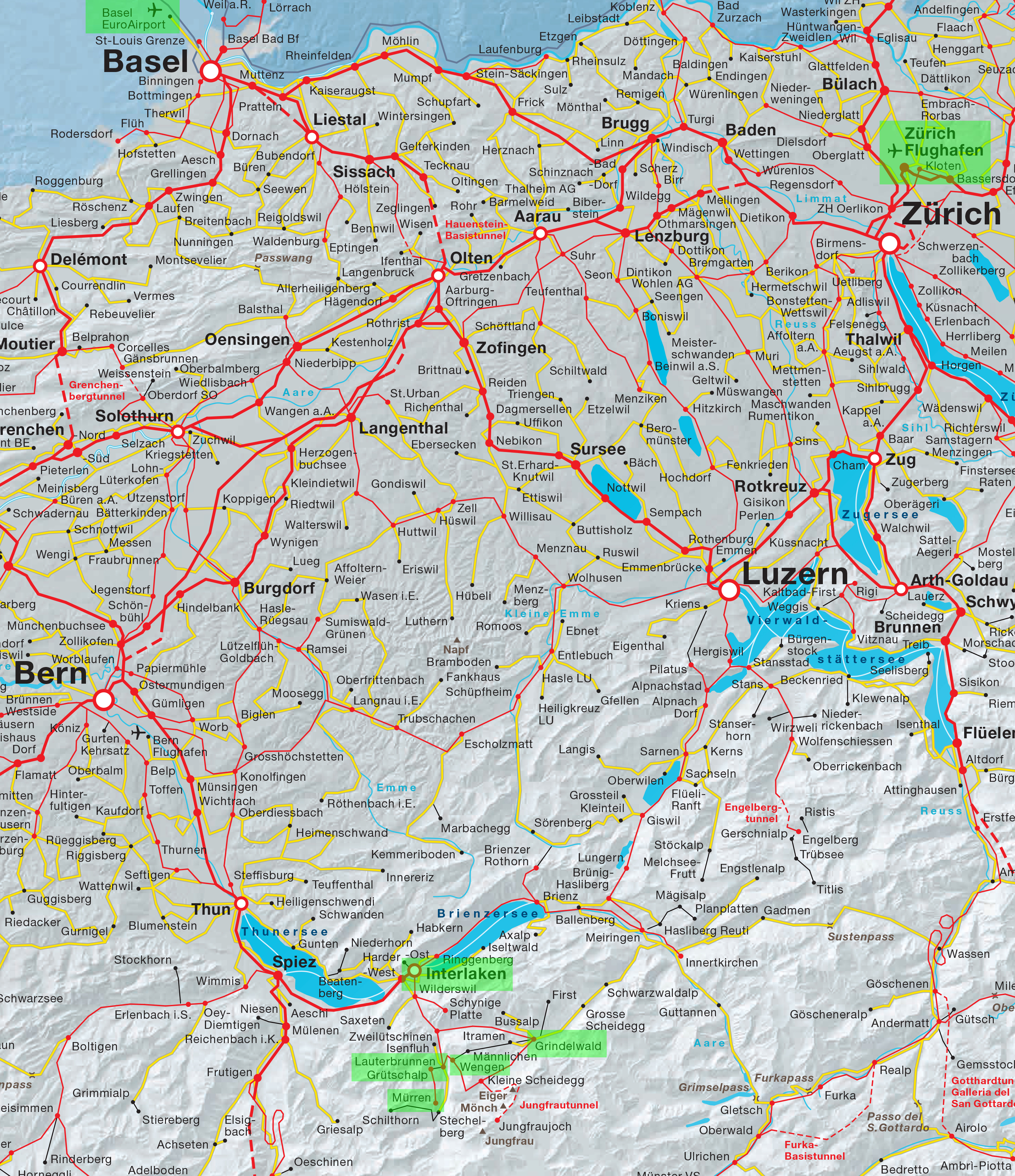 Then there is the Jungfrau region, an area developed on the back of a network of mountain railways. The key hub for this area is Interlaken which can be reached in 2 hours 20 minutes from Basel and Zürich Airports and 3 hours from Geneva.
From there the journeys up to Lauterbrunnen, Wengen & Mürren (cable-car connection) are between 20 and 40 minutes and offer exceptional views.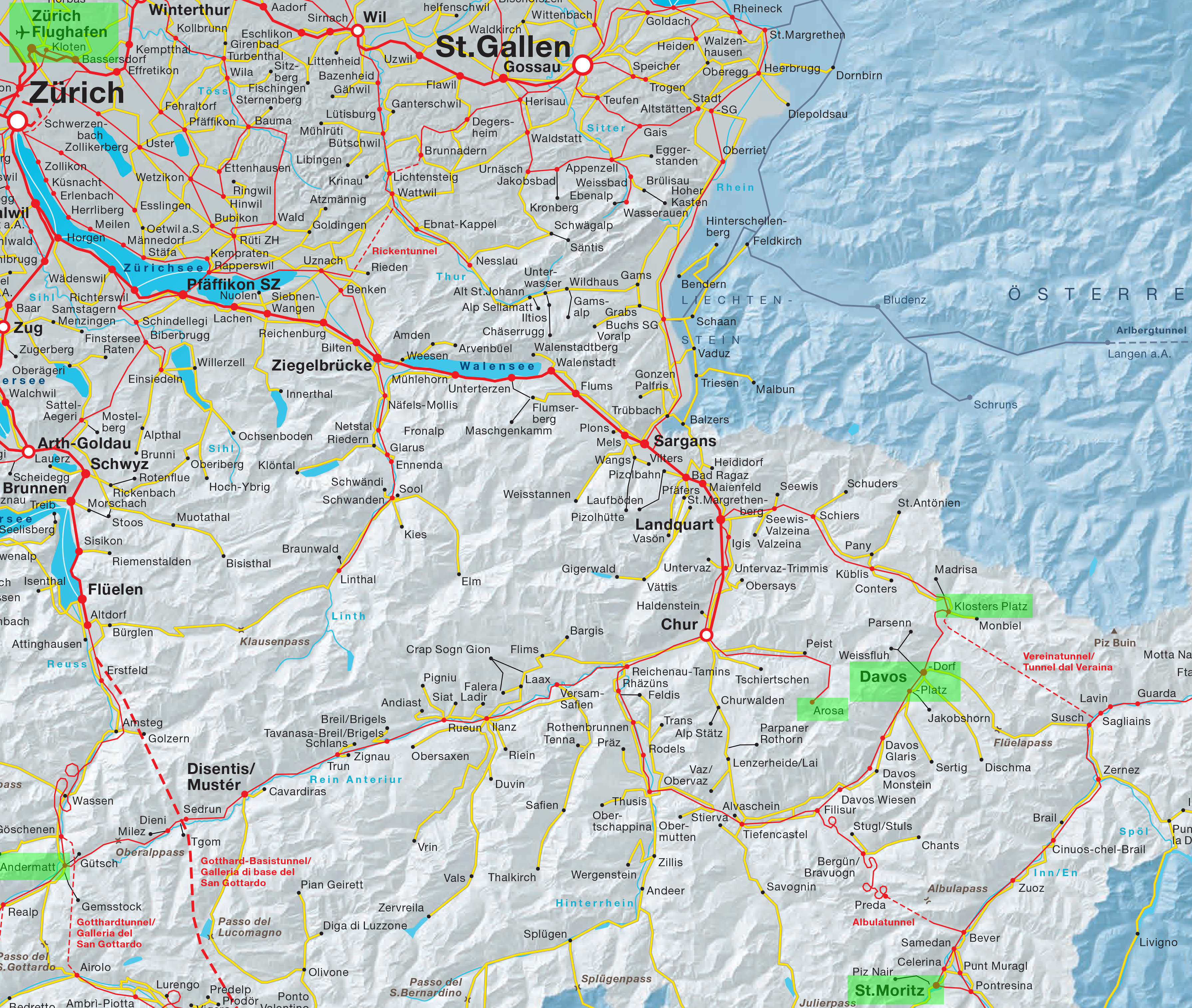 Finally, there are the ski resorts in Switzerland's Eastern Alps region that can also be easily reached by rail from Zürich.
Klosters can be reached in 2 hours and 15 minutes from Zürich Airport while Davos is around 2 hours 45 minutes. Arosa can be reached in just under 3 hours too.
At just under 4 hours, the journey from Zürich to St. Moritz is one of the longer airport to resort transfers but for the scenery alone it is an option worth considering.