Are you as excited as we are for the French ski resorts to reopen? Whether you're wishing to return to an old-time classic, or you're ready to explore somewhere new, we've thoroughly pisted each resort to find your perfect match. From price value to ski difficulty, family friendliness to overall resort appeal, we've done the 'back-country' for you!

Auvergne-Rhône-Alpes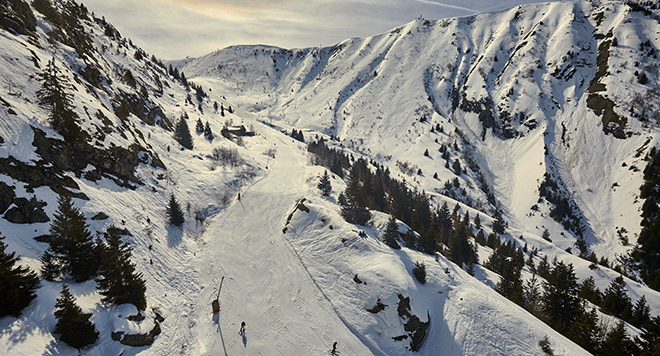 Alpe d'Huez
££
Ski experience 5/5
Resort appeal 5/5
With 300 days a year of guaranteed sunshine, this Southern facing plateau has been named 'The Island of Sun' with exceptional views. Alpe d'Huez is also renowned for being home to Europe's longest black run: the mythical Slope La Sarenne. From its food, nightlife, sunny slopes or even the Tour de France, Alpe d'Huez is a true alpine beauty.
Espace Killy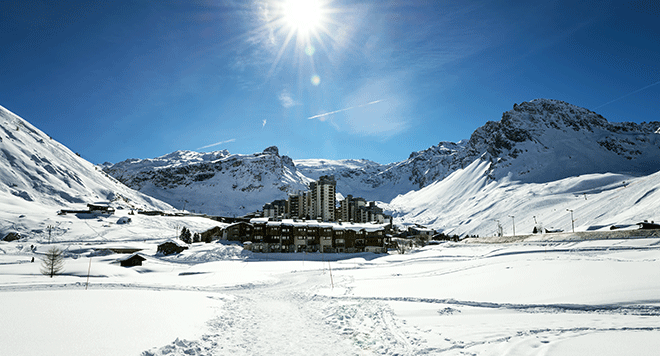 Tignes
££££
Ski experience 5/5
Resort appeal 3/5
If you're looking for snow reassurance and weather dependency, you can certainly count on Tignes. In the winter months, Tignes has an average of 3.6 snow days per week, making it the perfect conditions for the off-piste adventurers. This purpose-built resort made up of 5 villages, also has an unrivaled range of slopes for all abilities. After dark, Tignes comes alive- the fun doesn't end with last lifts!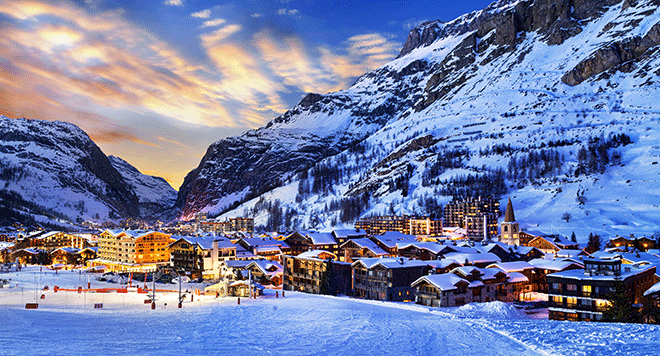 Val d'lsere
££££
Ski experience 5/5
Resort appeal 4/5
With its exquisite scenery, daring slopes and glamorous boutiques, Val d'lsere is considered by many as being an elite ski haven. From its world famous run La Face, to its extensive 300km of terrain, Val d'lsere is in a league of its own. As well as the guaranteed weather and high-end restaurants, you can rely on Val d'lsere for a night of fun, starting at Cocoricos, partying on at Folie and dancing the morning in at Doudone.
Grand Massif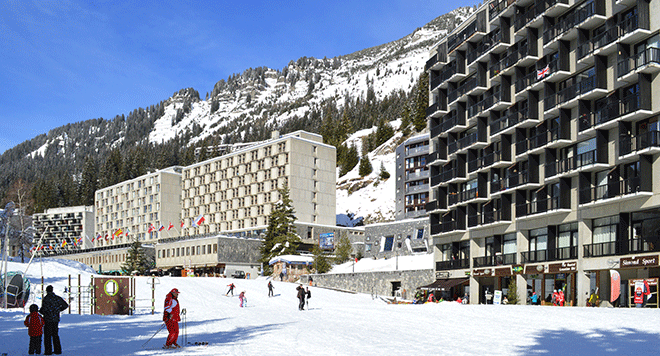 Flaine
££
Ski experience 4/5
Resort appeal 3/5
From Picasso to Bauhaus, Flaine's art and architecture is unique and striking. Being a purpose-built resort from the 60s the aesthetic won't please all. The ski in ski out access is unbeatable, amplified by Flaine not allowing any cars on the resort.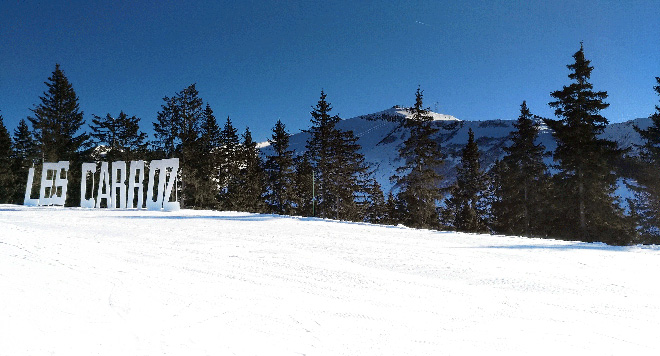 Les Carroz
££
Ski experience 4/5
Resort appeal 4/5
Les Carroz is extremely special in terms of its tranquil and traditional village feel. Walking round the resort, you can sense the homeliness making it a great place to come with your family. From the famous Flaine bowl, down to the magnificent, wooded slopes, Les Carroz gets the best of the sun, is almost always snow-sure and has a true authentic alpine atmosphere.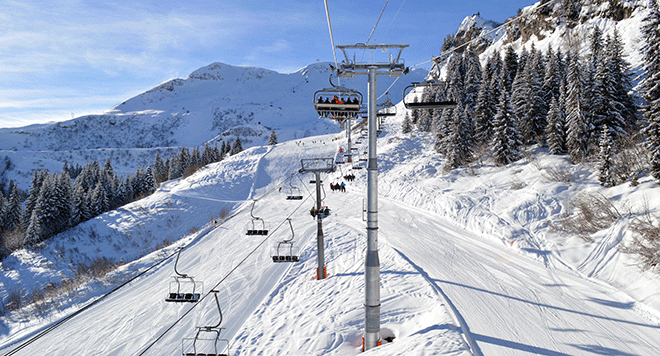 Samoens
££
Ski experience 4/5
Resort appeal 3/5
Much like Les Carroz, Samoens is one of the more family friendly resorts. Being a heritage-listed ancestral town, Samoens brings culture and history alive in its buildings, sculptures, and the spectacular surrounding nature. With the slopes being tree-lined andlong, this makes skiing in bad weather no issue at all!
Mont Blanc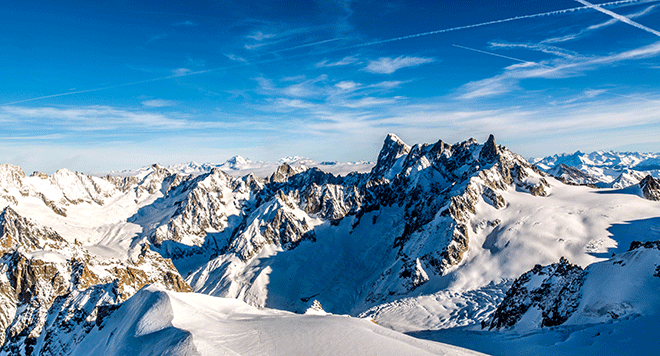 Chamonix
££££
Ski experience 5/5
Resort appeal 5/5
There is nothing quite like being 3842m high on one of Mont Blanc's grand mountains. Chamonix's idyllic slopes cater to the best of abilities, so if you're up for a thrill and challenge Chamonix won't disappoint. However, Chamonix isn't just renowned for its famously narrow slopes and expansive off-piste area, but also its charming and lively town. At any time of the year, Chamonix is packed with activities and events for all.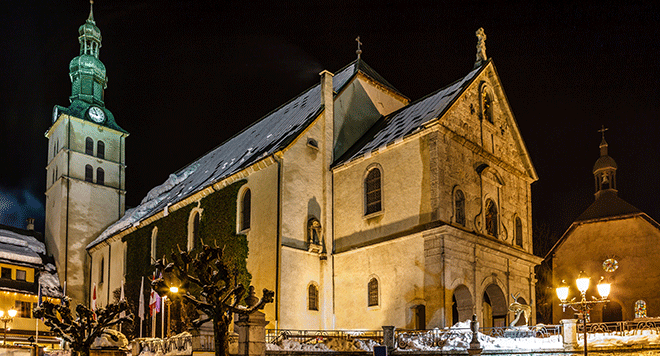 Megeve
£££££
Ski experience 5/5
Resort appeal 5/5
The affluent resort of Megeve is one of class, elegance, and serenity. The quiet slopes allow you to avoid crowds and take in the peaceful surroundings; fresh tracks can even be found in the afternoon of a Powder Day! This long-established medieval town offers plenty of exceptional fine dining as well as traditional horse drawn carriage rides.
Paradiski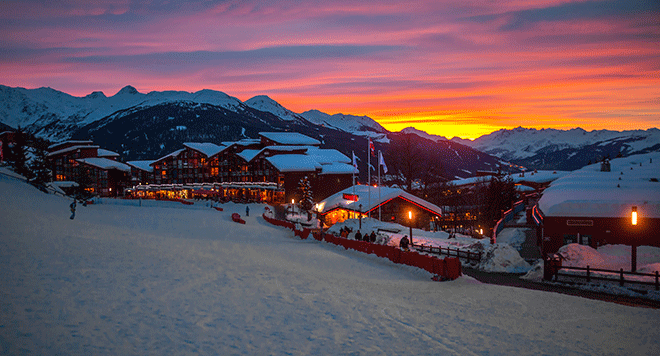 Les Arcs
££
Ski experience 4/5
Resort appeal 3/5
If skiing is your number one priority, then Les Arcs ticks the box. Great for ski in-ski out, vast terrain and challenging ungroomed black runs, Les Arcs is one for the experts. Spread across four villages and with an altitude of 3250m, skiing here is unparallelled. The resort, however, is quieter than some, but the addition of a Folie Douce in 2019 has amplified its après scene.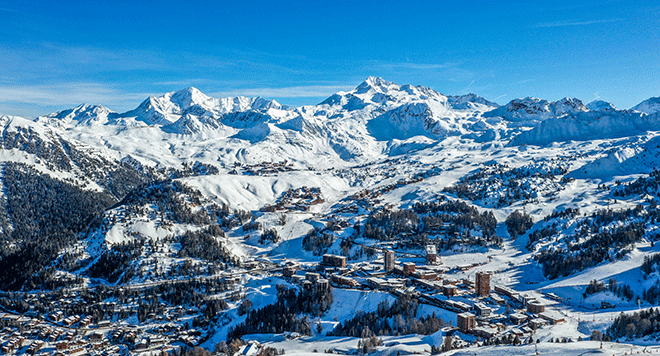 La Plagne
££
Ski experience 4/5
Resort appeal 3/5
Just a short trip on the Vanoise Express (one of the world's fastest gondolas) from Les Arcs, lies La Plagne. Being part of the 425km of ski area in the Paradiski, you can be sure that there is a range for everyone. However, it is not just the ski choice which caters for all, but the 12 different resorts and villages of altering altitudes. A family favourite, party potential- La Plagne has nearly as many options as it does ski area!
Portes Du Soleil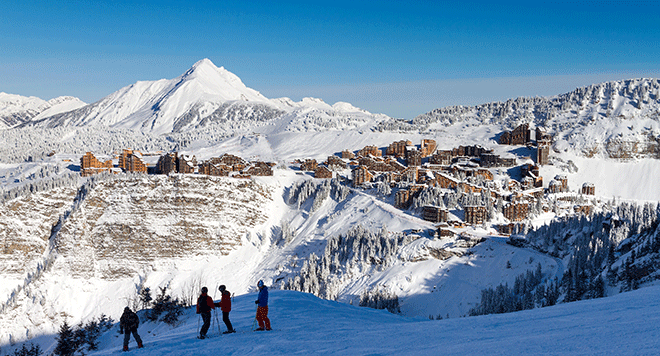 Avoriaz
£££
Ski experience 4/5
Resort appeal 3/5
An intermediate's idea of heaven, this resort located on a cliff in the Portes Du Soleil is a great place for ski in-ski out. Its prime location also means a quick ski over to Switzerland is extremely accessible for a scenic day trip. It is principally a family ski resort due to its no car policy- making it perfect for pulling your children along on their sledge after a tiring day on the mountains.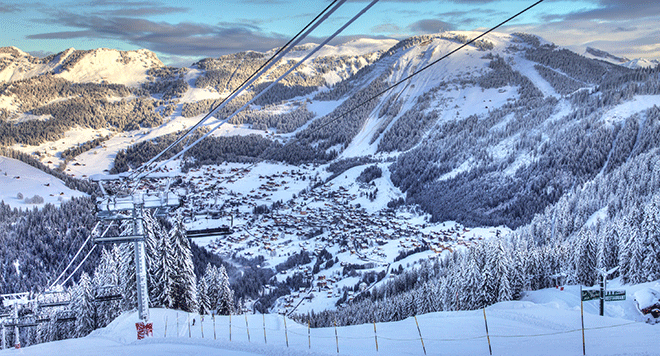 Chatel
££
Ski experience 4/5
Resort appeal 3/5
Much like its neighbour Avoriaz, Chatel is great for families and beginners as well as intermediates with the ideal balance of gentle tree lined blues and steeper, exhilarating reds. The skiing, however, can be affected by its lack of altitude at 1200m. Chatel is a traditional French village with a genuine feel, unlike other resorts which were solely built for tourism.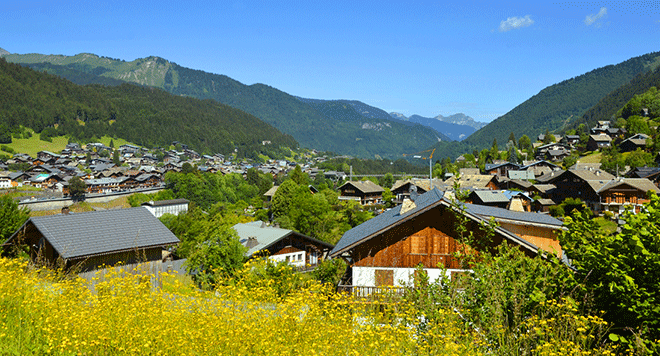 Morzine
£££
Ski experience 4/5
Resort appeal 4/5
Morzine is the liveliest of the resorts in Portes Du Soleil and known for its great Après; it has more of a town vibe than that of a resort. The Super-Morzine lift can easily transport you to Avoriaz if you are looking for a greater variety of slopes or wanting access to the Swiss side. In the summer months, Morzine is renowned for its outstanding mountain biking, with a custom-built bike park coupled with the vast expanse of winding trails.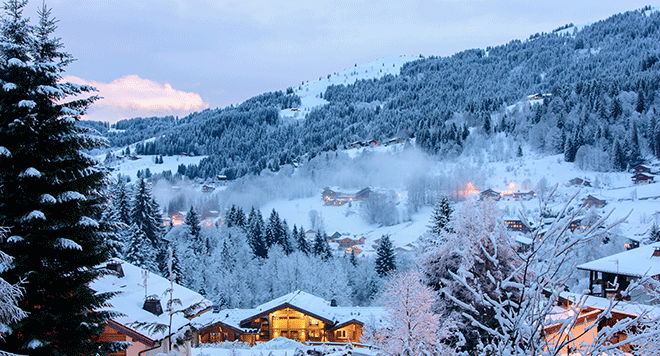 Les Gets
£££
Ski experience 4/5
Resort appeal4/5
From the 1930s Les Gets has been a family favourite for many with excellent ski schools and plenty of activities for all ages, ranging from ice rinks and tubing to museums or hiking. Like Morzine, it is also a thriving resort during the hotter months for the biking enthusiasts, and although it lacks a direct connection to its larger counterparts, the charm of Les Gets will have you not wanting to leave!
Les Trois Vallées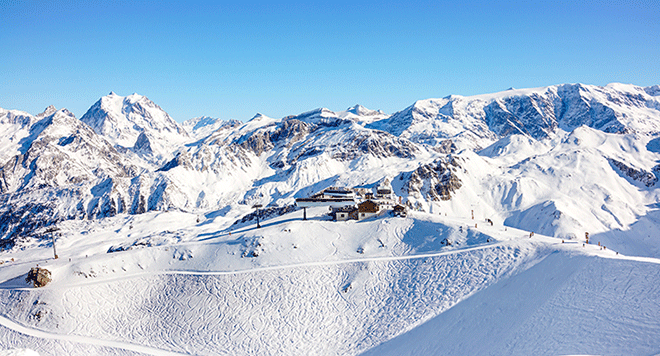 Courchevel
££££
Ski experience 5/5
Resort appeal 5/5
Located in Les Trois Vallées, the largest interlinked ski area in the world, it comes as no surprise that this resort scores nothing but the highest in every aspect. From breathtaking, tree-lined green and blue runs, to countless off-piste runs, this historical resort has an enticing and charismatic charm. Whether you're after a Michelin meal, high-end shopping or the famous slopes, Courchevel remains an all-time favourite.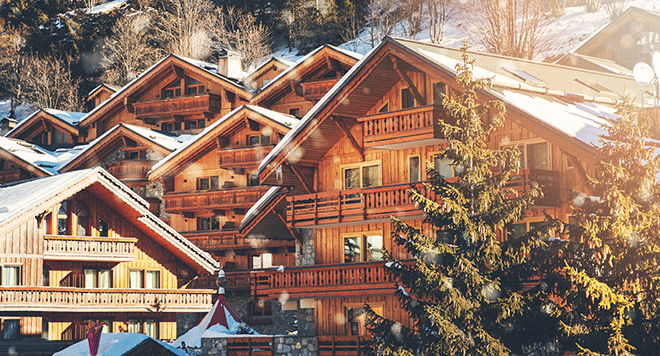 Meribel
£££££
Ski experience 5/5
Resort appeal 5/5
Often referred to as the heart of Les Trois Vallées, Meribel's magic cannot be rivalled. As well as enjoying the same ski advantages of the other resorts in the area, Meribel is also known for its beauty and family friendliness. The panoramic views and the wooden chalets amongst the snowy forest give Meribel a true Alpine feel. In 2023, Meribel is playing host to the World Ski Championships, and the display of skiing excellence should not be missed!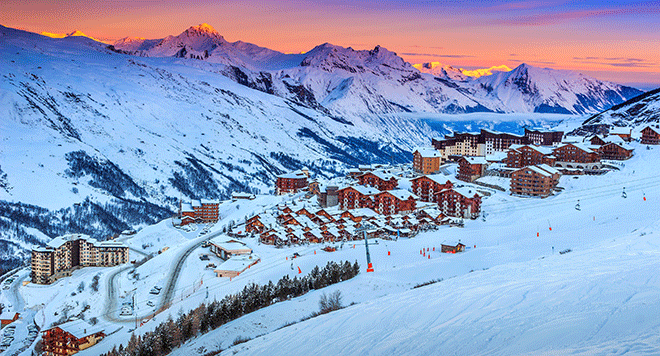 Les Menuires
£
Ski experience 5/5
Resort appeal 4/5
For a more affordable resort in Les Trois Vallées, Les Menuires is your best bet. The high altitudes and ski in-ski out make this resort extremely attractive, in addition to the well-connected network of chairlifts which can transport you to other resorts, like Meribel or Val Thorens with ease.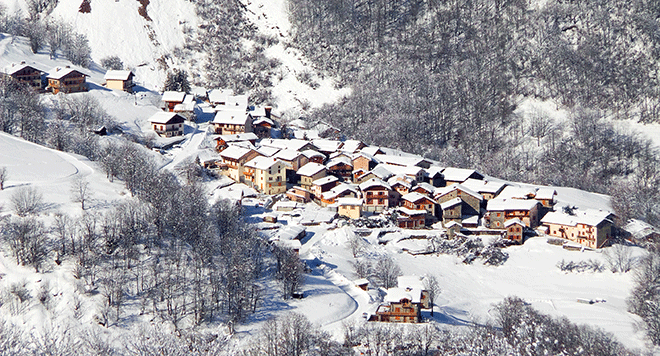 St Martin de Belleville
£££
Ski experience 4/5
Resort appeal 4/5
This quaint and serene resort is located right at the entrance of Les Trois Vallées, often meaning it gets overlooked by its noisier counterparts. However, for those who do venture into the hidden wonder of St Martin de Belleville, they are nothing but mesmerized by its history and culture. The picturesque Savoyard village is filled with many top-tier restaurants, but if searching for a bar or a party, nearby Val Thorens is your go to.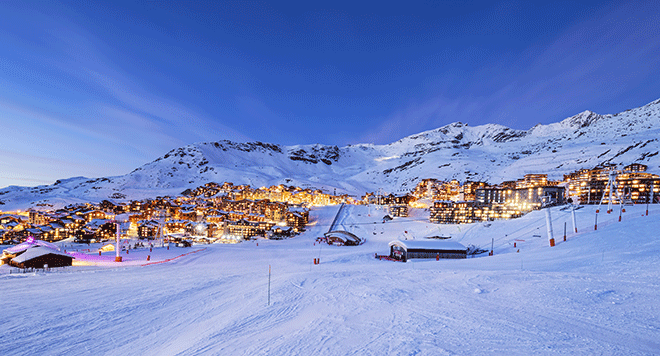 Val Thorens
££
Ski experience 4/5
Resort appeal 4/5
Renowned for its lively après and many bars, Val Thorens is the most vibrant of resorts in Les Trois Vallées. The wide array of nightlife on offer- from Folie, Bar 360, Le Saloon Bar and Malaysia, guarantee a night to remember…or not! Being the highest of the resorts, with a top elevation of 3220m and high altitudes, Val Thorens is certainly snow-sure, with great powder-day potential. With a grand terrain, consisting of gentle nursery slopes as well as the steep Caron peak for those more adventurous, Val Thorens accommodates for all.
For more detailed advice, or a general talk on the alpine market, don't hesitate to get in touch!