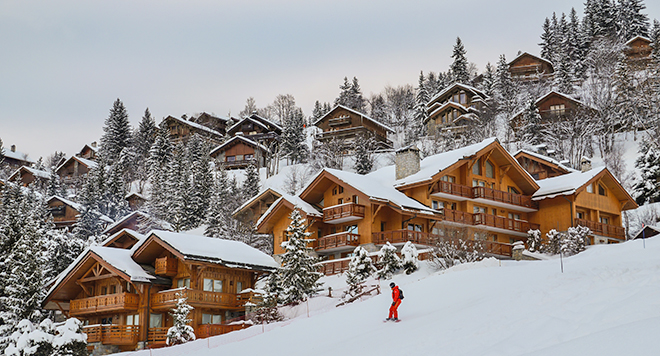 The past couple of years have seen a lot of changes to the Alpine property market, but one thing that never changes is the demand for a ski in, ski out chalet or apartment. The dream location, where you can put your skis on at your front door in the morning and leave them on all day until you return in the afternoon. Bar a couple of hours for a leisurely lunch of course.
However with the increase in demand for Alpine property and the consistent desire for them to be ski in, ski out. These highly sought-after properties are starting to get a bit short in supply. So below are a selection of our favourites which are situated on or very near the slopes that can make that dream come true. Make sure to get in touch if anything looks like it could be the right thing for you.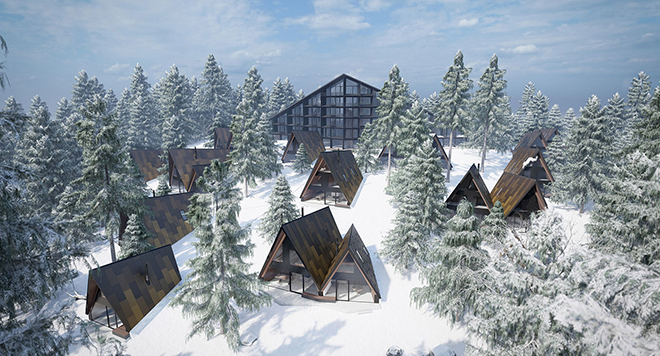 Triforet, Hinterstoder
A lot of the time clients will go for the well-known resorts. The Val d'Iseres and Zermatts of the skiing world for example. Unfortunately these often come with very hefty price tags and buying restrictions. None represent this better than Austria's own triumvirate of popularity in Lech, Ishgl and Kitzbuhel. Very expensive and not always accessible even if you have the money.
So if you yearn for the Austrian Alps but don't own a football club, then maybe you should start looking at the lesser known resorts. These can often exude the same rustic Austrian charm and make you feel like strapping on your lederhosen and grabbing a few steins down the local bierhalle.
Hinterstoder is one such place as a traditional and picturesque family village with almost universal ski in, ski out access. Here you will find the Triforet, a set of very striking apartments and chalets to be built in a modern and unique architectural style. Along with easy access to the slopes and lift, owners will also have an on-site restaurant and huge wellness at their disposal, with everything from an infinity pool, spa and fitness room.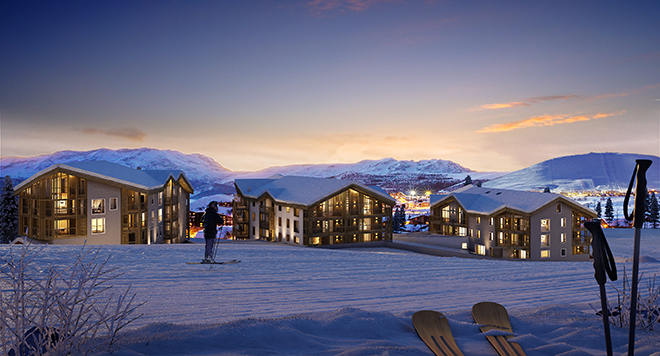 Phoenix 3, Alpe d'Huez
One of our hot tips for the French Alps at the moment is Alpe d'Huez, a large, sunny and highly varied ski area that, for some reason, is still being overlooked. The only reason we can think of is maybe because it is quite far from Geneva airport? So fly to Lyon instead! Prices are still yet to catch up, so this could be a great place to invest in now before everyone else realises what a gem it is.
We aren't just talking about the skiing and the great apres scene here. The resort is undergoing a huge investment and expansion project which is both transforming its town and ski area. By linking it with neighbouring Les Deux Alpes, they are creating one of (if not the) largest connected ski areas in the entire world. Now that's a resort worth placing a few bets on in our book.
Phoenix
is another new development which has a lot of promise, in a resort that has a lot of promise. So you can be doubly sure that this is one to go for. The development has an array of very reasonably priced 1 - 4 bedroom apartments, each with traditional interiors and fantastic views. As well as, you guessed it, ski in, ski out access to the pistes, Phoenix also comes with its own pool, spa and concierge service.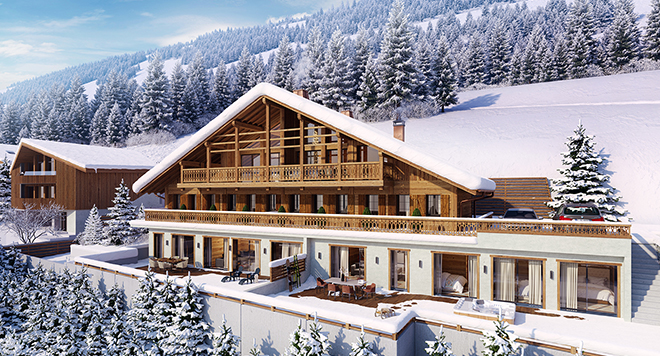 Le Hameau d'Ourea, Chatel
Unlike Alpe d'Huez, the Portes du Soleil is certainly not overlooked. This massive ski area of 650km of slopes is close to Geneva and has everything from beginner slopes to the infamous Swiss wall. Thanks to it straddling the border of two countries, it also allows one to wake up in France, ski to Switzerland for lunch and be back in France for an evening drink.
Most people head straight for the well-known ski town of Morzine or head up to the ugly, but admittedly very ski in, ski out Avoriaz. To this day the village of Chatel continues to fly under the radar, despite the fact a new lift built a few years ago now directly connects it to the main Portes du Soleil circuit. It might not be the liveliest resort, but Chatel has its own charm and is often looked at very fondly by those who discover it.
Chalets are hard to come by in the resort, so when a new development of them comes along it's worth taking a look. With ski in access and just a short walk to the lift,
Le Hameau d'Ourea
is ideally situated and will provide owners with high quality interiors. To top it off, each will come with its own exterior Jacuzzi. So you can sit back and relax with a bottle of champagne while an Alpine blizzard circles around you. Just try to ignore the fact you will have to get out at some point…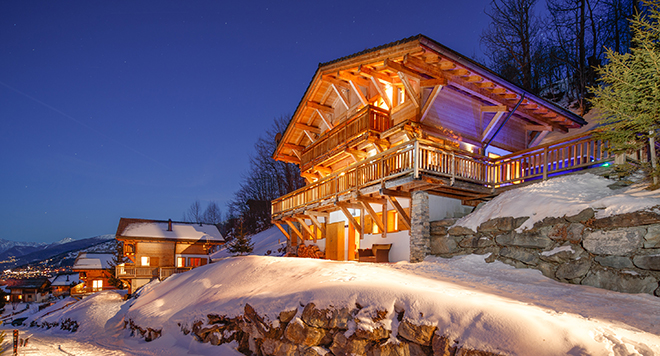 Chalet Etoile, Nendaz
A lot of ski in, ski out properties can be found right in the resort centre (see below), but some are tucked away, far removed from the hustle and bustle where you can enjoy more of the natural side of a ski resort. If loud patrons of apres-ski bars are a pet peeve for you, then consider this quiet location, high above the 4 Vallees resort of Nendaz.
The slopes are just a short walk away and you can use some creative off-pisting to get back to the chalet at the end of the day. Ski in, ski out properties in Nendaz are surprisingly rare and, even before the recent market uplift, do not come on for sale that often. So when one does it's often a great opportunity to grab before someone else does.
Etoile
has four decent bedrooms, two living areas, an open kitchen/dining space and a large balcony with its own hot tub. From here you can enjoy views spanning the width and length of the Rhone Valley, with mountain peaks above and Sion below.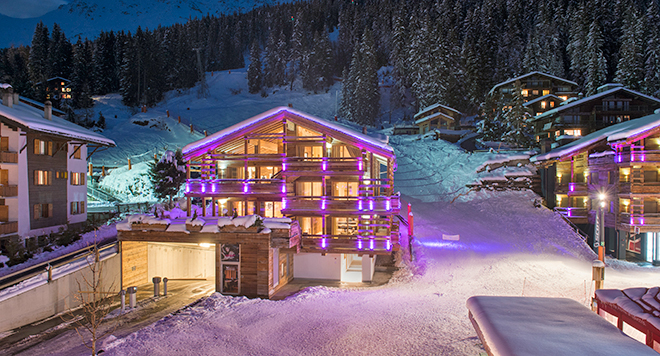 Agate, Verbier
Verbier is considered by most one of the best resorts in the entire world, and by some the undisputed gold medallist. With its huge ski area, exciting pistes, a lively nightlife, huge array of gourmet restaurants and high-end shops, some might have a solid argument. The problem is of course that having it all does come at a cost. While we'll leave the price as POA, it's safe for you to assume that it has quite a few zeros on the end of it.
However, if you have enough change behind the couch, you can own one of the most impressive properties in the resort and with direct access to the one of the world's greatest ski areas.
Agate
is right next to the famed Medran lift, so you're also smack bang in the centre of Verbier, meaning everything mentioned above is literally on your doorstep.
Inside you can expect the usual Verbier luxury as this four-bedroom apartment exudes quality, comfort and access to the finer things in life. You even get your own sauna, lift access and two indoor parking spaces. So you can bring both your Ferrari and your Range Rover.
La Residence, Grimentz
This is a project we were very excited about when it was first launched and it has certainly not disappointed. It's rare you get a property that ticks a lot of boxes, but it's almost unheard of for a project to tick every box.
La Residence
is close to the centre, has great views, a swimming pool, spa, restaurant, bar, ski shop, daycare, rental management, concierge and more.
To cap it off is the amazing location, which is literally on the return slope to the village. So you need just step outside the lobby and you're already on your way down to the lifts. One takes you up to great off-pisting off Grimentz, the other to the wide open slopes of Zinal. At the end of the day, you ski back into the lobby, drop your skis off in your locker and head to the bar. Or the spa depending on how hard you skied that day.
It is rare for these kinds of developments to come up in Switzerland these days and the apartments do come with a flexible rental obligation to abide by local building laws. However it will come as no surprise to learn that they are moving fast, so be sure to let us know of La Residence sounds like the place for you.