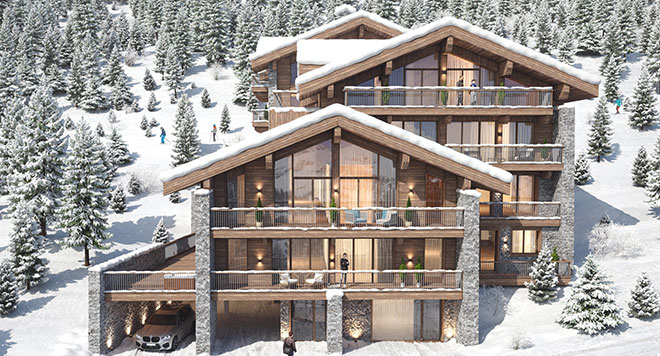 Globally renowned as one of the world's most iconic ski resorts, Val d'lsere has always been on everyone's list, but this year the snow-sure resort is sitting comfortably at number one. It is not just the exhilarating slopes of the Espace Killy which continue to entice enthusiastic skiers - the new and outstanding infrastructure is proving equally alluring.
Some extraordinary new properties have recently come onto the market and have caught everyone's attention. Listed below are a few of our new build developments which are gaining an exceptional amount of interest.
Silverstone Lodge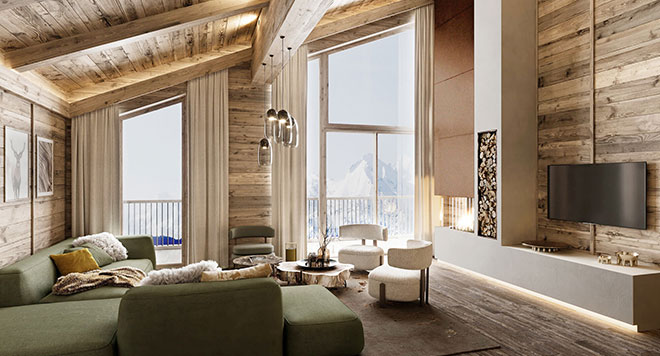 Silverstone Lodge is a development that has it all – a ski in, ski out position, hotel services, swimming pools and spa facilities. It's to no surprise that this property has almost sold out in such a short space of time.
With a prestigious location based on the Santons ski slope, Silverstone Lodge is the perfect property for keen skiers who wish to spend the whole day on the slopes, before skiing straight to their front door for a relaxing evening in their own private spas. What's more, the project is just a ten-minute walk from the bustling centre of Val d'lsere where you can find a plethora of Michelin star restaurants as well as old-time, classic bars.
The project consists of seven luxury apartments which will be completed in the fourth quarter of 2023. Of the remaining properties, the four bed apartments have a starting price of EUR 8,395,000.
Le Chardon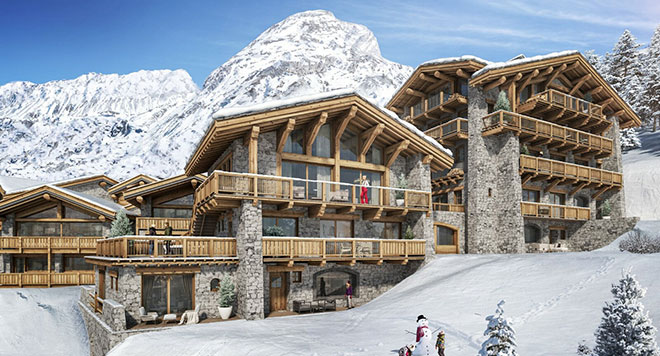 In a more private area of Val d'sere lies Le Chardon - a project consisting of four individual chalets and thirteen apartments. Le Chardon offers the best of both worlds being situated in a secluded and peaceful hamlet surrounded by spectacular nature yet just a fifteen-minute walk away from the heart of Val d'lsere. There is even a bus stop close by and a shuttle ride taking you straight into the centre in minutes.
The south-facing properties also benefit from a highly sought-after, ski in, ski out position meaning that access to the 300km of the Espace Killy is right by your door.
Due to be completed in 2024, these magnificent chalets and apartments have a beautiful stone and wood façade and the interiors are fitted with the highest quality materials. The kitchens come fully equipped and each property has its own balcony, ski locker and fireplace.
The three bed properties have a starting price of EUR 3,990,000, and the four beds start at EUR 4,900,000.
L'Arolay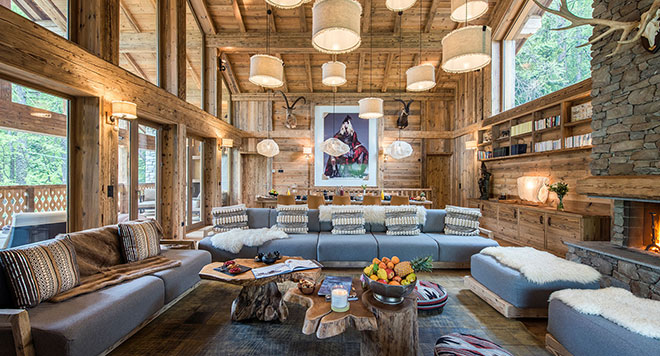 Tucked away in Le Fornet, another quiet and serene neighbourhood just moments from Val d'lsere is L'Arolay. The duplex apartments have been designed by an eminent developer known for their impressive architecture and luxurious fittings. The properties exude Savoyard charm by combining traditional alpine aesthetics such as beamed ceilings with sophisticated contemporary interiors made with sustainable materials.
By the third quarter of 2024, you could be fortunate enough to be sitting on your south- facing balcony in one of these extraordinary properties admiring the astounding and far-reaching mountain views.
L'Arolay is situated just 200 metres from the slopes and has four bed apartments at a starting price of EUR 4,100,000 and six bed apartments with a starting price of EUR 4,150,000.
L'Ecrin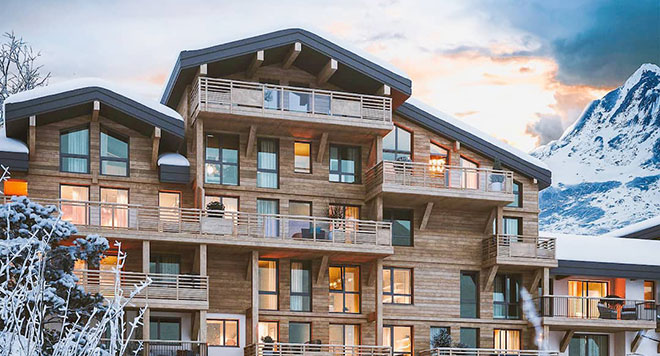 Offering 1 – 5-bedroom apartments, L'Ecrin is a development of twenty-three luxury properties which are hugely popular. The enticing views over Col de L'lseran, Le Fornet and Solaise and the elegant interiors are just a few of the many highlights of the project.
The floor areas range from 77m² to 198m² and the starting price for a two-bed property is EUR 1,579,000.
L'Ecrin also benefits from a large, indoor swimming pool, a gym, steam room and sauna. Each apartment comes with a terrace and/or balcony with some even offering the option of a private garden.
This year we also have some remarkable off-market chalets and apartments up for sale. With stunning views over the whole of Val d'lsere, we have a penthouse apartment available for EUR 13,000,000. Another property towards the higher end of the price range is an incomparable chalet priced at EUR 35,000,000.
For more details on any of these properties, to organise a call/viewing, or for more expert advice for properties in the Alps, just click here.