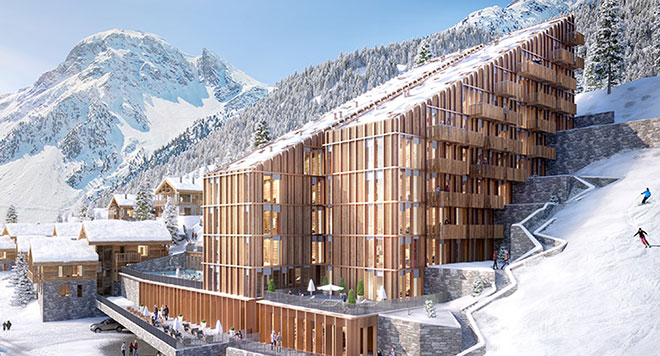 This month, we thought we would delve into an array of our favourite brand-new Swiss developments. With the Lex Weber law being established for a good few years now, developers have found a way through in order to create some exciting new projects for future owners. Fortunately for you, the delights of owning a new second home in Switzerland are once again available – with the help of a fully managed rental scheme.
The Weber law was initially introduced and passed in 2012 to ensure that no new second homes were built in Swiss regions where 20% of properties were holiday homes. This, of course, was very restricting in Swiss resorts popular with tourists and has hindered development. However, with the emergence of flexible rental schemes, owners are once again able to buy in some new-build properties. Although owners are obliged to rent out their property for periods in both the summer and winter seasons, the required time varies between different properties depending on the individual rental management company and the particular Swiss canton.
Take a look at our favourite new developments which offer exceptional services, flexibly managed rental schemes and unbeatable facilities.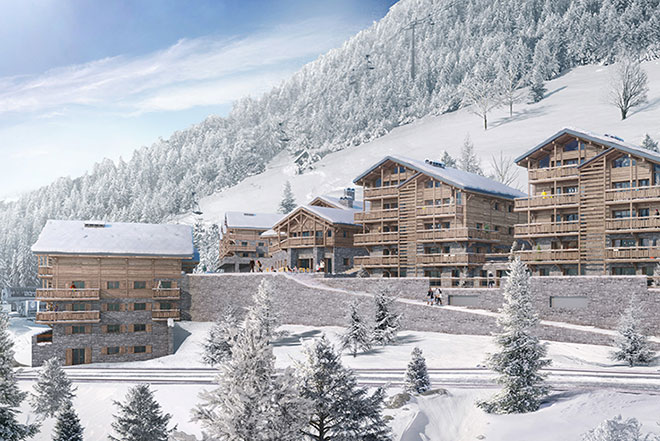 Dent Blanche, Les Massess
By the fourth quarter of 2024, this spectacular new development will have been built in a prestigious ski in, ski out location in Les Masses. High up at an altitude of 1500m and positioned right next to the Les Masses ski lift,
Dent Blanche
benefits from exclusive access to Switzerland's largest ski area of 410 km and links with Verbier. The unparalleled views and peaceful serenity from this high-up, high-end development are reason enough in themselves to buy in in Les Masses. In addition, the luxurious specification and attention to detail make purchasing here immensely attractive.
Providing luxury, one to three bedroom apartments,
Dent Blanche
is the development that has it all. From the moment you enter the building you are greeted with a concierge and have the option to enjoy the on-site bar or indulge in incredible cuisine in the development's own restaurant. Additionally, the spa facilities are unmissable – whether you take a dip in the spa's pool or wind down in the sauna, hammam or jacuzzi,
Dent Blanche
will ensure you enjoy ultra relaxation. You will also find a children's club and an on-site ski rental shop to help ensure that your stay is smooth and stress-free.
On top of this, the apartments come fully serviced and the management scheme will take full care of your second home, enabling you to rent it out without difficulty.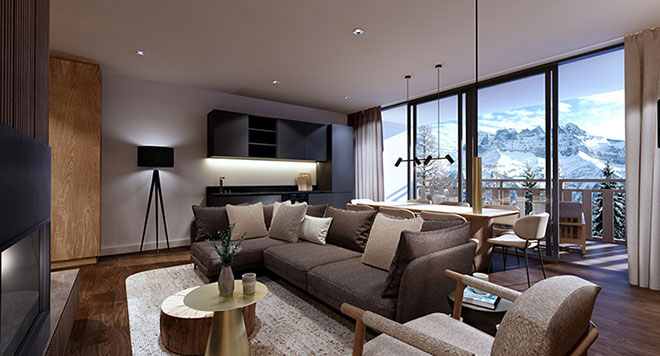 Portes du Soleil Residences, Morgins
Another outstanding new development is the
Portes du Soleil Residences
in Morgins. Spread across three buildings, the project offers 33 charming apartments with between one to four bedrooms at a starting price of 550,000 CHF.
The properties have been designed and created with the highest quality of materials and offer customisable interiors allowing you to design your own second home and make it unique to you. The apartments are also delivered fully furnished so that they are ready to move into upon your arrival.
The Portes du Soleil Residences
cater for every member of the family by providing a huge range of on-site activities as well as hotel services. After an action-packed day on the slopes, you can ski right back to your door and take a swim in the pool, a rest in the spa, or carry on into the night in the building's own restaurant and bar.
With the fully managed rental scheme, all matters regarding the renting out of your property are taken care of and the flexibility of the programme gives you control.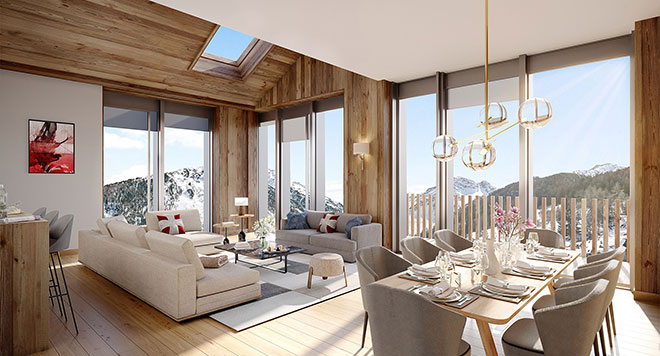 La Residence, Grimentz
In 2025, the remarkable
La Residence
will be completed in the prestigious Guerneres resort within Grimentz. Known for its authentic Swiss charm and captivating scenery, Grimentz offers outstanding mountain views and has a unique village appeal.
Made up of 41 high-end apartments,
La Residence
offers units with one to four bedrooms and floor areas ranging from 53 to 164 m². Each property comes with a private balcony, perfect for taking in the fresh Alpine air whilst absorbing the extraordinary beauty of the surroundings.
What's more, the development is home to an exceptional spa with an indoor-outdoor swimming pool. Other amenities include a restaurant, concierge, ski shop, and of course, a flexible rental management scheme.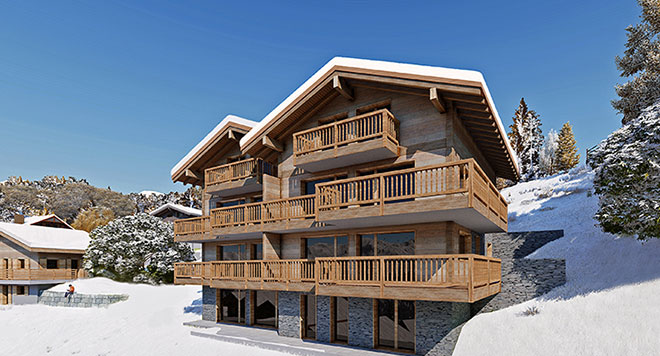 Tsatela, St. Luc
Not far from Grimentz, over in St. Luc lies the elegant new development –
Tsatela
. With majestic and far-reaching views over the Val d'Annivers, the properties benefit from sunny, south-west facing orientations.
The sought-after location means that the slopes are just a quick, free shuttle bus ride away and the scenic centre of the resort a few minutes' walk. The famous Bella Tala is also within close proximity and offers the residences additional spa facilities and an up-market restaurant well known for its exquisite food.
Tsatela
itself provides 13 second home apartments built across two impressive buildings. The number of bedrooms is between two and four and the prices start at 740,000 CHF. Along with a private cellar and outdoor space, the second homes have access to a communal spa, games room and ski/bike storage.
We also have some exceptional new properties not yet on the market, but coming over the horizon. Our favourite resort
Saas Fee
will soon be home to some spectacular second home chalets which have already attracted a great deal of interest. These properties will also have a flexible but fully managed rental scheme ensuring that you will never need to deal with any maintenance or worry.
To find out more about these striking chalets or for more information on our current new-build properties on the market, just click here and we will be more than happy to arrange a call and provide you with further knowledge.