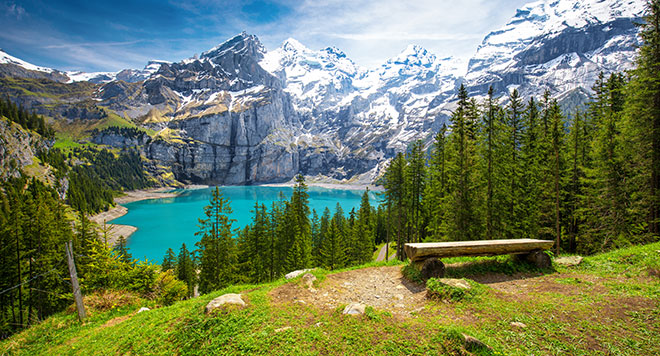 As the ski helmets turn into sun hats and goggles into glasses, you know that the eagerly anticipated summer in the Swiss Alps has finally arrived. Fortunately, the resorts more than compensate for the absence of snow in the warm months and are just as stimulating and beautiful. But with such a large selection of fantastic resorts, how can you possibly choose which to go to? Well, you can either tour the mountains and enjoy a taster of them all or go to one of our top five Swiss summer resorts!

Wengen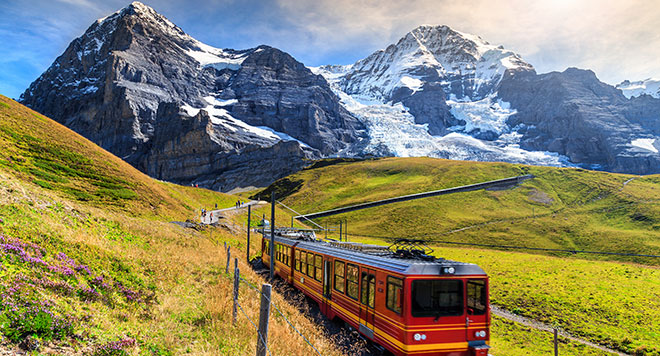 Visiting Wengen at any time of the year will no doubt leave you mesmerised and wanting to go back, but if you visit in the summer, you won't ever want to leave. Known for its incredible scenery and dramatic landscape, its cascading waterfalls become even more alive in the summer. With fresh and clear mountain water surrounding the village from the Lauterbrunnen Valley, jumping in for a refreshing swim seems the most natural thing in the world. With a large array of lake sports on offer, enjoying the water is a great way to cool down in the summer's heat.
Whilst in Wengen, visiting the 'Top of Europe' is a must. Cruise on an authentic and quintessentially Swiss cog railway as you climb up a steep 3463 metres to one of the highest viewing points in Europe. As you step off the train at Jungfraujoch and travel up to the Sphinx observatory the panoramic views will leave you breathless.
Wengen is also home to over 500km of hiking trails as well as plenty of biking routes and an outdoor swimming pool, meaning that there is an activity for everyone.
Crans Montana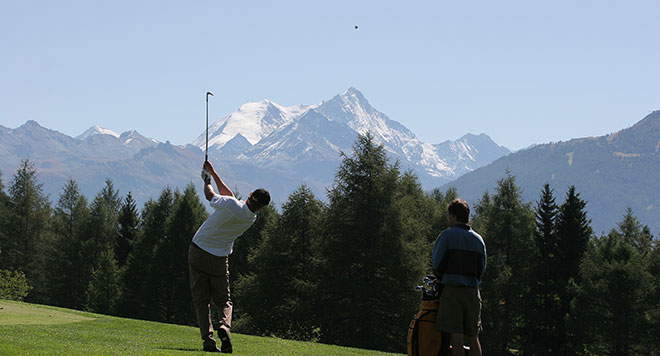 Bursting with events, festivals and prestigious tournaments, Crans Montana thrives in the summer. The stunning and affluent resort is constantly bathed in golden sunlight and the lake and beachfront become incredibly inviting.
Crans Montana is known for hosting the Omega European Masters golf tournament, a justly renowned event that attracts high profile visitors and exceptional sportsmen from all over the globe. Keeping to the theme of prestige, Crans Montana also hosts excellent Jazz and Classical music festivals in the summer whose popularity endures year after year. This lovely resort is also full of the most luxurious designer and high-end shops and boutiques for those wanting to do a bit of shopping for the summer wardrobe!
When the summer hits, the lake takes centre stage. From water skiing to wakeboarding, paddleboarding to volleyball, the lake and the beach have an activity for water-lovers of all abilities.
Villars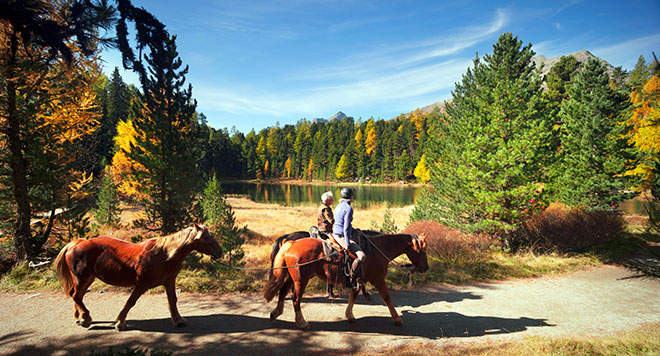 Another dual-season favourite of ours is the family-friendly Villars. Just 90 minutes away from Geneva airport, Villars has an exceptional location both in terms of convenience and exquisite surroundings. In addition, being only 30 minutes from Lake Geneva, Villars enjoys everything Lake Geneva has to offer and more.
For equestrian enthusiasts, Villars is your perfect summer destination. With ample horse-riding trails and show jumping competitions, Villars will deliver! Biking and hiking fanatics will also be overjoyed with the vast amount of terrain with 300km of marked hiking trails and 150km of biking routes.
Villars is another golf haven with a remarkable golf course dating back to 1922 and set on a sunny plateau 1660 metres high.
For those less sporty, why not hop on the famous cog railway and blissfully relax whilst you take in the wonderful views of fresh, flowery meadows and lush greenery.
Grimentz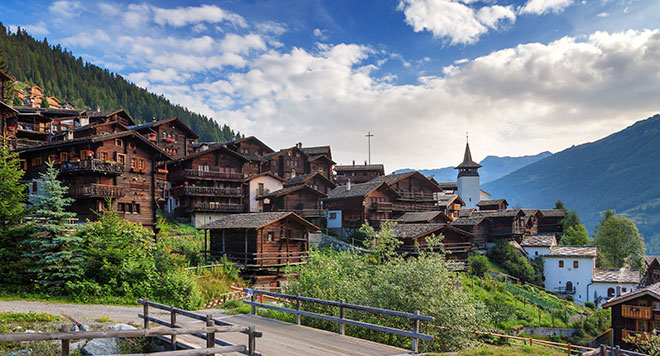 Grimentz – the resort of striking natural beauty and charm is a summer must-see. The extraordinary backdrop of towering mountains, enchanting forests and glistening lakes mixed with the traditional chocolate-box Swiss chalets is a sight to be seen. Adding to the authenticity of the village is the delightful Swiss cuisine. Grimentz is full of wonderful restaurants serving nothing but the finest Swiss delicacies.
If you're looking for an action-packed, adrenalin filled summer, Grimentz is home to Europe's highest Bungee jump, the Bungy Niouc. The astonishing challenge attracts adventurers from all over to try out this exhilarating jump.
As with the other resorts, Grimentz also has a large amount of terrain ready to be explored through bikes or hikes. Alternatively, you can enjoy some archery, fishing, or rock climbing if you aren't already busy playing tennis, golf, or swimming!
Saas Fee
A truly dual season resort, Saas Fee is a lively and lived-in village twelve months of the year. With countless activities, a constant après and summer glacier skiing, Saas Fee cannot be missed in the summer. For those wanting to ski for as long as possible, heading to Saas Fee for the summer will have you as high as 3500metres skiing the extraordinary Allalin glacier.
There are over 350km of hiking trails and all kinds of summer sports are available to those lucky enough to be spending their summer there. If you're into climbing, white-water rafting or partying through the day – Saas Fee will be just the place for you.
If you have plans to visit the Swiss Alps this summer – do let us know. We will be more than happy to arrange any viewings or give you general advice.