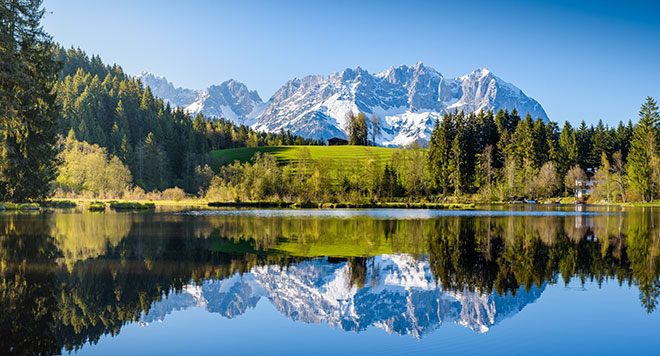 When it comes to investing in ski properties in Austria, Kitzbuhel often stands out as a top choice. Its reputation as a world-class ski resort and its picturesque alpine surroundings have made it a prime destination for property investors and ski enthusiasts. However, for those seeking more budget-friendly options or a quieter, less crowded experience, there are several charming and promising alternatives to consider in the nearby regions of Aurach, Going, Oberndorf, Waidring, Ellmau, and Kirchdorf.
Aurach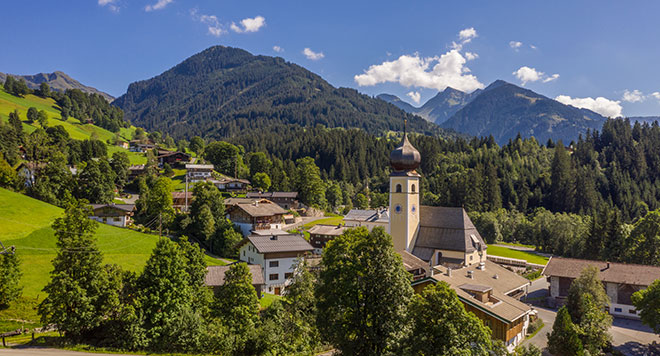 Less than a ten-minute drive away from Kitzbuhel lies the quintessentially Tyrolean village of Aurach. Positioned at the start of the Jochbergtal Valley, the ski resort has the luxury of direct access to both the Kitski and Bichlalm ski areas. If you're seeking an adventurous and thrilling ski in the world renowned Kitzbuhel ski area, the option to enjoy the 209km of slopes at a mighty altitude of 2000m is right at your door, whilst nearby Bichlalm offers a lower altitude with more tranquil surroundings.
The village itself is has a cosy Austrian ambience, and is filled with friendly locals, exquisite scenery, and a beautiful old church. One of Aurach's main attractions is the outstanding wildlife and preserved nature. It is home to over 250 alpine animals and many large farms, allowing one to feel truly immersed in mountain life.
Two of our most popular properties are located in Aurach.
Elegance
is a remarkable 3-bed apartment and
Sudblick
is a 2-bed apartment which comes with an outside swimming pool.
Going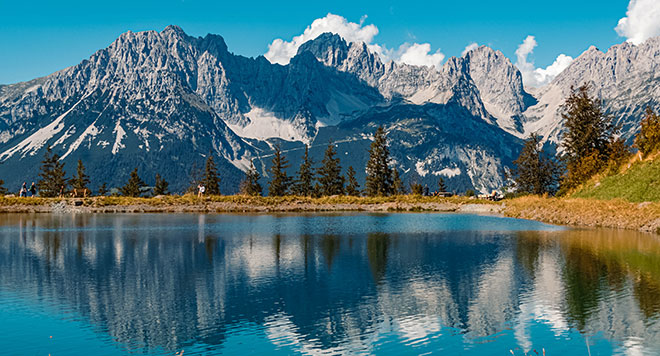 Only 15 km away from Kitzbuhel, Going offers a whole new paradise with a different ski area to pursue. The village is renowned as one of the most picturesque villages in Tyrol with extraordinary, panoramic views of the Wilder Kaiser. The Astbergsee Lake is famous for its reflective qualities and photogenic attraction and the magnificent spectacle attracts tourists from all over the world.
The SkiWelt area is Going's main ski region and offers just over 244km of groomed slopes and pistes with 84 modern and efficient ski lifts. The area caters for all abilities and has a generous 120km for just red slopes alone!
Chalet Going
is a charming country chalet just recently put on the market. The property has 3 bedrooms and comes with spa facilities as well as the most stunning views of the Wilder Kaiser.
Oberndorf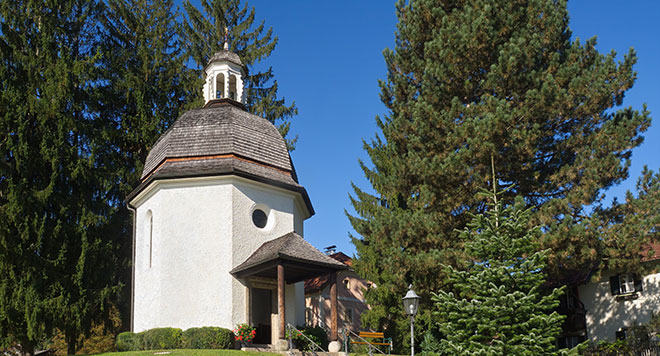 Oberndorf, situated in close proximity to Kitzbuhel, has earned a reputation as a family-friendly destination. Part of the Salzburg Lake district, the village is home to both incredible lake scenes and the Salzach bridge, which provides an easy gateway into Germany.
The quaint village radiates Austrian charm and ambience through its beautiful chalets and cobbled streets. One of Oberndorf's many attractions is its chapel, famous for being the place of birth of the Christmas carol, Silent Night.
Its ski area is known for its well-groomed slopes and variety of activities suitable for all skill levels. The Kanonenbucklepiste mogul run is certainly a run to try if you're seeking a challenge.
Property prices in Oberndorf tend to be more affordable than in Kitzbuhel, making it an appealing option for families looking to invest in a ski property while enjoying the perks of a world-class ski region. We currently have the
Central Apartment
for sale, at an attractive price of just 455,000 EUR.
Waidring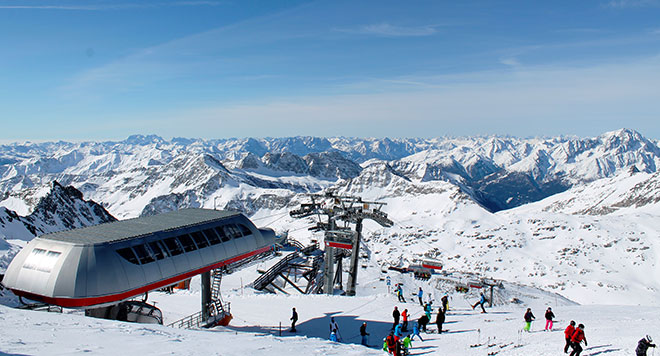 A short half-hour drive from Kitzbuhel, at the base of the stunning Steinplatte in the Pillerseetal Valley, lies the peaceful village of Waidring. This hidden gem offers serenity amid breathtaking mountain scenery.
Waidring boasts 25 km of slopes, mainly catering to beginners and intermediates with red and blue runs. The village also features the exciting snow park Steinplatte. Non-skiers can enjoy the glistening Pillersee Lake or explore one of the eleven nearby golf courses.
Our new properties,
Sonnige Ruhelage
and
Chalet Sunny
, enjoy prime locations in Waidring, perched on sunny plateaus with exquisite views.
Ellmau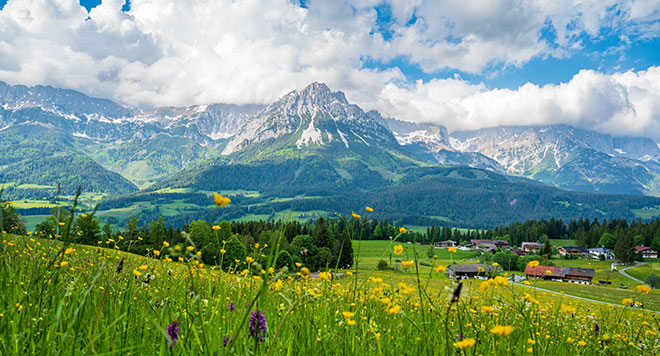 Located in the Wilder Kaiser region, Ellmau is another alternative ski property destination to consider. This picturesque village is known for its stunning mountain scenery and welcoming atmosphere. Its outstanding natural beauty has meant that many television programmes have been filmed in this extraordinary village.
Just like Going, the resort is part of the SkiWelt Wilder Kaiser-Brixental ski area; one of the largest interconnected ski resorts in Austria.
Property prices in Ellmau are often more budget-friendly than in Kitzbuhel, making it an attractive choice for investors seeking affordability and a vibrant ski scene. We have recently listed two exceptional properties in Ellamu.
The View
and
Eleganz II
both benefit from their own private swimming pools, spa facilities and high-end furnishes and interiors.
Kirchdorf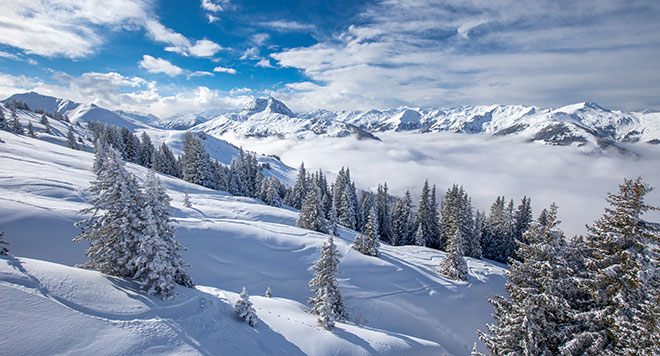 Set in an idyllic setting between St. Johann and Waidring, Kirchdorf is another hidden gem in the Wilder Kaiser Mountain range. Surrounded by meadows, forests and cliffs, the village prides itself on having spectacular views and quiet scenes.
Although Kirchdorf does have its own 2km of slopes, to enjoy a larger ski area many visitors head to St. Johann's slopes which are just a 5-minute drive away. Alternatively, you could reach Kitzbuhel in 10 minutes. Kirchdorf is a very family orientated village, great for beginners and for those with young children.
River Side
is a beautifully renovated 3-bed apartment just recently listed on the market. The property is bathed in natural light and is being sold for 849,000 EUR.
If the centre of Kitzbuhel is a little out of your budget, then why not invest in one of these surrounding villages? With the exquisite serenity and more affordable prices, these villages offer the best of both worlds. Enjoy the liveliness of Kitzbuhel before retreating to your peaceful and wonderfully authentic neighbouring village.