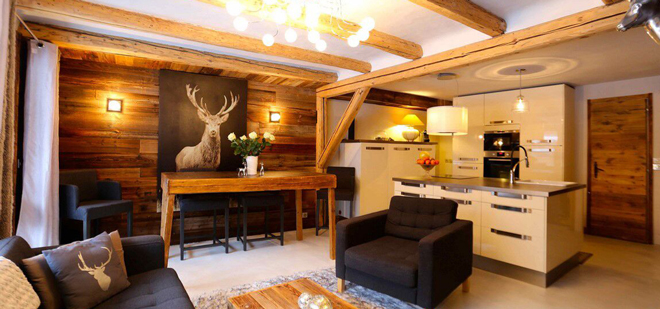 When you're looking at buying a ski property, your resort of choice is likely to be somewhere you've visited before. For many buyers, that means Meribel, Courchevel, Verbier, Zermatt, Val d'Isere or St Anton. Why not? Those are fantastic resorts, after all. The problem is, these resorts tend to have a price tag to match their popularity.
So, to make things a little easier for you, we took a look at what you can buy in the most popular resorts for a million pounds.
No results at all come up for Verbier or St Anton, while Swiss residents could afford the two bedroom Casa d'Amore in Zermatt. As some of the most sought after ski resorts in the Alps, these ultra exclusive resorts are most affected by high prices. Thankfully for those of us with more modest budgets, there are other, less well known options around that offer the same benefits.
As we've mentioned before, Saas Fee has a similar atmosphere to Zermatt, from the car-free streets to the old shepherds huts. The Four Valleys resorts of Les Collons, Veysonnaz and Nendaz each offer access to the same ski area as Verbier, at a far more reasonable rate (you can buy a whole chalet in Les Collons for this amount). Warth in the Arlberg Region offers access to the skiing from a cute, family friendly village.
There are properties available in Courchevel, although none in the sought after destination of 1850; a three bedroom apartment in Entree des Montagnes is affordable as is a fantastic two bedroom apartment in the charming village of Le Praz. Similarly, a two bedroom apartment in Les Granges, Meribel Village is just about in range.
Les Menuires and St Martin de Belleville over in the third of the Three Valleys both have properties available for under a million, with the Caseblanche Chalets offering Alpine luxury at reasonable prices. The Vanoise Apartments and Avancher Lodge in Val d'Isere are both within range for three bedroom apartments, although the latter comes with a rental obligation that won't be everyone's cup of tea.
Wherever it is you're looking at buying a ski property, bear in mind that unless you have a Richard Branson budget, there's a chance you'll end up having to compromise on something pretty high on your list of things you couldn't do without. Get in touch with our experts, and they can help you with any important decisions that need to be made.