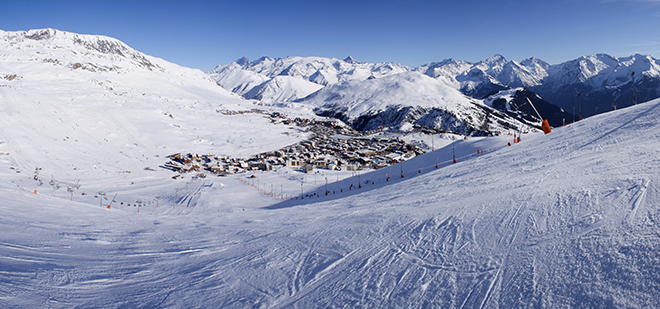 When it comes to skiing, February is the very peak of the season. Traditionally, this is when sunny piste-side restaurants are filled with skiers and snowboarders, slopes are busy and both flights and transfers are more expensive than at any other time of year. Thankfully, February is also when the snow cover starts looking a little more settled, and conditions get better.
The snow storms that have been making their way across the Alps for the last week, sprucing up conditions and adding an extra layer of powder to pistes everywhere, are just in time. From where we're sitting, February looks set to be good month in the mountains. The last heavy snowfall has seen some resorts reporting as much as a metre of new snow, with more on the way for some of the resorts.
For those looking at buying a ski property, there is a temptation to visit a resort while it's certain to be busy. If you can combine a ski trip with a tour around properties in the resort you're interested in, so much the better. If you've unfamiliar with the process, the amount of time that gets taken up with visits might surprise you somewhat.
In many cases combing skiing and property hunting tends to be an uneasy partnership. That's part of the reason we often mention visiting at quiet times, and during summer and autumn. Another part is owed to the fact that it's much easier to tell the character of a resort during the off season, rather than when the resort is busy and bustling.
Of course, if you're looking for an apartment with rental management or hotel services, it could be that you're not interested in the year round appeal. In the case of
Le Sommet
apartments in Les Menuires, and
Le Hameau de Clotaire
in Alpe d'Huez, the next few weeks might well be the best time to head over.
Whether you're just going on holiday or you're planning on visiting ski properties, you'll be sure to enjoy the great snow conditions across the Alps at the moment.