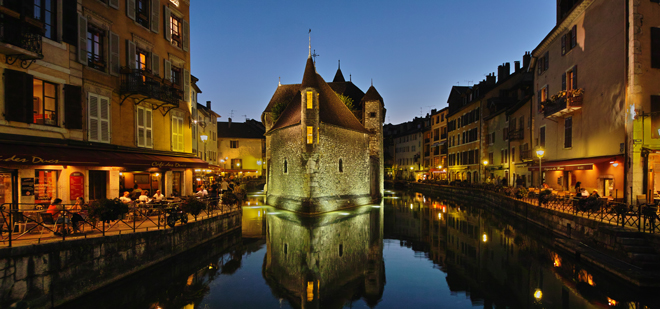 Home to the 13th century court of the Counts of Geneva, Annecy is one of the oldest towns in the French Alps. Its roots go all the way back to the Roman period, although the town really began to thrive in medieval times. It's during that time that the then Count of Geneva set up residence in town. The Counts of Geneva stayed for a century, before the County was absorbed into the Savoyard state.
Buildings from the medieval and early modern periods of history still stand in the heart of Annecy old town, making the city one of the more attractive in the region. Sitting as it does on an Alpine lake less than an hour from the nearest ski area; the town is a popular base for people who work in the Alps.
Annecy puts on a few markets throughout the week, selling local produce and wares. The Sunday Annecy market is genuinely one of the best in France, and features colourful stalls lining the cobbled streets and canals. Elsewhere, the European Gardens are a perfect place to spend an afternoon with a picnic, while local restaurants like the tiny l'Esquisse and La Ciboulette are superb for either lunch or an evening meal.
The markets and old architecture alone make the town an interesting place to visit and a great choice for a year round Alpine home, but there are some great festivals and events that take place during the summer months. Amongst others, the Annecy Film Festival has been an annual occasion for over 50 years, while the animation festival celebrated its 35th birthday in 2015.
This might not be home to the wildest nightlife in France, but there are some excellent cocktail bars and pubs where you can get a drink after an evening meal at one of Annecy's fantastic restaurants. Le Captain Pub is a good choice for beer lovers, while the Jaipur Café has great cocktails at reasonable rates.
Although some skiers might be a little disappointed that the slopes aren't right on the doorstep, Annecy is exactly the sort of town that buyers looking for a second home will love. It's pretty, with year round appeal and some of the best skiing in France a short drive away, what's not to like?