Switzerland is home to some of the most well-recognised ski resorts in the world. St. Moritz, Verbier and Zermatt, in particular, are world-renowned for their extensive ski areas, bustling atmosphere and international appeal. But there are a fair few ski resorts that still fly under the radar outside Switzerland, alluding skiers and property hunters alike.
Ski resorts in Switzerland broadly fall into three tiers of visibility. At the top, Verbier, Zermatt et al are world-famous, boasting enormous ski areas, a plethora of high-end restaurants and bars & drawing visitors from all over the planet.
Then you have fairly well-known resorts like Crans-Montana, Wengen & Saas Fee. These resorts have a global rep too, but not quite to the same extent. The skiing here is good but perhaps they have less of the glitz, they are quieter and don't demand the same level of international attention.
Then in the third tier, you have resorts that are household names in Switzerland but do not seem to have gained the international reputation of the others.
Why is that? You might assume this is because they aren't attractive locations, there isn't enough skiing or there isn't much to do there. In some instances you may well be correct, but there are a number of major exceptions.
Here we introduce you to our top 5 lesser-known (and under-appreciated) Swiss ski resorts.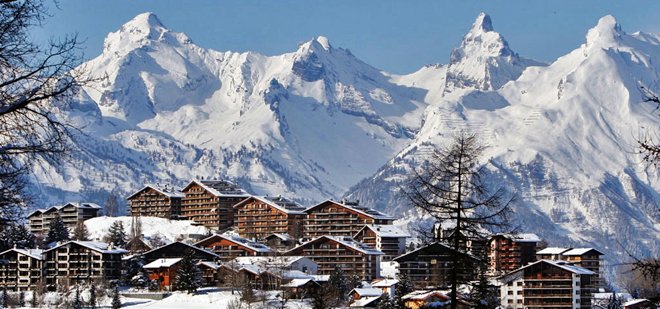 Intro: This is probably the biggest of the 5 resorts we have picked out here, both in terms of reputation and the size of the town. And yet internationally it doesn't have anything like the reputation it has in Switzerland.

Nendaz is a lively town that sits on the south side of the Rhone Valley (above Sion) and links into the huge 4 Vallees (Verbier) ski area. There is a distinct centre to the resort near the foot of the télécabine where there are a number of restaurants, bars and shops.

Altitude: 1400m

Ski area: 412km 4 Vallees ski area.

Properties: Something for most buyers. In the centre of the resort there are plenty of apartments available to foreigners at a fair price. Further up, at more of a premium, one can find large chalets near the pistes into town some with ski in/ski out access.

Pros: Genuinely lively. Plenty of restaurants/bars/shops. Views. Extensive ski area. Lively property market. Variety of properties available.

Cons: Local ski slopes are challenging. Some properties are quite far from the centre & lift.
Intro: A purpose-built resort on a sunny balcony just north of Sion and directly west of Crans-Montana, Anzère really is in the heart of the Valais with ski resorts in all directions.

The resort has a clear centre around the main lift where there are some beginner slopes and a number of restaurants and shops. This is a relaxed ski & spa resort which caters to families predominantly but has ample skiing, beautiful views and year-round appeal.

Altitude: 1500m

Ski area: This ski & spa town has a solid 58km family-oriented skiing and - with the Magic Pass - you have access to over 1000 kms of slopes in Crans-Montana, the Val d'Anniviers and beyond at a very competitive price.

Properties: In Anzère buyers can expect spacious south-facing properties with sensational views across the Rhone Valley. Apartments – in particular – are very competitively priced for the region and there are ski in/ski out options.

Pros: Family-friendly skiing. Spa adds to year-round appeal. Spectacular views. Well-priced properties. Close to other resorts in Valais which can be skied with Magic Pass.

Cons: Only 58km skiing locally.

Intro: Most think of Grimentz when they hear Val d'Anniviers, however if you head across the valley you find the sunny, high altitude resorts of St Luc-Chandolin. Chandolin in fact, is the highest resort in Switzerland. St Luc is characterised by its charming old centre and is the location for the historic Bella Tola hotel with its fine spa and restaurant. Chandolin has its best restuarants on the slopes, the Tsape and Illhorn in particular are more than worth the trip.

The slopes themselves consist of 75km of linked pistes that bathe in glorious afternoon sunlight. Best suited for beginners and intermediates, though with some good black runs, there is a free bus service which takes you to Grimentz, allowing you to enjoy an additional 110km of slopes.

Altitude: 1650m (St. Luc) & 2000m (Chandolin).

Ski area: 220km. Over 1,000km skiing if you buy the Magic Pass.

Properties: Chandolin is quite spread out with a number of apartments near the centre and chalets higher up the resort, most of which have decent access to the slopes. Property in St Luc doesn't become available that often, with the majority being traditional family chalets.

Pros: High altitude and sunny skiing in charming surroundings.

Cons: Slopes can be affected by the sun and access to the rest of the Val d'Anniviers circuit can be a bit slow.
Intro: Three villages at the eastern end of the enormous Verbier ski area, in the Val d'Herens. All three resorts have wonderful views across the valley with the Matterhorn visible to the south.

Yes, these villages are quieter than neighbours Verbier and even Nendaz, but this only adds to the sense of tranquillity and the beauty of the local surroundings. The local skiing is far more accessible than in other local resorts and it is possible to buy a chalet here at a great price.

Altitude: 2000m (Thyon), 1800m (Les Collons) & 1515m (Les Masses).

Ski area: 412km Verbier ski area. Unlike the one-lift-resorts of Veysonnaz, Nendaz & Mayens-de-l'Ours, the Les Collons sector has a number of lifts and sunny, south/east facing slopes of mixed difficulty.

Properties: Predominantly well-priced chalets that are a short/easy walk from the lift. Thanks to the steep mountainside in this area, most chalets enjoy uninterrupted views. This is one of very few resorts where you can still build a second home from scratch.

Pros: Unspoiled views. Tranquillity. Enormous ski area. Local skiing is varied and easily accessible. A few very good restaurants. Newbuild chalets available at good price.

Cons: Quiet resort with relatively few bars, restaurants & shops. Furthest resort from Verbier.

Intro: Set in a striking bowl surrounded by towering cliffs, Leukerbad offers something slightly different to the resorts you are probably used to in the Valais. Dating all the way back to Roman times, this historic village is the largest thermal spa resort in the Alps, meaning there are plenty of places to rest your muscles after a day on the slopes. The Leukerbad Therme in particular allows you to relax and unwind in a truly spectacular setting.

For keen cross country skiers, head up to the Daubensee area for two impressive circuits. While for downhill skiers, the other side of the valley offers up some tough, high altitude slopes. Most are red with a few blacks, one of which is used as a World Cup downhill course.

Altitude: 1410m

Ski area: 52km ski area that goes up to an altitude of 2700m.

Properties: Leukerbad has very few chalets so you are most likely to find an apartment here, especially if you are a foreign buyer. These will all be resales, thanks to the Weber laws, however the prices are good and you can locate yourself near to the centre or the lifts depending on your preference.

Pros: Leukerbad is popular all year round, has some great slopes and a unique aspect thanks to its many thermal spas.

Cons: The ski area is a bit limited and quite tough, so not ideal for young families or those looking for a mega ski area.


For more information on any of these resorts or to learn more about properties in these areas feel free to contact us at [email protected] or using our contact form.

We always have properties held off the website in the resorts we cover, so we may something for you!