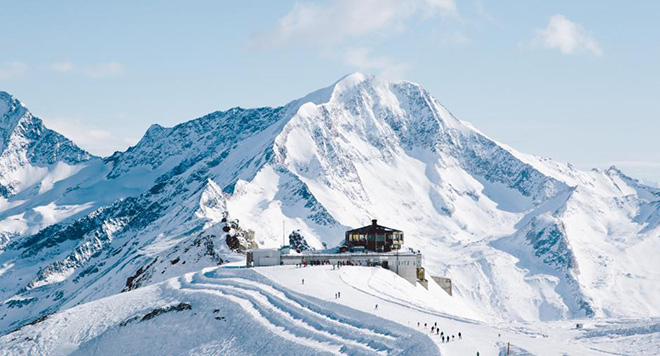 Another ski season comes to an end, the chairs have stopped rotating and the pistes shall be bashed no more. It's been an interesting season in terms of developments, property sales and overall market activity, with a number of resorts coming to the forefront as hives of investment activity.

So to round off the season, we thought it would be a good idea to list our top 5 resorts for property investment value and potential that have developed over the 2018/19 season. Some were already there, while others have enjoyed almost meteoric rises to prominence.

The below 5 are not necessarily in order, they are simply the Alpine resorts that we feel offer potential buyers the best investment opportunities, backed up by the level of property sales each has experienced over the season.

Of course, it all ultimately depends on the property i.e. its size, location, condition, etc, but it certainly helps if the resort you're purchasing in has a whole lot going for it.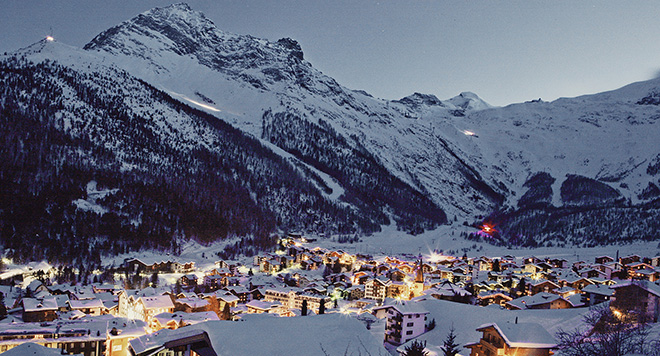 Saas Fee
We begin in Saas Fee, where this resort's recent rise to prominence has taken even us by surprise. That's not to say we haven't always seen its potential and wondered why it so often flew under the radar, but we never predicted just how quickly this resort would begin to develop.
6 years ago we had just 3 properties for sale in Saas Fee, all of which resales. The Weber laws seemed to have brought an end to the concept of a new property in the village. However thanks to some clever thinking on behalf of local business owners and architects, the resort is now full of new developments. A combination of renovated hotels and clever rental and management schemes have given prospective buyers a great variety of options to choose from.
In-turn, the market is perhaps the strongest it has ever been, with many of these developments already sold out and more well on their way. The increase of market activity in the area has drawn in more potential buyers, meaning some developers can't release their projects quick enough. This has also led to the rise in trendy new bars and restaurants, adding to the resort's overall appeal.
All this action has made Saas Fee an excellent place to invest at the moment, as if it wasn't already! Saas Fee is snow sure, charming, surprisingly lively, surrounded by dramatic scenery and the closest a foreign buyer can get to Zermatt. It has taken a bit of time to be discovered for what it really is, but now that it has, it seems to be showing no signs of slowing down.
We went so far as to commission a local filmmaker to create
short film
so that you can all see what the fuss is about.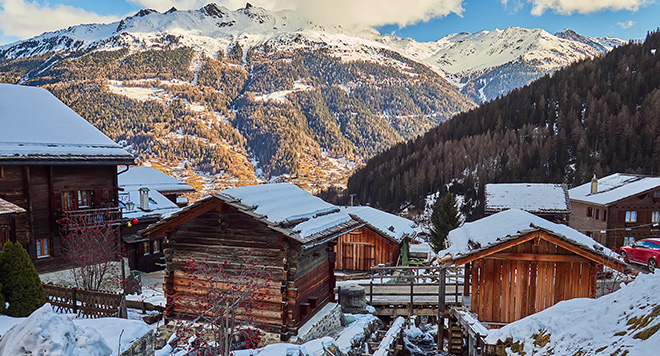 Grimentz
Grimentz seems to be following the same path as Saas Fee, only a couple of years behind, as it is currently in its stage of relative discovery. Of course, others had discovered it before, but they seem to have chosen to keep it a secret, and you can certainly see why.
This is another unspoilt and traditional Swiss village even complete with its own medieval centre. It also has some world-class off-pisting and a variety of slopes spread across three more traditional villages.
As we have discussed in an earlier
article
, clients these days are beginning to rebel against the high, purpose-built resort, choosing instead character and dual season access to bleak, albeit huge, ski areas. Grimentz is the epitome of a dual season gem, with a summer scene of bright red geraniums covering each centuries old chalets against a backdrop of dark green mountainsides.
Several new developments have been going up around Grimentz recently, giving buyers a decent choice, however there is also a great resale market to utilise. In particular there are a lot of beautiful old chalets near the centre, as well as some newer ones on the slopes. As Grimentz is in its initial rediscovery period, now is a great time to invest before prices really begin to climb.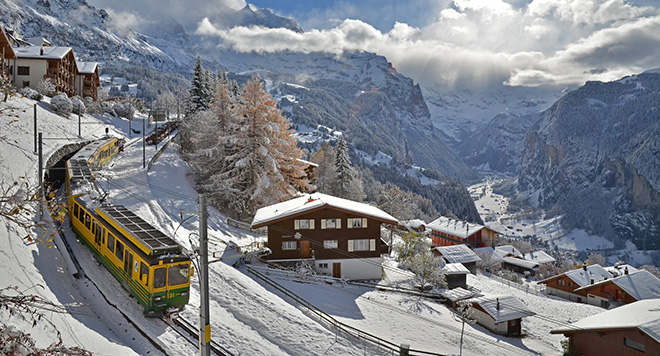 Wengen
If I wrote this 10 years ago, Wengen would have been in the top 5, if I wrote it in 10 years, I am willing to bet Wengen would still be on this list.
Another charming, car free resort, (you can probably sense a pattern occurring) Wengen is loved by visitors from the moment they step off the old funicular which, having weaved its way up past spectacular scenery, seems to drop you into the past. It's easy to understand why Wengen has been hugely popular with British tourists since the Victorian age, with historic hotels everywhere you look.
The investment potential of Wengen is based in its constant and ever-present pool of prospective buyers. A lot of them learnt to ski in Wengen or grew up enjoying Christmas and New Year in this truly magical place. No other resorts matter to them, this picturesque plateau has been and always will be, the only place they will ever ski.
It's no surprise then that for 90% of our clients, if they are interested in Wengen, they are only interested in Wengen. All of them are simply waiting for the right property to become available. When it does, it's gone in no time.
This does make it a slightly complicated place to invest in, but if you find something you like the look of, chances are so do a whole lot of other people! So while it might be a bit of a struggle to buy it, you can be assured that when you come to sell it, if of course you can ever bring yourself to, there will be no shortage of potential Wengen lovers ready to pounce.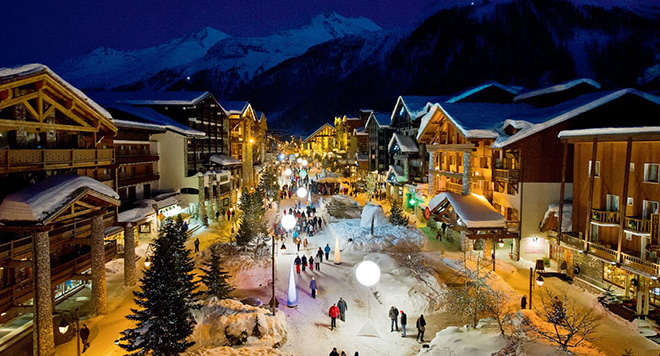 Val d'Isere
France as a whole is a tricky one at the moment, thanks in no small part to the disorganised mess that is Brexit. If you are not from the UK then you will of course be carrying on as normal. However if you are, then the prospect of buying in an EU country could be a bit daunting.
Val d'Isere however breaks the mould and makes it more than worthwhile to take the plunge. I was thinking of choosing Alpe d'Huez for this one, due to the huge levels of investment that are completely transforming the resort. However Val d'isere just still manages to outdo it.
It could be as simple as the fact that it is the best resort in the French Alps. Some regulars would probably argue the whole world. Indeed it's expansive, snow sure ski area and vibrant, lively and glamourous centre go a long way to showcasing its investment potential. But I think it goes further than that with the simple fact that, this is where the French buy.
Not only that, but recently almost every good investment is being immediately snapped up by the locals. They see the investment potential in this place and don't hesitate to purchase any property near to the centre and/or slopes. A decent number of new developments have come and gone from the market in recent years, so just like Wengen, you can always be sure that there is a market of interested buyers should you ever look to sell.
Also, not unlike Alpe d'Huez, Val d'Isere too is soon to undergo a
huge redevelopment project
, creating a front de Neige and several new hotels and businesses. Making this already chart topping resort even more attractive.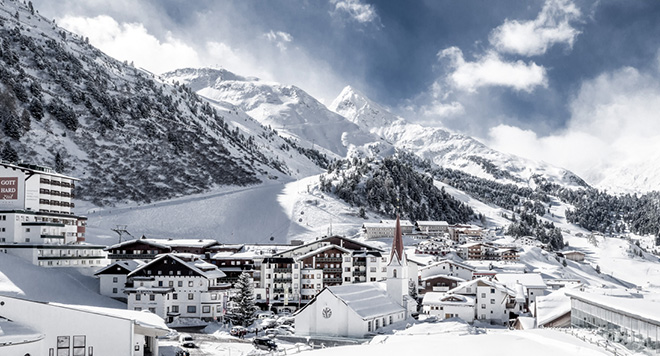 Obergurgl
This compact village high up in the Austrian Tyrol very rarely has properties for sale, but when it does, they don't hang around very long. Obergurgl has developed into an extremely sought after resort, with some people even referring to it as the "Diamond in the Alps". The reasons for this can probably be put down to its altitude which, unlike the majority of Austrian resorts, is extremely high (1930m to be exact).
A lot of people love the Austrian Alps but are put off by the low altitude resorts and fear for consistent snow quality. Obergurgl provides them with the best of both worlds, a traditional village with skiing all the way up to 3000m. It is also surprisingly lively for its size, offering visitors plenty of evening activities and an apres ski scene with a touch of class.
With all this in mind, it's no wonder properties do not stay on the market for long here. Thus Obergurgl's investment potential is not only in the resorts quality, but also in its exclusivity. There aren't a high number of expansive new developments, but rather a select few which anyone in the know will be quick to pounce on.
Despite this property prices here are not that high, certainly in comparison to the more well-known resorts of Lech/Ischgl etc, making it a bit more accessible than Austria's super resorts.
We have properties for sale and decades of experience in all the above resorts, so if you are interested in exploring any of these investment opportunities further, please don't hesitate to get in touch.