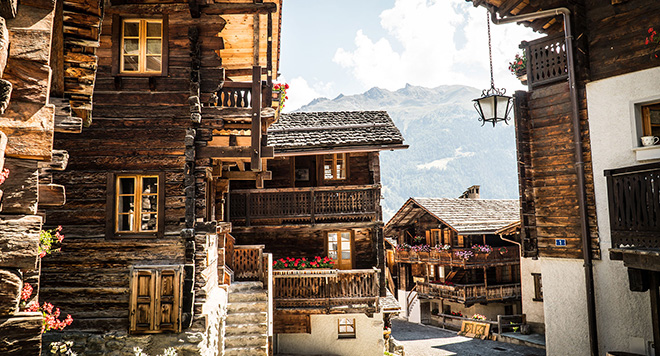 Every buyer has to make the decision when purchasing a ski property. Do they go for a purpose-built resort with plenty of front de neige, lots of facilities and a distinct lack of character? Or do they go for the slightly less convenient, but much more attractive, traditional mountain village?
The answer has for years seemed to split buyers pretty much 50/50, however recently we have been seeing a large shift as the majority of buyers are realising the benefits of choosing a charming, historic and beautiful Alpine location.
The best place to find such locations are no doubt in Switzerland, where history and geography led to farmers settling on the mountainside. Switzerland is not a particularly large country and it will come as no surprise to anyone to learn that a considerable amount of it is mountainous. With little space for farmers to keep their cattle, they had no option but to head up in search of suitable pasture.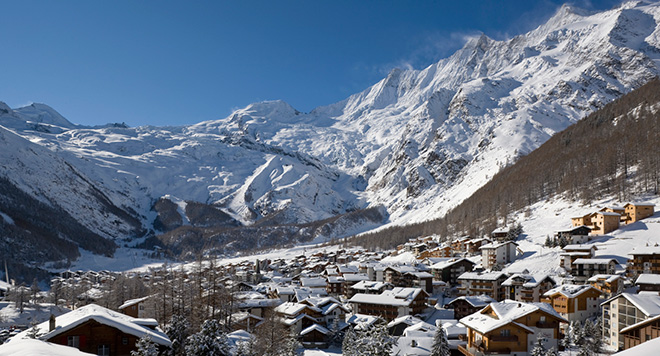 This is exactly how three of the best of these charming resorts, Grimentz, Saas Fee and Wengen, came about. Unlike the Alps' purpose-built resorts which were designed and built a lot later, with skiing at the forefront of the minds of their creators, these three developed naturally over almost 1000 years. The first recorded mention of Grimentz is back in 1052, while Saas Fee's was in 1304 and Wengen's 1268.
These medieval settlements thus still carry several their original characteristics, with beautiful old barns and narrow streets lined with history around every corner. The 50% who chose a purpose-built resort tended to prefer modern ski towns, with plenty of ski in, ski out properties, modern lifts and a lively night life. It is true that our traditional 3 do fall behind in these categories, apart from Saas Fee which has a surprisingly active night life!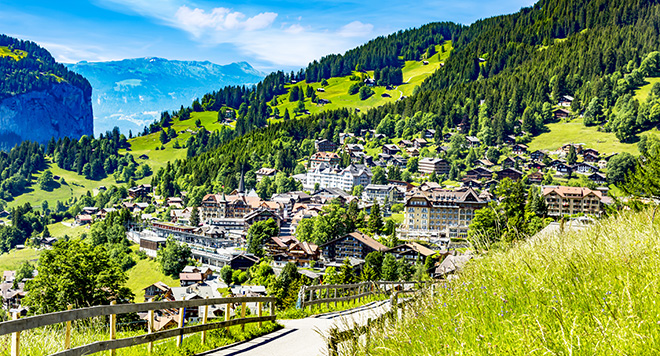 And sure, if you're just going on a week's holiday then the purpose-built resorts make plenty of sense. However, what's switching this 50% to our traditional villages is the realisation that, if they are to buy a property and use it for years to come, they need a bit more from their resort than just easy access to the slopes.
Some of the newer ski towns were developed throughout the 70s and 80s meaning they are often quite grey, drab and well, ugly. Over the years looking at such scenes everyday can start to feel less than inspiring. If you are to own a ski property you need character to wake up to every morning, you need beautiful scenery, traditional, family owned restaurants and perhaps most importantly, dual season usage.
The purpose-built resorts of Val Thorens, Meribel, Les Arcs etc are ghost towns in summer, with barely a single restaurant or café open. While our Swiss villages are lived in year-round as they have been since the middle ages. Meaning no matter when you are looking to visit; shops, bars and restaurants will be open for you. Saas Fee even has skiing on its glacier over summer and is where most of Europe's Olympic skiing teams' practice.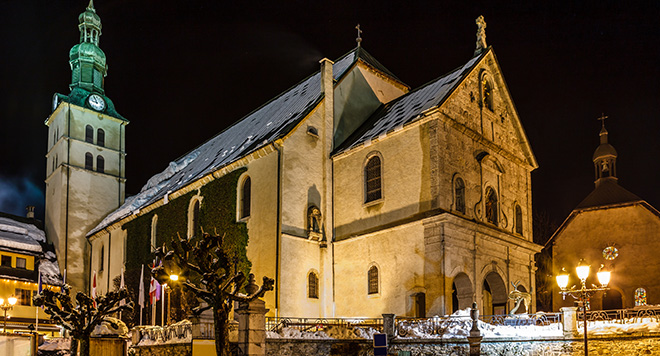 If you do prefer the French Alps then France does have a few of these villages such as Chatel, Samoens and St Martin de Belleville; which can give you a similar, albeit slightly less impressive version of the Swiss resorts. Megeve can also give you that traditional experience many are currently after, though it has a bit more glamour thanks to plenty of designer shops and a much weightier price tag along with it.
I've chosen to explore Saas Fee, Grimentz and Wengen because these are precisely the resorts clients have been gravitating towards over the past year. Often they choose to visit just these three in order to decide which is best. Alternatively they tend to come out on top if clients have combined a visit of them with purpose built resorts such as Nendaz and La Tzoumaz.
If you are looking to choose between them you have: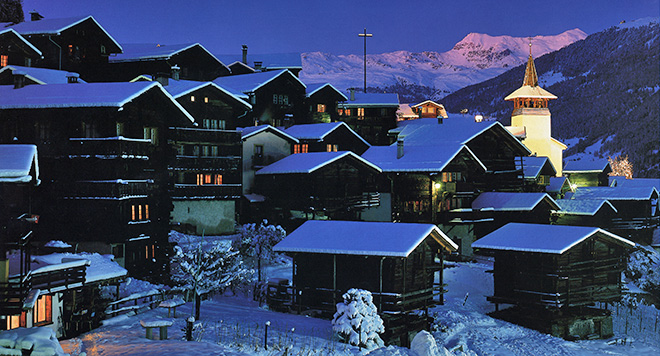 Grimentz
– the oldest, least built-up and most charming of the three. Grimentz has an intact medieval centre, village church, a surprising amount of snow-sure skiing and some world class off-piste. The resort is directly connected to Zinal and, as part of the wider Val d'Anniviers, offers you over 220km of slopes to enjoy.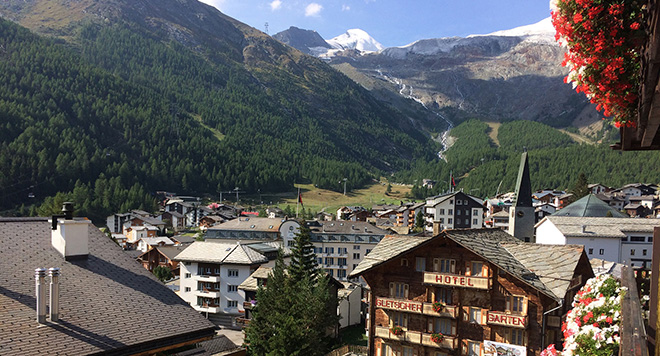 Saas Fee
– A real up and comer at the moment with lots of projects in development and on the horizon. What's great about these is that they are not new constructions but renovations of existing buildings, meaning the car free village and its charming aesthetic are left unspoilt. Saas Fee has a great selection of restaurants and bars to go with very high slopes and one of the longest ski seasons in the Alps.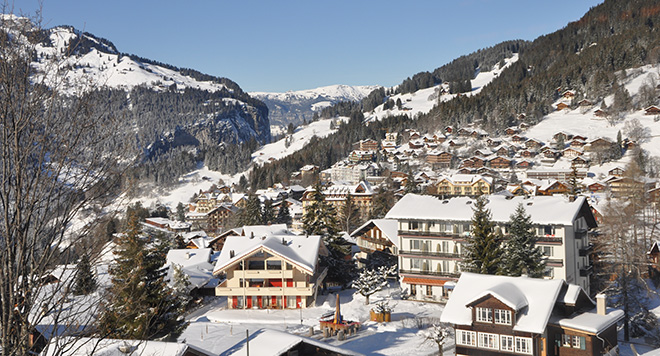 Wengen
– An old favourite for many, Wengen is another car free village set on the mountainside and reached only by an old cog railway. The train ride up is worth the trip in itself and Wengen wins every award when it comes to the scenery which is simply spectacular. There is also plenty of skiing connected with the high-end resort of Grindelwald and, like Saas Fee, the town is just as popular in summer as it is in winter.
Ultimately what it comes down to is what a buyer wants from a resort, and what we are finding is that this is beginning to change. Less buyers are only interested in the skiing aspect of mountain life and thus less are simply looking for a bolt-hole for easy access to the slopes. Buyers are now starting to see that owning a property in the Alps, particularly in a traditional mountain village, can provide you with so much more. Half of our buyers seem to have known this all along, and now the other half are starting to realise it too.