When it comes to journeys to the Alps, the common belief is that the faster you get there, the better. I mean, haven't we all had that one traumatic journey at some point in our past that just never seems to end? It's not for no reason that the idea of an unnecessarily long trip to the mountains fills us all with dread.
Whether we're looking at mad post-work dashes to the Airport, tiring early morning flights or the fine calculations that go into making sure we're not too late or too early for a flight, travelling the fast way can be incredibly stressful. Still, it's better than the slow way, right?
Well, not necessarily.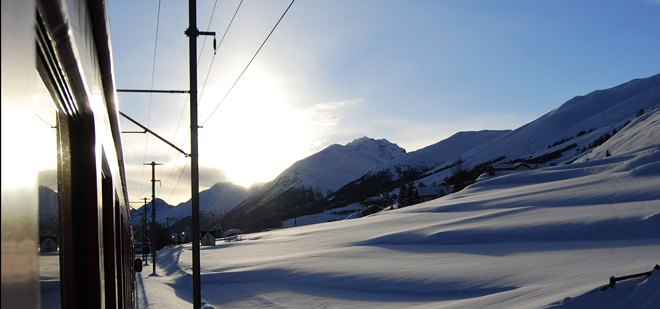 While I've always been rather of the opinion that the old snow trains sounded like an absolute riot, it wasn't until very recently that I tried my own slow journey to the Alps. It took two days, including an overnight stop in Reims, where we poked around medieval streets rather than pressing on further and driving into the night.
Instead of trying to complete our full ten hour journey to
Chamonix
all at once, we set off on a Saturday morning, and arrived at lunchtime on the Sunday. That was by car.
There's a good chance you're one of those people for whom a ten hour journey sound hellish, so you might feel going by train is more your speed. It is, after all, the epitome of relaxing. All you need do is sit back and watch the world go by. It's spacious, quiet and it's still one of the classier ways to travel. For many skiers and snowboarders, it's perfect.
Breaking the train journey to the Alps into two sections normally involves getting the Eurostar to Paris and spending an evening in the city of light, before you hop on the TGV to Bourg St Maurice the following morning. And sure, you might not be able to leave your house at 6am on a Saturday morning and be on the slopes that afternoon, but when does that plan ever actually work out?
Plus, with the Eurostar considering running snow trains on Sunday, getting within half an hour of
Val d'Isere
or
Courchevel
won't even require switching trains anymore. So why not take it easy, go a little slower and avoid the stress of racing to the Alps? It'll be worth the wait.