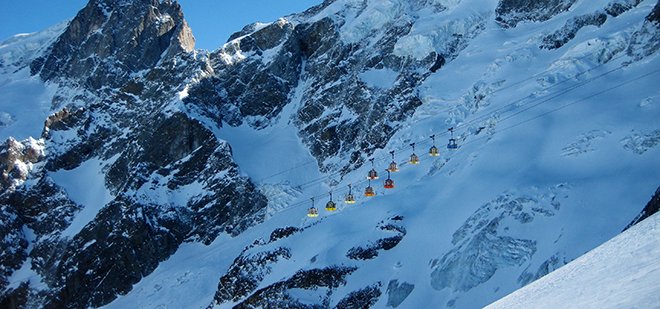 La Grave, Europe's haven of extreme skiing, has been under threat for the last year or two. The lease that keeps their off-piste wonderland in business expires this season, and until now nobody has been sure if it would survive or not. Thankfully SATA, who run the ski lifts in Alpe d'Huez, have stepped in just in time.
The new 30 year contract will be signed this week, after the municipal council of La Grave voted unanimously in favour of the bid. There were concerns that should the lift have to shut on the 15th of June it might mean the end for the cult resort; expert skiers all over the world will be delighted to hear that the crisis has been averted, and the resort will be able to continue on as normal.
SATA plan to add a third stage to the top of the Dome de la Lauze that might open by 2021, giving daring skiers better access to the topmost slopes in the resort. The company has also promised to keep on the current staff and renovate and replace some of the lifts. That investment will revamp the resort while retaining the completely natural, unpisted vibe that makes it one of the most beloved freeriding areas around.
The proposed developments will cost around ten million euros, and some are worried that the new investment in the resort will change its character, losing what makes it so special in the first place.
La Grave is something of a one off, even in ski resort terms. Unless you're heli-skiing or cat-skiing in Alaska it's not easy to find somewhere that is completely without runs; those areas that do exist are often small off-shoots of larger ski areas. The community of La Grave has always been somewhat defiantly anti-commercial though, and there would've been fierce opposition had the new owners been intending to change the character of the resort.
The focus SATA have put on retaining the current staff and improving lifts, while keeping the ski passes roughly the same suggests that the company hopes to maintain the cult status of the resort. We're hoping that La Grave will be scaring skiers for generations to come, as untamed as ever.