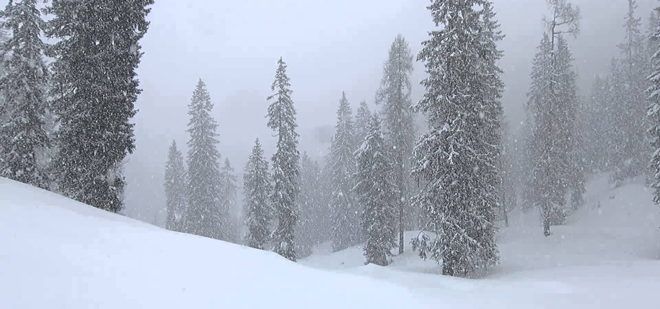 This season has been somewhat unpredictable on the weather front, unless you're looking at North America, where there has been an absolute snow bonanza. In Europe though, the snowfall has been a little more temperamental. In a winter of warm spells that have been a consistent road block in the way of building a good base level, May has arrived with a flurry of snow.
Those of you who were already mourning the end of winter might've been a little premature.
Ski areas with the capacity to open whenever the snow arrives are always going to be a good choice; places like the
4
Valleys
and
Chamonix
, which opened early when the snow arrived in November, are well placed to stay open for as long as the snow cover is good. It's these areas that will capitalise on the unexpected late season snow.
Zermatt
and
Tignes
are both currently open, with the former expecting over two metres of snow over the next week or so. Anyone heading over to the Alps will be able to get a few last minute powder turns in before the weather turns warm again.
Over in the US, Squaw Valley is struggling to open its famous spring pool and hot tubs, due to the massive snow base they've built up this winter, and with the forecasts warning of storms, the resort is worried they might not be able to open the pool at all this year. It would be a shame, but we have to say it makes a change from their run of poor winters a couple of years ago.
If you're looking for a long season that will still offer you good skiing if the snow arrives en masse in mid-June, the more flexible glacier resorts like Tignes,
Saas Fee
, Zermatt and
Kaprun
are your best bets. Plus, summer skiing is a great reason to head for the Alps out of season.
While most resorts have already closed their doors for the summer, it's always nice to see snowstorms hitting the Alps, even in late spring. We hope any late season skiers enjoy the unexpected good conditions while they last.