Jetpacks have been the transport of choice for James Bond and super spies everywhere since the 70s. Unless you're Filip Flisar, they're not the first thing you think of when it comes to skiing. If we're being honest, they're probably not even on the list. However, none of that has stopped a Norwegian firm from coming up with the 'ThrustMe' jetpack.
Weighing in at 10kg, wearing one will feel like carrying around a small child, but 'ThrustMe' is made to look like your average backpack. With four mini jet engines at the waist, the ski jetpack will enable people to travel horizontally and uphill at speed. If the idea of hitting the slopes with the sort of gadget to make Bond himself green with envy is up your street, 'ThrustMe' will set you back 3,640 Euros.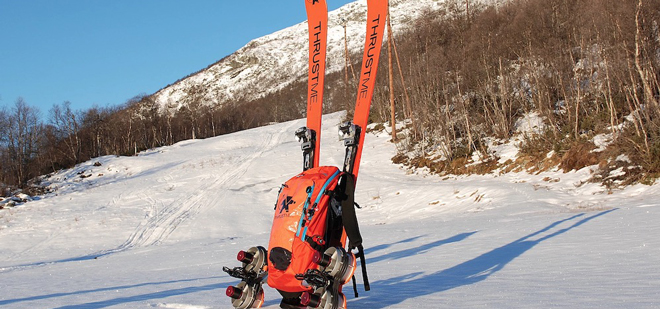 The jetpack is still being sold on pre-orders this winter, with the intention of launching next season. All four engines together provide enough thrust to hit 80kph on a flat slope, with the rechargeable energy source providing 15-30 minutes of power on an average use. The short battery life means that the jetpack probably isn't going to be replacing the good old fashioned ski lift just yet, but it'll certainly make a good toy to have sitting in the cave of your luxury ski property.
Before you splash out and hit the slopes of
Verbier
,
Zermatt
or
Courchevel
with this though, bear in mind that the manufacturers say that users must be over 16 and it's still unclear exactly what the safety implications are.
If you're hoping to eschew ski lifts in favour of whizzing up the slopes on your skis, it might be wise to talk to ski patrol about it first. We can only imagine the sort of chaos that using a jetpack to roar up an open ski piste would bring; no doubt next season's product launch will have ski resorts everywhere paying close attention.