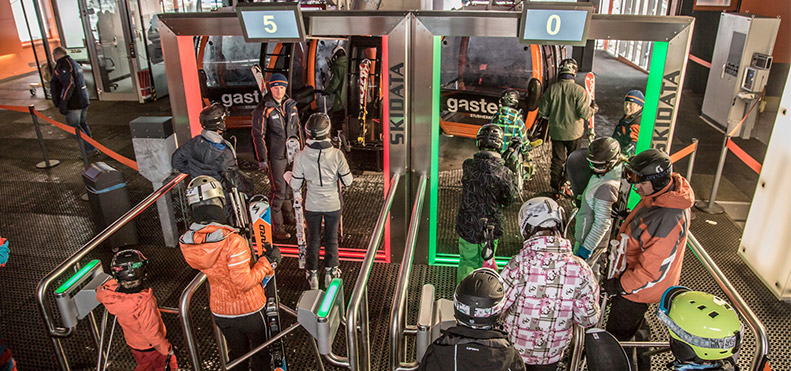 The world of ski tech moves pretty fast. One minute you're hiking up a hill wearing leather boots and carrying shaped wooden planks, the next, you're still hiking up a hill but you're wearing Gore-Tex and heat moulded plastic boots, and you're carrying shaped carbon fibre planks.
In a world where even your goggles have sat navs, ski lifts are hard pressed to keep up with the times. In the on-going quest to improve lifts we've seen the rise of heated seats and covers on chairlifts, superfast gondolas that hold a small village worth of people, and conveyor belts that take you to exactly the right spot for the lift to take you up the hill without taking your knees out when it gets to you.
Not everybody is on board with these changes of course, but for those of us who aren't interested in getting frost bite for the purity of the experience, the new lifts make the skiing experience work better. Gone are the days when we had to queue for half a day to get a few runs in or braving a rickety two man chair, so we can all enjoy the slopes for longer.
With that said, the news of an Easy Boarding system for gondolas is a welcome surprise. We all thought that the mad scramble to get on the gondola was one thing that would never change; apparently, we were wrong. The system is designed to make getting on the gondola as stress free as possible, with the gate allowing just the right number of people to fit into the next gondola car lift side.
Electronic screens explain the boarding process and count down the number of spaces there are left in each gondola car, making it easy for families and groups to see where they fit. As a system, Easy Boarding reduces the amount of empty spaces in the cars and frees up staff to help kids and seniors.
I'm sure there'll be a few naysayers who enjoy a good elbows-out dash for the next lift car, but by and large it feels like high time something like this was developed. With ski tech developing as quickly as it is, skiing is becoming increasingly accessible and increasingly high tech. Easy boarding can only improve the experience.