Ah, Christmas, that wonderful time of year filled with good cheer, awkward family time and more food than you could eat in a year. Here at IIP we love Christmas; it's a magical time in the Alps. There are markets and mistletoe, and most importantly, snow. Lots and lots of snow.
And what could be better way to celebrate the festive season than by dressing up like Santa Claus and entering a ski race?
It's staged in the remote Swiss village of Samnaun on the final weekend of November. This year's winners were the Appenzeller Powerchlaus team and no doubt they will be reinvesting their 2000 CHF winnings into Santa hats and presents for small children. 32 teams of four from around the world competed against each other in a series of Santa appropriate tasks (and some slightly unusual ones, like Karaoke and Snowmobiling) for the coveted title of best Santas in the world.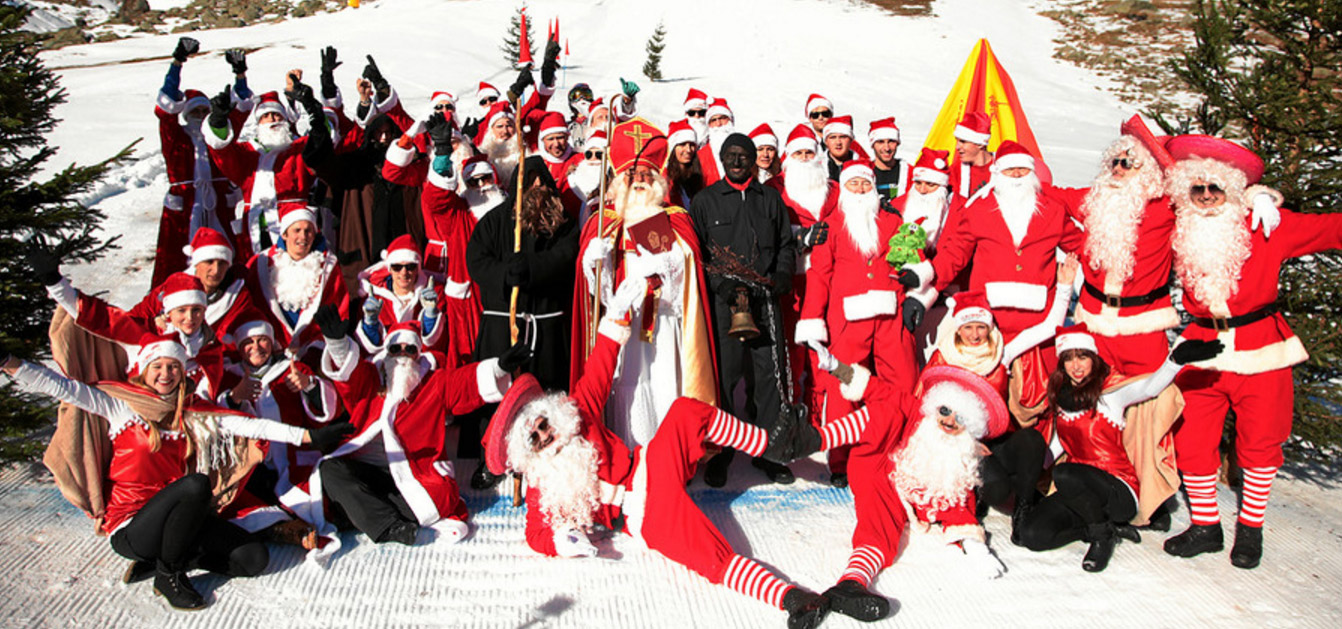 Anyone hoping to compete with the Santas, of whom a surprising number came from Scandinavian countries, can spend the next year thinking up the perfect introduction routine and team name. Sledding, navigating, artwork and decorating skills are also essential, because the contest aims to test your every Santa suitability. After you've proved yourself with sledding, navigating, and creativity in both the intro round and the 20 minute challenge, it's time to face the wall.
By that, I mean the chimney shaped climbing wall that each member of the team must ascend and abseil down one by one. It's a bit like doing a relay, if you had a sack instead of a baton. This isn't the only relay in the course. The next challenge is a hat race, which is an obstacle course crossbred with a pantomime horse. Doesn't sound like something you'd excel at? No doubt you're not alone in that. Perhaps it's a skill that can be learned with practice, but more likely it's something that any entrant will have to stumble around, hoping not to look too ridiculous.
The last challenge in the event is a straight relay, if straight relay meant doing it on a glorified rocking horse. You can imagine how well that event tends to go; I'd advise any prospective entrants to this Santa Ski Race start training now. Maybe by the time next November rolls around, you'll have a shot at taking home the title. We'll see you there.