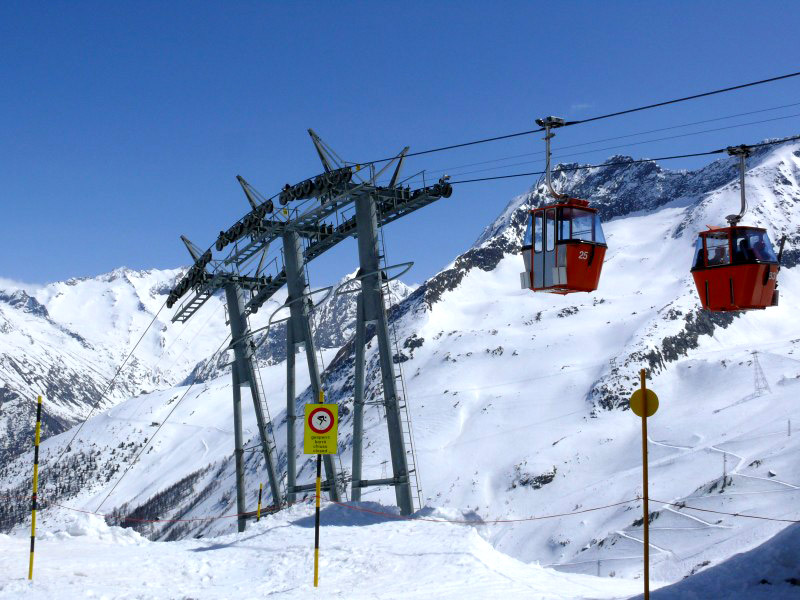 There are some long awaited changes coming to Saas Fee; the ongoing efforts to update the lift infrastructure will see the old Spielboden lift shut down and a new one built. The initial change will be a simple swapping of the old lift with a shiny new one, but there is talk of extensions being built on either end.
The Spielboden ski lift is a little orange bubble that leads up to the glacier, and it's been running since 1976. It is no surprise therefore that it's being retired after forty years, with the new lift bringing a much needed high-speed route up to the glacier and the best of the skiing in Saas Fee. The lift will be twice as fast as the old one, and it'll have enough space for ten. It will also have a midstation with direct access to the Felskinn gondola, becoming the main axis for the resort.
Spielboden mark II will be state of the art, giving visitors a better ride experience; there will be wifi in the cabins, the lift will be fully equipped to handle mountain bikes and the whole endeavour will be more eco-friendly. Not only is this a much needed development for Saas Fee, and a huge plus for glacier skiing fans who wish to hit the famously high slopes, but the new development is a good sign that the efforts of local residents and businesses to improve the ski area are finally paying dividends.
We have high hopes that the new Spielboden lift will be extended at both the top and the bottom of the hill, followed by a much needed link to Saas Grund that will enormously improve the size of the ski area. Anyone interested in local history of Saas Fee will also be able to buy individual cars when the gondola is shut down this April.