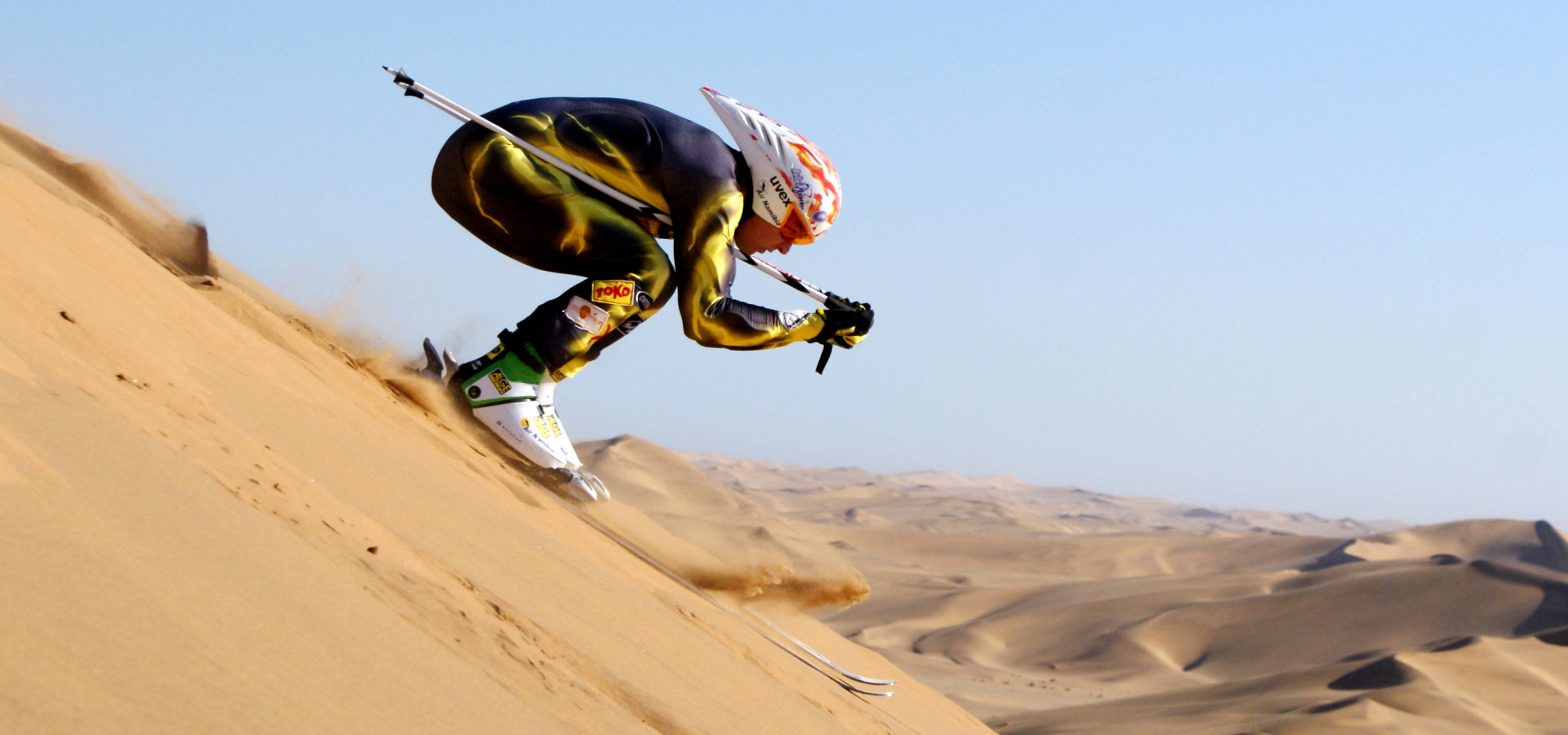 Every year, when the snow melts, an army of snow sports lovers either head for the southern hemisphere or prepare themselves for a snowless summer season. In recent years, the summer season has seen some rather interesting developments, from sand skiing in the Namibian desert to following in Candide Thovex's footsteps and heading out on the grass.
When it comes to fighting the summer blues, skiers and snowboarders alike can get very inventive. Sand skiing is probably the least surprising of the snowless skiing methods; after all, despite being earth rather than water, sand and snow have rather a lot in common. The best known sand skiing operation is a company called 'Ski Namibia', and the sport, whilst rather niche, is gaining in popularity. The head of the company, Henrik May has already developed some specialised sand skis.
Grass skiing is a more established sport, with proper equipment that includes rolling treads or wheels on the skis to ensure skiers can easily roll down the hill. Grass skis are available in the UK and around the world, and you can take up the sport anywhere. With a Grass-ski World Cup and several shops where you can buy the equipment, this is an easy way to keep skiing through the summer. And you don't even need to ruin the underside of a pair of skis a la Candide.
Over to another professional skier whose quest to keep skiing throughout the year has taken them to unusual places: Fabien Lentsch took on dirt skiing on his Red Bull sponsored tour of the world's gnarliest slopes. Obviously, this isn't quite as accessible as the other two options, but it does make for breath-taking viewing.
Whether you head for the beach, hop on your mountain bike or get involved in grass skiing, there is plenty to do when you're whiling away the hours until the next ski season starts.