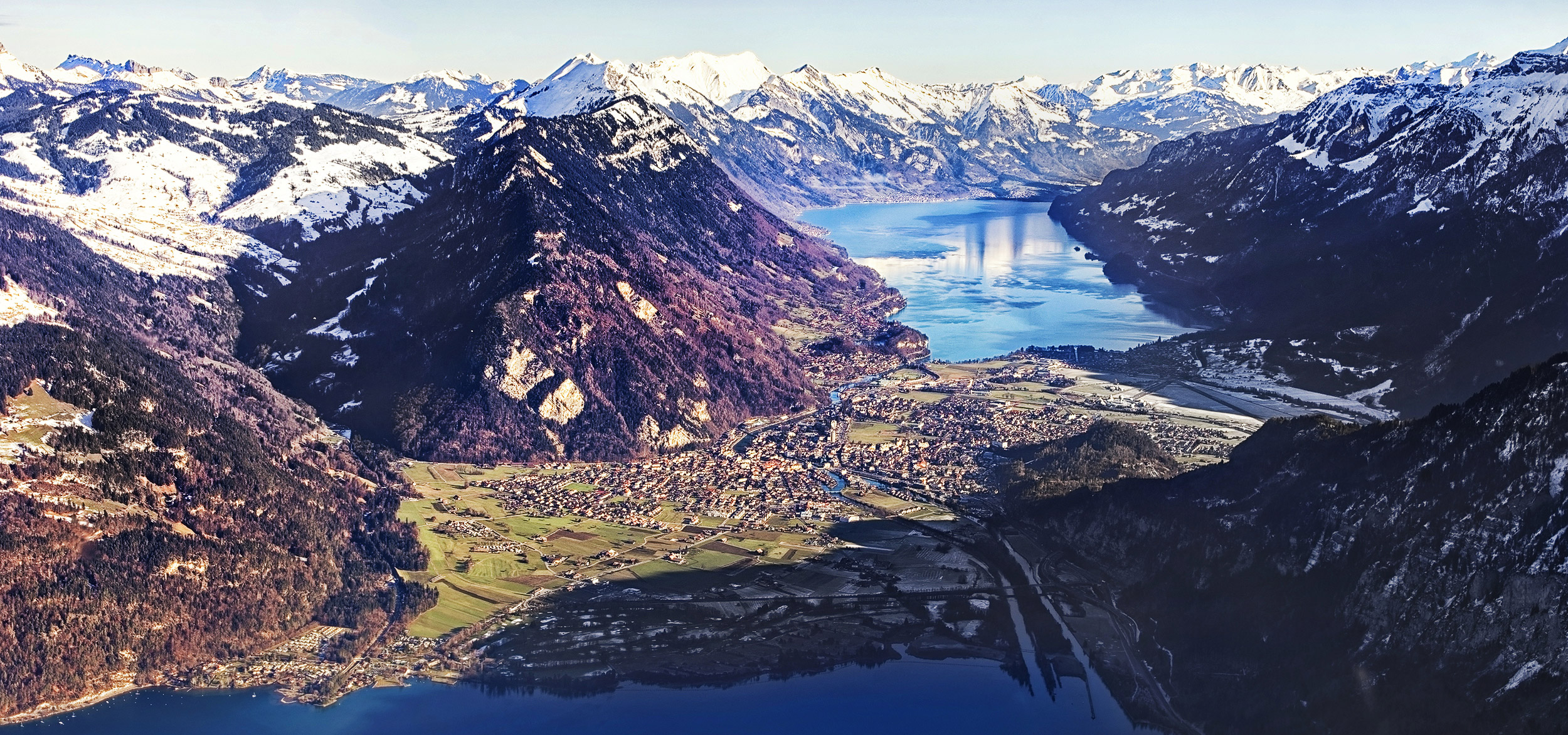 If I asked you to name an Alpine Lake, the chances are pretty high that you would've named Lake Como in Italy. Failing that though, perhaps you would've brought up Lakes Thun or Brienz. Or, more likely, the famous town that sits between them both. Interlaken.
Popular in the Victorian times amongst poets and musicians, Interlaken can count the rather infamous Lord Byron, Count Tolstoy and famous American writer Mark Twain amongst its fans. Known for its dramatic mountain backdrop, the historic town has been a tourist destination since the 18th century, and its natural lakes and pretty town continue to attract visitors from all over the world today.
Originally known as Aarmuhle (mill on the Aare River), Interlaken was dominated by a monastery until 1528 when nearby Bern went through the reformation. The aforementioned mill kept going for almost 200 years longer, owned by the provincial Bailiwick, finally closing down in 1708. The mill canals through the town are a reminder of this historic industry.
There are two more towns that make up the area that we commonly refer to as Interlaken; Matten and Unterseen. Matten was formed when the collection of farmers living in the area got into a disagreement with the farmers of Aarmuhle, creating the political community of Matten. The two communities have existed side by side ever since.
In 1279, the king of Hapsberg granted Baron Berchtold III permission to build a stronghold between the lakes. The fortification was granted a city charter, and the town of Unterseen was born. Unterseen played a prominent role in the establishment of tourism in the region, becoming the best known of all three towns in the 1700s, before Interlaken outgrew it.
Interlaken, and the Jungfrau region in general, is well known for its cog railway system as well as turn of the century hotels across Wengen, Grindelwald and Interlaken. As one of Switzerland's oldest holiday destinations, Interlaken's tourism industry was shaped by Peter Ober and Eduard Ruchti, whose hotels were amongst the first in the area.
Over the last hundred years, Interlaken has gone from strength to strength as both a summer destination and as a winter sports base. Today, it has a vibrant atmosphere with activities and cultural attractions throughout the year.