Over the last few years, you would be forgiven for thinking the Alps had hit their peak when it came to new and interesting ways to terrify visitors, what with the array of small glass boxes perched on the edge of sheer drops, the seemingly endless combinations of bungees and skiing, and the precarious suspension bridges that don't actually lead anywhere.

You'd be wrong. This summer has seen Murren introduce its newest attraction for adrenaline junkies everywhere.
As we all know, nothing could be more fun than standing in a glass bottomed cable car trying not to get vertigo, except maybe walking along a precarious path halfway up a rock wall. So with that in mind Murren, in the Jungfrau Region, has decided to build a Thrill Walk. This is exactly what it sounds like, and it will open year round as the newest family attraction in the resort.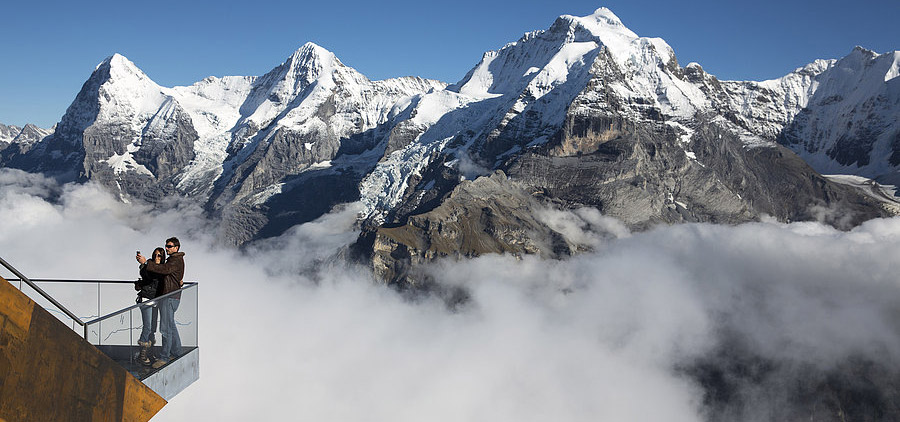 The Thrill Walk combines such popular Alpine activities as standing on glass, trying to ignore terrifying drops, pretending high-altitude suspension bridges don't freak you out, and not thinking about safety equipment failure. The walk leads from the Birg terrace down to the vertical walls of the rock massif, clinging to the sheer rock face. The 200m long steel structured design then swings under the observation deck below the cable car, and includes a variety of sections.
With interplay of air, glass and grating throughout the walk, this is not for the faint of heart. The walk includes a twenty metre section with glass bottomed floor, followed by ten metres of cattle grid flooring, an eight metre Nepal bridge and an eight metre long crawling area for children.
As one of a number of year round attractions in the Jungfrau that includes the First Flieger and the JungfrauJoch in
Grindelwald
, as well as Blofeld's infamous revolving lair, the Thrill Walk is bound to be a popular addition to the area.