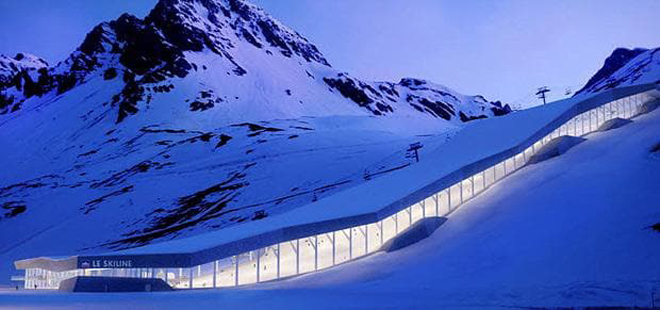 You wouldn't think one of the most snow sure ski resorts in Europe would need an indoor ski slope. After all, when you can ski the great outdoors for nine months of the year, it seems a little redundant to have an indoor piste too. You might be surprised to see that Tignes, part of the Espace Killy ski area in France, is looking at exactly that.
A new indoor facility has been approved by the region's commission for new tourist units. It will cost 62 million, and it's being suggested as a conservation effort as much as anything else. The project doesn't yet have financial backers, and still needs more detailed plans before it can go ahead. It is, however, a sign that Alpine ski resorts are getting increasingly proactive about their disappearing glaciers.
The plan to use an indoor ski piste along the lines of the one in Dubai is proposed by the mayor of Tignes as a way to turn the area into a year round winter sports destination once again.
Yes, the new indoor slope will ensure that skiing is available 365 days a year. With small and medium sized glaciers across the Alps due to have melted by 2050, there has never been a better time for Tignes to start investing in the future.
The Tignes Ski Line centre will be located on the main slalom piste at Val Claret, and although there are benefits to the project, it's seeing opposition spring up already. Environmental groups like the 'Rhone Alps federation for the protection of nature' have said that the Ski Line is like something from Disneyland, and that it crosses a line.
Whilst work could begin on construction as early as 2018, the opposition it's already facing from quarters who think the project doesn't respect the mountain enough suggests that might be a little ambitious.