When it comes to ski chalets, there are a lot of factors that can have an impact on your interior design vision. From planning consent specifics to awkward pipes, parts of your interior design will be affected before your chalet or apartment has even been finished. Thankfully for buyers everywhere, there are plenty of ways to make sure your chalet is exactly what you're expecting.
Most people who have spent time in the mountains will think of a similar aesthetic when considering chalet style. It will usually be wood clad, with a chic rustic edge and sheepskins or fur throws, and while not everybody chooses to go the traditional chalet route, the image of the chalet as a warm, well-furnished mountain retreat remains.
Even for those looking to go in a more modern direction with their décor, there are certain tricks to making the most out of whatever space you have available, be it cosy or cavernous. We take an in depth look at the best ways to make sure your chalet has the wow factor you're looking for.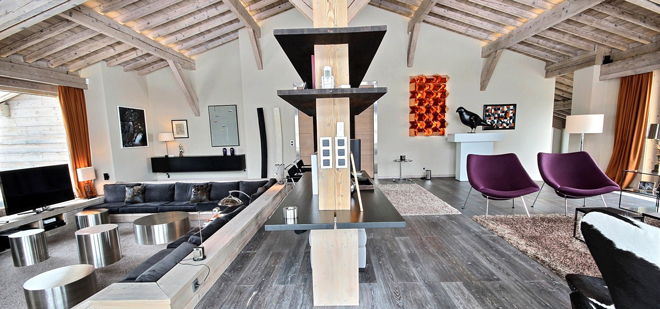 Double Check the Plans
The architect who designs new-build apartments usually has a time limit, a list of specifications and a number of projects to finish. This means the plans drawn up are often rushed rather than maximised for the proper use of space. Sometimes, it makes most sense to move a kitchen, bedroom or bathroom around to ensure your chalet or apartment makes the most of the space available.
Going through the plans with someone who knows how to read them is an excellent way to ensure you don't have to negotiate an unusually placed kitchen when you're planning your décor. If you do consider moving rooms around, be aware that it could draw out the build time and the position of the pipes might make moving bathrooms impossible.
Make use of the Dead Space
When planning consent is granted, it can come with a few interesting conditions that means there is a certain amount of unusable space in your chalet or apartment. Whether that means an awkwardly placed window or floor to ceiling beams that cut half of your room off, using the space that looks unusable is important.
For low ceilings, it can be a good idea to use the space for cupboards or shelves, providing vital extra storage, while awkward windows can acquire a window seat and become a reading nook. If there is dead space in the kitchen, consider using it for wine racks or overflow storage.
Dead space might need a little creative thinking, but it is rarely as unusable as it might initially seem.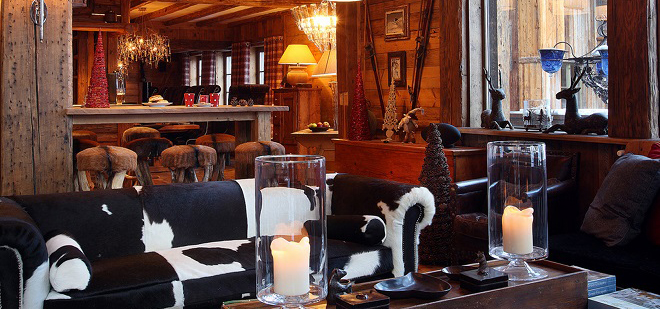 Consider what will sell
This is especially important if you're renting your property, but even if you're not planning on rental, keeping what will sell in mind when you start your interior design is a good idea. The chances are, you're not going to want to keep the property forever, and the process will be easier if your potential buyers like the décor of the chalet already.
Plenty of buyers are looking for a property they will be able to just walk into, without needing to consider redecoration and renovation. If you are selling a property that has stylish, well thought out interiors, whether modern or traditional, it will be much easier to get your asking price and sell quickly.
Cutting Edge Design Ages Badly
There is a thin line between modern and cutting edge, and you'll probably want to pay attention to it. While cutting edge design makes an excellent statement upon first viewing, it tends to be dated within a month of fitting. That often leads to an endless cycle of refurbishment that costs more than you're willing to spend on a ski property.
Sticking with classic style, be it sleek contemporary lines or traditional rustic design, with high quality materials and a few statement pieces will make sure your property is as stylish in five years as it is now. Going with a completely cutting edge style will also have an impact on the rental clients, who often look for the traditional above all else. Anyone planning on renting their property out should bear that in mind before going completely contemporary with their style.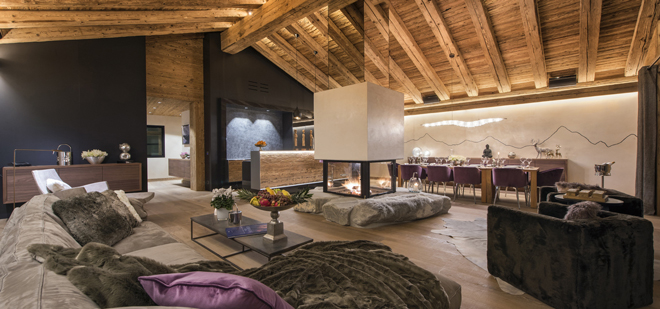 Sometimes Less is More
There is always a temptation, when looking at interior design, to showcase an expensive taste. Why not? High quality furnishings can elevate a property, and it's well worth investing. There does come a point, though, when it all gets to be a little too much. As with many high end chalets and hotels, the line between classy and tacky can be blurry.
If you're investing with a view to rent, this can be particularly tricky, since you'll be balancing your personal taste with what will appeal to other skiers. Renters tend to look for classic Alpine staples, including traditional open fireplaces and wood clad walls and ceilings. The occasional glamourous statement piece is a great way to set your property apart, but too much glitz can be very overwhelming.
Hire an Interior Designer
Hunting through various shops, depos, quarries and factories to find everything you need to fully furnish your ski chalet can be an exhausting process. For foreign buyers, this is usually made worse by a language barrier that sees both parties struggling to understand each other.
Sorting everything from fixtures to furnishings, taking the step of hiring an interior designer can make the buying process that bit easier. If you are feeling apprehensive about the task ahead you can talk to our interior design expert, Joanne Malster. To get in touch, email
[email protected]
with your enquiry.