As far as ski towns go, there is nowhere quite like Chamonix. It sits in a cradle of distinctive mountains whose silhouettes form jagged shapes against the sky in the evenings. The sun doesn't hit the town until just after midday in winter, so mornings can be colder than you expect while afternoons are just made for sitting on terraces drinking vin chaud. So if you're thinking of buying ski property in Chamonix and you're looking at paying a visit, we've got a few tips.
Actually, the town acts as a bit of an afternoon sun trap, which can sometimes cause the sort of freeze-thaw effect that tends to turn the safest of streets into total ice rinks. The main centre is pedestrianised, so any slipping around is thankfully limited to those walking through town on foot, and regular gritting keeps things as manageable as they can be.
Despite having a reputation for having some of the most extreme skiing in the Alps, Chamonix centre is also home to the sort of shops you'd expect to find in the centre of Courchevel 1850. Unusually, Chanel, Moncler and Bognor sit snugly alongside Patagonia, Arcteryx and Peak Performance on the high street. Chamonix is the only ski town we know of where high fashion shops and dedicated touring experts share the same two hundred yards.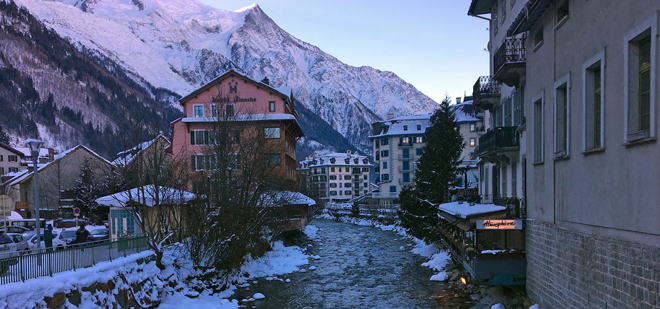 If the ski shops in Chamonix are somewhat divided, the restaurants are similar. There is a selection of superb fine dining options like Le Caphorn and Le Telecabine, as well as the excellent burger joint Poco Loco (where locals get a discount) and a smattering of reasonably priced Savoyarde and Pizza restaurants in the square.
Where most other resorts are designed to have some kind of front de niege, Chamonix town and the ski slopes are fairly separate. Although it is one of the livelier ski towns around, après ski doesn't happen on the mountain; all the bars are in the centre of town.
If you're looking for somewhere to grab a drink at the end of the ski day, we've seen a few recommendations for Moo Bar here and there; we're still not convinced though. We much prefer Chambre Neuf, located just across the road and playing live bands from 3pm until 8pm it's always a good place to unwind. Elsewhere, Monkey Bar in Cham Sud is popular amongst seasonaires and the Irish Coffee Bar has a good cocktail menu and a heated terrace.
In terms of the ski slopes, everybody knows what you're going to get if you head over to Chamonix, but it's not always so easy to get your head around a new town. Even with internet recommendations, trip advisor and all the information you need right at your fingertips, it's too easy to find yourself stumbling down a blind alley.
So if you're interested in buying ski property in Chamonix, give us a bell and we'll help you with everything from advising you on chalets and apartments for sale to telling you where to find the best hotels and restaurants when you visit.