What do you expect when you go to Zermatt? High end bars, restaurants and shops, maybe? Five star hotels, probably. Luxury property, perhaps. The imposing shadow of the Matterhorn, certainly. Visitors to Zermatt will hit the slopes, eating lunch at the famous Chez Vrony, before enjoying evenings strolling around one of the best towns in the Alps. They are somewhat less likely, it has to be said, to be overly concerned with the local wildlife.
That, as it turns out, is a shame. There is something very unusual about the sheep that live on the mountains of Zermatt. Namely, that they are trained to rescue stray hikers and climbers.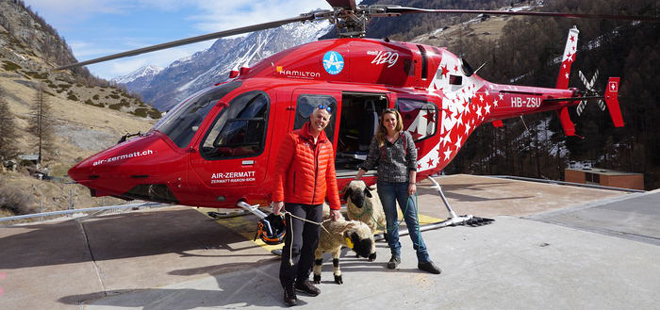 Although the pilot project has only just been announced, they have been planning throughout the winter, with the intention of having Alpine rescue sheep integrated into operations by summer. A few sheep have already been trained to look for and find injured hikers on their own in the Alpine area; the black-nose sheep in particular is fantastic at orienting itself in the mountains.
Sheep, in a rather unexpected turn of events, are better suited to mountain rescue than anyone knew. They are more sure-footed, have no fear of heights, better terrain intelligence and more weather resistance than search dogs. The Zermatt rescue sheep will be trained to go straight to an injured person when they see, hear or smell them, and they'll wear an SOS set on their bodies, featuring an obvious help button, a first aid kit and a GPS location transmitter.
When the injured person presses the SOS button, the 'sheep alarm' will go off in the Air Zermatt helicopter base. This might seem like a slightly unconventional tactic to most of us, but locals are confident that the rescue sheep will make finding injured hikers faster and easier than ever.
So, if you're injured in Zermatt this summer, don't be alarmed if you see a sheep wearing a harness featuring a big red button ambling towards you; it might just save your life.