Should you ask, most people would tell you there are two tourist seasons in the Alps. Winter comes with hordes of skiers and snowboarders hoping for sun and snow, and summer arrives in the form of hikers, climbers, bikers and river sports lovers. In some resorts, if you try to visit outside of those times, you're out of luck. So if you're looking for a resort that feels the same whatever month you visit, a town is definitely the way to go.
Where small villages, however cute, are very unlikely to be open in May or October, an Alpine town is a different story.
Of course, somewhere with a substantial year round population can't afford to close for the off period, so all those lovely restaurants you enjoy going to during the winter will still be open when you head over in late May. Towns like
Annecy
,
Interlaken
and
Davos
are far more than just tourist destinations, and it shows.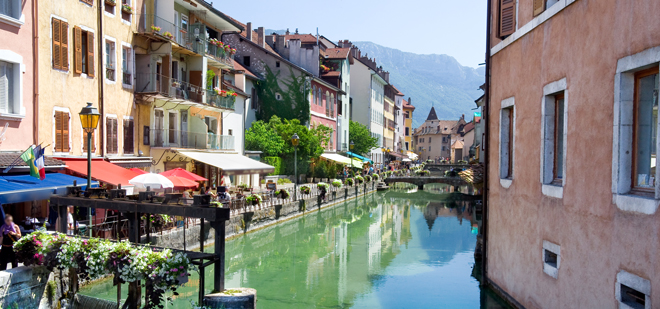 Even in places like
Zermatt
and
Chamonix
though, where the main business is tourism, there's something nice about going out there during the quiet times. People are friendlier, the weather tends to be pleasantly mild and it's a lot more relaxing than at any other time of year. Even if you never intend to use an Alpine property outside of the winter or summer, it's sometimes worth knowing that you could.
Although neither Interlaken nor Annecy have their own ski areas, both towns are close enough to the mountains that the slopes are easily accessible, and the lakes make a beautiful backdrop whatever the time of year. Towns like Interlaken, Chamonix and Annecy, which are close to airports and easy to get to, are often chosen as the year round residences of those who work in the Alps.
According to recent censuses Davos and Chamonix each have a local population of around 10,000. Buyers in these towns tend to be looking for year round property over investments and leasebacks, with a number looking to relocate out to the Alps. Although Zermatt is around half the size of Davos and Chamonix, the situation is similar there too; in fact, it's much easier to buy property in Zermatt if you're planning on living there full time.
Whether you're looking for a village or a town, a pure ski resort or somewhere you can enjoy in the summer, get in touch with us and our property experts will try to help.