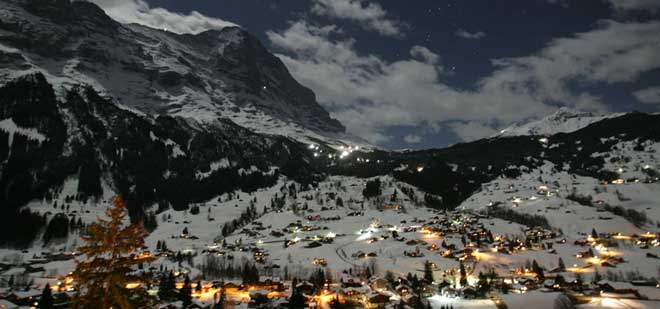 Over the last few years, we've talked about the Jungfrau Region rather a lot. Wengen is one of those cult resorts that people just seem to fall in love with after all; it's exactly what people picture when they think about the Swiss Alps. Somehow though, in between Wengen and Interlaken, Grindelwald has gone under the radar.
I can't help being a little surprised by that, because in my opinion Grindelwald is easily the most striking resort in the Jungfrau Region. The Eiger, Monch and Jungfrau peaks never look as spectacular as they do from Grindelwald. In terms of shape, Wengen is probably a little easier to navigate. Grindelwald is long and thin, with a central street that's home to most of the bars and restaurants.
Like most Swiss resorts, quite a few of the restaurants in Grindelwald are attached to hotels. We particularly like the excellent restaurant Kreuz and Post and fondue restaurant Barry's. In terms of nightlife, Genepi is a nice place to get a drink when you get off the mountain. Elsewhere, my personal favourite, the Avocado Bar, is lively and tends to be frequented by the local seasonnaires.
Skiing in the area is split into two sections; First and Kleine-Scheidegg. Kleine-Scheidegg is the larger of the two, and links the slopes of Grindelwald and Wengen. The skiing on that side is a little more varied than it is on First, and there are steeper pistes for those looking for a challenge. The famously difficult Lauberhorn race course is on the Kleine-Scheidegg side of the mountain.
First is better for intermediate skiers, and has wider, gentler runs in general. It's also home to a couple of great patrolled and unpisted runs, and the excellent piste-side Rancher Bar where you can enjoy a drink on the way home. The First Flieger is good fun for non-skiers, while the toboggan runs on both sides of the mountain are open and busy all day.
Whichever mountain you head up though, the three peaks of the Eiger, Monch and Jungfrau loom spectacularly in the background. With the quaint cog railways, traditional buildings and wooded slopes, this is about as close to a fairytale Swiss Alpine resort as it's possible to get.