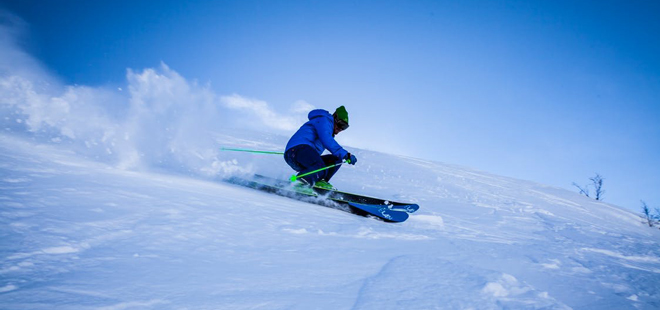 Since skiing went from survival to sport, way back in the 19th century, it's had more than a few styles. From the early days of pointing your skis downhill and setting off, all the way through to today's hyper-athletic stance and carving turns, skiing is a sport that comes in all shapes and sizes. Now, in a surprisingly nostalgic turn of events, Zell am See is harking back to the pre-carving era.
The new style of 'aesthetic skiing' recalls the downhill technique of yesteryear; it's designed to be safer, less stressful and more elegant. It's the sort of technique that encourages leisurely descents. Now, don't get us wrong, this isn't a complete return to the good old days of pre-carving. There's still a time and a place in 'aesthetic skiing' for getting onto your edges.
We've all been faced with a bumpy home run at the end of a day on the slopes and found ourselves stiffening up in spite of ourselves, muscles aching too much to ski the bumps well. The 'aesthetic skiing' technique will, according to the
Zell am See
ski school championing the technique, work to ensure skiers have enough energy reserves at the end of the day to ski safely.
Helmut Schneider, head of the Kaprun Alpine Ski School, has asserted that 'with this style the skier is more mobile and can react better to obstacles', which is an important skill if you want to actually enjoy piste skiing during peak weeks. Mastering the fast, dynamic carving style is hard on the muscles and joints, takes more energy than a casual skier can generally afford to expend, and at its best looks far more brutal than elegant.
By contrast, the 'aesthetic skiing' technique sits half-way between the real pre-carve techniques, looks effortless and reserves the full use of edges and centrifugal forces for experienced skiers. We can imagine that this is the sort of technique that will make skiing more pleasant for those not looking to win races or top 50 miles per hour.
We don't know how well this style of skiing is going to take off just yet, but we're sure that the prospect of a skiing style that's a little softer on the knees is going down well in certain circles. For anyone interested in learning the technique, they're teaching it to all ability levels at the Zell am See and Kaprun ski schools.