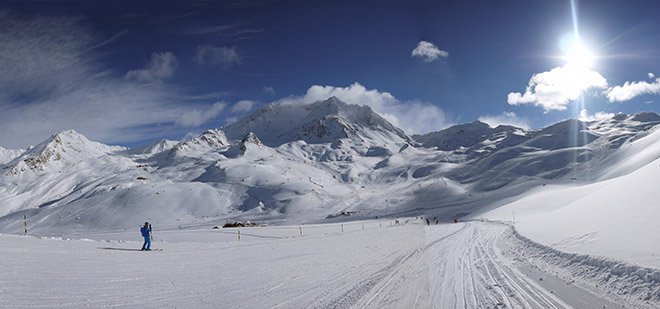 So many aspects come to mind when you are thinking about purchasing a property in the Alps; location, airport proximity, amount of skiing, snow surety, resort potential, resale value etc etc. Those last two can be really important when considering your investment, as there is little point buying a property in a resort going nowhere, where no one wants to stay and, once you decide to sell, has no prospective buyers. This might sound like quite an obvious observation, but sometimes a property's resale value, the resort's quality and its desire to enhance itself can be hard to gauge.
A good place to look is in the French Alps, where a number of resorts are looking to improve themselves in order to encourage both tourism and investment. This can come in a number of forms from better snow making and improved lift systems, to new facilities and boutique hotels. In order to aid your search and give you a good place so start, here are some of the resorts in the French Alps that are really investing in their infrastructure in order to take themselves to new heights and, ultimately, offer the best potential investment for any interested buyers out there.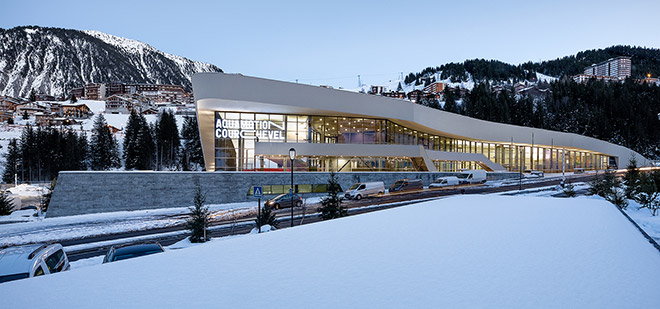 Courchevel 1650
From the list above, this resort ticks all of them except for better snow making as, thanks to its high altitude and snow sure slopes, this would be quite unnecessary. It also has access to the largest connected ski domain in the world, so it already has a lot going for it. However in order to compete with its much more famous and glamorous neighbour, Courchevel 1850, 1650 has recently seen a huge influx of new investment into every aspect of its infrastructure. The
new aqua centre
recently opened, providing a one of a kind experience in the Alps with slides, spas, pools, beaches, restaurants, climbing wells and so on and so forth. The implications of this are endless, they improve the value of 1650's properties, they give you something to do during a white out and they massively improve the dual season status of the area.
This is only one aspect of 1650's transformation however; an improved lift system will include a new gondola, directly connecting 1650 with 1850 for the very first time. Right next to this, and with its own underground tunnel to the new aqua centre, will be a brand new 4* hotel. This will further help improve the resort's image, and you can even invest in the hotel itself by purchasing one of its leaseback apartments. Speaking of image, the entire resort does have an unfortunate 70s look to it, with rather ugly tower blocks and buildings running through its main street. This however is also to be improved, as each building is being upgraded and re-clad in Savoyard style stone and wood. The current owners of the offensive towers have allowed them to be extended, creating four stunning penthouses, in return for the exterior renovations.
It is clear that the local council is putting a lot of time, money and effort into improving the resort and what we are seeing is the same kind of renaissance we recently saw from Val d'Isere. As a result, new construction and developments are awash in the resort, with a great selection of chalets and apartments to choose from. Courchevel 1650 really does have the potential to become the next great resort and there are plenty of people working very hard indeed to make it happen. If you want a resort where everything around you will only get better, then you need look no further.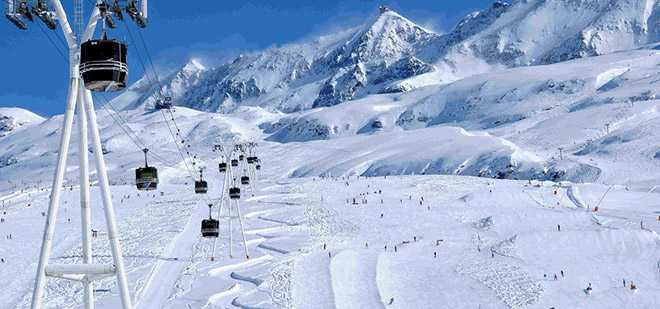 Alpe d'Huez
Alpe d'Huez is an interesting resort that again is rather more covered in unattractive buildings than one would hope for. The town is already very popular though and, unlike 1650, doesn't have a lot in the area to compete with. There is a large ski area with snow sure slopes, that are almost always bathed in sunlight, while off the slopes Alpe d'Huez is vibrant and lively with plenty to do. Though located a lot further south than most of the well-known French resorts, you can very easily access it from Lyon airport.
Despite all these positives, those in charge are seemingly just not satisfied, and have deemed it necessary to make the resort even better. Not that we're complaining, they are further improving a resort that was already great to invest in. The main characteristic of the redevelopment project includes a new link to Les Deux Alpes across the valley. This will increase the amount of skiing to 450km, and in turn create the third largest connected ski domain in the world. In short, the new area will come into direct competition with the king of all the ski domains, the Trois Vallees.
Further improvements then see a direct comparison to those going on in Courchevel 1650. Alpe d'Huez is also looking to entirely re-clad its outdated buildings and over time create an altogether more attractive ski town. New projects are also being released as a couple of ski in, ski out apartment developments have both been approved for construction. One is right on the front de Neige, which itself is to be both improved and expanded. If something can be upgraded, it will be. The other development to be created will be part of the 4*
Grandes Rousses Hotel
which is also looking to upgrade to 5* status. The more and more we look at Alpe d'Huez, the more positives we find. Out of all the resorts in the Alps, right now this is the one we back as having the strongest investment potential.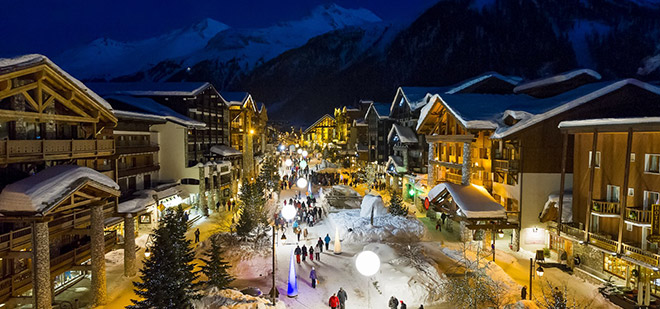 Val d'Isere
I already mentioned Val d'Isere above as a resort that had recently gone through a sort of Alpine renaissance. Turning it from an unattractive and not particularly desirable resort, almost 3 hours from Geneva, into the high end powerhouse it is today. The resort is so popular in fact that even the locals have realised its investment potential. Now if a decent property comes on the market it is almost immediately purchased by someone from the area. The resort is of course very expensive, and understandably so when you consider the quality of infrastructure and incredible skiing. So if you have the money you will never regret having bought here.
Despite its current success, and since these French resorts are all vying for the number one spot, Val d'Isere has embarked on an audacious journey to essentially demolish a huge segment of the resort in order to create a new Front de Neige which, to be fair, is the one thing the resort has been missing. This will include new restaurants, bars, 5* hotels and, of particular interest to us, about 100 new build luxury apartments located right next to the slopes. This second renaissance is coming at a huge cost of around 200 million euros, and is sure to take what is already considered one the world's top resorts to even higher levels of prestige.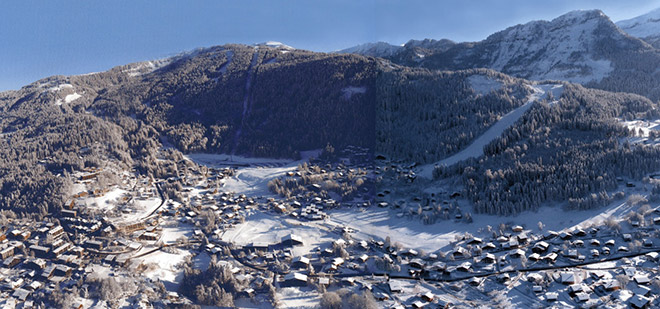 Les Carroz
I've decided to include Les Carroz for a different reason to the three resorts above. While they are looking to improve themselves, Les Carroz was already a desirable place to buy in. However the problem has been that, up until now, there was absolutely nothing available. That recently changed thanks to the new
Grand Cerf
development situated in a ski in, ski out position just above the village.
Located within the Grand Massif ski domain, most people overlook Les Carroz and drive on up to Flaine. The skiing around Flaine is fantastic and has a lot going for it, however many will seriously struggle to muster the strength to actually buy a property there. Flaine is, shall we say, an acquired taste, and maybe you will like the stark brutalist architecture with concrete structures everywhere you look. (I don't).
Les Carroz thus offers you the perfect alternative as a charming and traditional Alpine village with access to some top class skiing. It even has some of its own seriously underrated wooded slopes leading down to the centre. The investment potential here is therefore centred on the rarity in which properties in Les Carroz become available, as well as a set of characteristics that tick the boxes of most clients; real alpine resort, large ski area, dual season use and a location less than 60 minutes from Geneva airport.
As you can see, there is a lot going on in the French Alps. Competition within resorts to encourage visitors of any description is really heating up, and creates an ideal situation for investors. They are all trying to attract both yourselves and those who may end up renting your property, using fancy new lifts and facilities to entice you all into choosing their resort. It is the Alpine equivalent of being wined and dined! With plenty of properties to go along with the improvements in infrastructure that suit any budget, now is a great time to consider purchasing a new property in the French mountains.