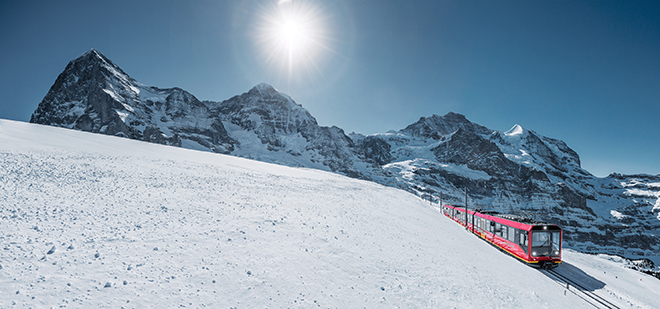 A lot gets written about the many ski resorts in the Valais region. From Verbier to Zermatt, Nendaz to Crans-Montana, Saas Fee to Grimentz, the list goes on and on. I'm not saying this is without good reason, as each of these resorts, and indeed the many others in the region, provide some great skiing, beautiful scenery and activities to be enjoyed all year round.
However despite this I find myself instead drawn over the mountains, away from Canton Valais and into Canton Bern. Here you will find the Jungfrau region, consisting of four main locations. All are within a 30 minute drive of each other and each enjoys similar attributes. They all benefit from spectacular views and a climate that experiences higher levels of rainfall, creating a more fertile and altogether "greener" look to it. Yet all four locations are decidedly different to each other, expressing their own personal characteristics and adding up to one very special corner of the Alps.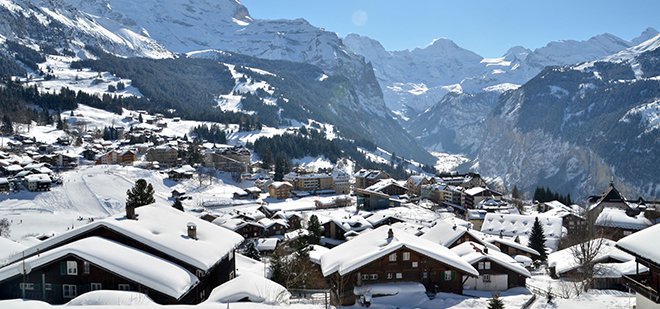 Wengen
We begin in Wengen, probably the most well-known and well-loved villages in the region. Tourism began here in the early 19th century and every year more and more people become enchanted by this incredible place. A lot of people learnt to ski here and it that seems that few of them have ever bothered to try anywhere else. From the moment you take the old cog railway, the only way in or out, up to this charming and historic Swiss village, take a look around at the dramatic peaks above and the picturesque valley below. Nowhere else will really ever be good enough for you.
Stepping off the train, you find yourself on the main street in a car free environment and just a short walk from the main lift. This takes you straight up to the Mannlichen at 2230m and from here you can enjoy picturesque slopes all the way down to Grindelwald. The Jungfrau ski pass in fact allows you access to 213km of skiing in a number of areas across the region. Alternatively if you don't feel like skiing, or indeed it's summer, then stay on the train and head all the way up to the Jungfraujoch and experience yet more spectacular views from the so called "top of Europe". The dual season nature of the Jungfrau region is another thing that sets it apart from the Valais, as it offers a plethora of hikes and mountain biking trails along with countless other activities.
Throughout the village are a mixture of historic and new buildings, however locals have been careful to keep with tradition so that nothing looks out of place. Don't let its quiet seeming demeanour fool you however, there are a number of high quality hotels like the Schoenegg, delicious restaurants like the Baeren and more than a couple of lively bars like the Tanne. I don't think I can pinpoint exactly what it is that makes this place so special; there is just something about it that keeps people coming back their entire lives. I suppose the only way to find out is to come and see for yourselves.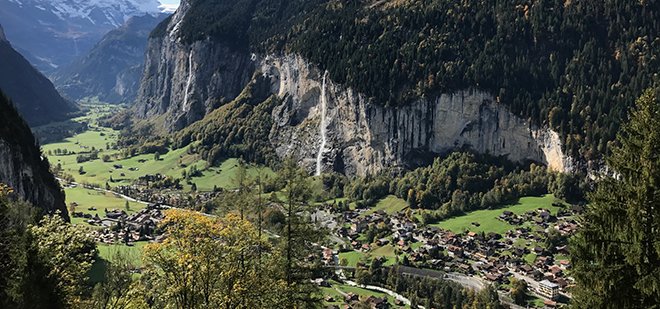 Lauterbrunnen
As I mentioned above, to get to Wengen you ride the old cog railway up the mountain. Lauterbrunnen is the small valley town in which you catch said train. While you are winding your way up, the views open out onto the Lauterbrunnen Valley and it is at this point that you might consider just coming straight back down. Surrounded by towering cliffs and idyllic waterfalls, the Valley is one of Switzerland's greatest hidden gems.
Lauterbrunnen is a traditional village with only a few shops and restaurants, certainly not the place for those looking for an exciting nightlife and resort. There are also no direct lifts to the slopes; however this does give you the option to head up to either Wengen or Murren in the mornings. Lauterbrunnen is not filled with booze and bars, it is instead for the more refined individual and those looking to surround themselves with peace, quiet and nature. If this is what you are looking for, then few places in the Alps can compete.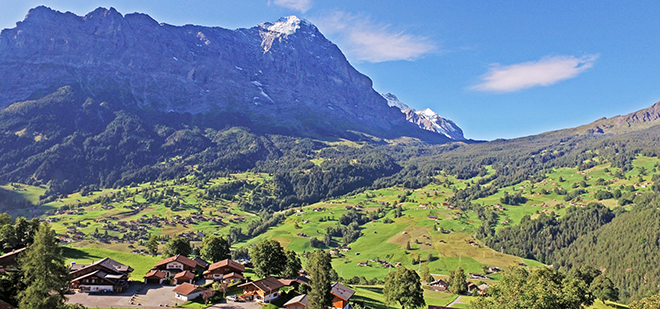 Grindelwald
Nestled beneath one of the most iconic mountains in the Alps, second only to the Matterhorn, is Grindelwald. Another charming and traditional Swiss Village, yet with a bit more glamour to it. Think a sort of up-market Wengen. Tourism began here even earlier as foreign travellers were enamoured with the scenery in the late 18th century. The next few waves of tourists were mostly climbers as they looked to conquer the Eiger and other surrounding peaks. Not something I would recommend considering the Eiger's rather terrifying reputation. It almost goes without saying at this point that the views are spectacular. The backdrop of this famous mountain and the adjacent hills are the absolute definition of breath-taking scenery.
The centre of town is still quaint in nature with a number of historic buildings acting as a monument to the centuries of tourism. However Grindelwald enjoys a lot more high end bars, shops, restaurants and hotels than its neighbour on the other side of the mountains. Hotels like the Belevedere offer the best in Alpine luxury and I can tell you from personal experience that Barry's (don't let the name put you off) was both a lively and very enjoyable place to eat. Moving away from the centre you will find countless authentic old chalets, some of which over a hundred years old, as well as the equally historic railway which links the whole region together.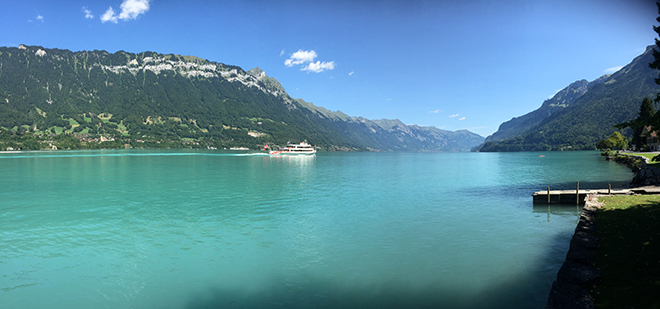 Lake Brienz
Heading down from the mountains you reach yet another picturesque scene, however this time a lake rather than a mountain takes centre stage. Lake Brienz is a 14km long stretch of water fed by rivers from the surrounding areas, including both the Grindelwald and Lauterbrunnen valleys. Here you can enjoy the surroundings on a traditional paddle steamer that has been ferrying people around the lake since 1914. If however you want something a bit more active, there is plenty to do for any lovers of water sports.
The medieval town of Interlaken-Unterseen acts as the main focal point, providing a great summer destination and hosting a number of festivals throughout the year. Whether here or in any of the hamlets along the shoreline, Lake Brienz is a wonderful destination and, thanks again to the railway network, is well connected with the entire region. Interlaken to Lauterbrunnen for example will take you just 20 minutes by train.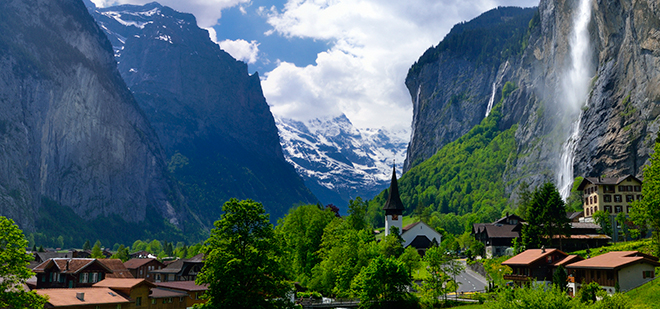 So within this traditional, picturesque and exceedingly green environment you can choose between a charming mountain resort, a traditional valley village, an upmarket Alpine town and a very turquoise coloured lake. As I said at the start, each has its similar yet individually unique characteristics. It's up to you to decide which one suits you best, but one thing that will be guaranteed no matter where you go, you will never get tired of those views.