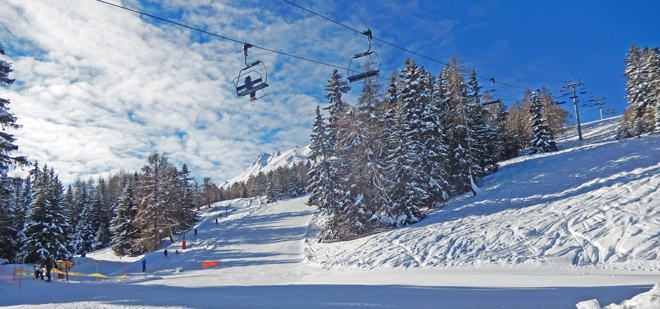 With over 412km of skiing, Les 4 Vallées (a.k.a. the 4 Valleys) is the largest connected ski area in Switzerland and is famed for its snow-sure skiing and thrilling off-piste. While Verbier is undeniably the best-known resort in the region, the other satellite resorts here have a great deal of character and are superb locations for those seeking a Second Home in the Swiss Alps.

The likes of Les Collons, Veysonnaz, Nendaz and La Tzoumaz are fantastic options for a holiday home, with a nice range of spacious, secluded chalets and conveniently located apartments at very affordable prices. Meanwhile, Verbier is one of the true jewels in the crown of the Swiss Alps, with a robust luxury property market and some of the most impressive ski chalets and apartments in the world.

There really is something in the 4 Vallées for everyone. For this reason, we have decided to host an open weekend for all our properties in the region from Friday 23rd to Tuesday 27th March and we would like to invite you to join us.

What will be involved:
From Friday 23rd March through to Tuesday 27th March our director Simon Malster and colleagues will be in the 4 Vallées meeting clients, introducing the area and showing properties with interested buyers.
We have deliberately kept a loose schedule for this weekend, so that we can tailor it to best suit your requirements, but on the Saturday we will be based around Les Collons and Veysonnaz area to introduce clients to this hugely under-rated sector and to show you around some of the last remaining opportunities for newbuild properties in the Valais.
The plan for Saturday 24th will be to meet at 9.00am at La Cambuse for an initial discussion about your property requirements and to introduce the region. The morning will then be spent touring the sector viewing existing properties and future developments before taking refreshments at Chalet La Maya.
The afternoon can then either be spent viewing some more properties in this sector or others or you can take the opportunity to explore the sun-soaked local slopes on skis.
We will cap Saturday off with a drinks reception and dinner from 7.00pm at Le Bois Sauvage – a fantastic local restaurant. Our property team, interior design specialist and some recent buyers will be present to help give an insight into the area.
On the Sunday (25th) we would then propose viewing properties in Nendaz, La Tzoumaz and Verbier for those interested, so over the course of just 2 days you will have a total overview of the 4 Vallées property market.
However – to stress again – we can be very flexible about the schedule, so if you are free at any time between the 23rd and 27th March and you are interested to get to grips with the property market in this region, then do not hesitate to get in touch.
We hope it will be a useful weekend for those interested to buy a Swiss property to give a good market insight, throw open the doors of the great properties on the market at present and to introduce some of the hidden gems of the Swiss Alps.
How to register interest:
If you are interested to join us for this open weekend,
click here
to send us a message and we will respond within 24 hours. Alternatively you can call us at +44 (0) 208 905 5511.
We are happy to recommend accommodation in the region and we look forward to hearing from you.
For those unable to attend:
If you are unavailable for these dates but you would be interested to view properties in the region, feel free to
get in touch
and we will do what we can to arrange a private viewing at a later date.