Evening Standard: Swiss property law change means investors can make year-round rental income from their holiday homes
20 Apr, 2018
by Investors In Property
In an article published in the last week's Home & Property section of the Standard, we lifted the lid on two major new second home developments in the Swiss Alps that are set to provide buyers with year-round rental income.
Due to the restrictions on Second Home construction in Switzerland, Investors in Property's Simon Malster explains how apartments are now being developed alongside hotels, allowing them to be re-classified as investment properties and thus making a fresh stock of newbuild apartments available to foreign buyers.
Residences at the Hard Rock Hotel
in Davos and the
Florens Resort
on the shores of Lake Brienz will both offer buyers hotel services, spa facilities, swimming pools, on-site bars and restaurants and will rent well in both the summer and winter seasons.
You can
read the the full article on the Evening Standard website
and we asked Simon to give a bit more detail on these developments below. As always, you can
contact us
for more info on these opportunities or to answer any questions regarding purchasing a property in Switzerland.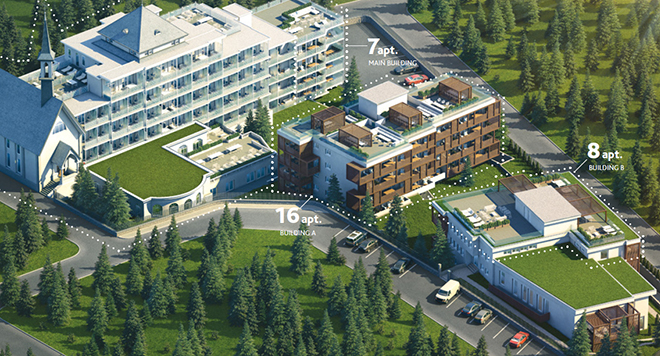 1 - 3 bedroom apartments
738,000 - 1,863,250 Sfrs
An extension of the popular hotel, this residence is perfectly situated in the centre of Davos and just a short walk from the ski lift. There is an extensive spa area, a pool and - of course - the signature Hard Rock bar and restaurant. New properties in Davos are very rare full stop. So new properties available to foreign buyers are almost unheard of.
Following his visit to the development in March, our Managing Director Simon Malster was very impressed.
"I would definitely stay here again," he said. "Davos is a fantastic resort, I would say possibly my number one choice in Eastern Switzerland".
Citing the fact that the resort has great infrastructure, is well-connected to the Swiss rail system and has the feel of a proper town in an Alpine setting, Simon dubbed Davos "the Chamonix of the Alps".
"It is not hard to see why Hard Rock chose Davos for their first hotel in the Alps and this is a great development. I would recommend this development for buyers who are looking for minimum fuss, everything organised, a hotel environment and great access from intercontinental flights into Zurich Airport".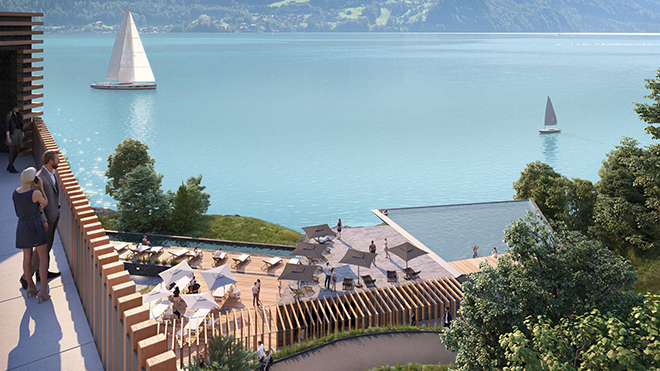 1 - 4 bedroom apartments
335,500 - 1,615,400 Sfrs
Sat right on the shore of Lake Brienz, the Florens Resort & Suites is a newbuild development including over 150 high-end residences, an on-site pool and spa, restaurants, bars and a private harbour. This major development sits on the northern shore of Lake Brienz facing south towards the Jungfrau Ski Region.
The Florens Resort will be around 30 minutes' drive from ski resorts of Grindelwald, Wengen, Mürren and Hasliberg and is just ten minutes from the peaceful city of Interlaken. Interlaken can be reached in 45 minutes by train from Bern. From there it is just over an hour to Zürich Airport. The developers are in negotiations to build a dedicated rail station for this new project too.
"We often hear of properties or developments described as unique but a resort to be built on the shores of a Swiss lake, available to foreigners, with no rental obligation really is a one-off opportunity," Simon said following his visit to Florens.
"With the change in Swiss laws I would not expect another opportunity such as this to crop up again either".
In terms of who this project would appeal to and how best to summarise what this project offers, Simon summarised, "We often get buyers seeking dual-season properties in winter resorts that have a summer life. Well, Florens turns this classic formula on its head, and offers buyers a summer resort with a winter life. That is the unique proposition here".
This project is perfect for:
Buyers seeking a genuine dual-season property.
Buyers seeking a property in the Swiss Alps with access to good skiing but with plenty to do for non-skiers too.
Buyers seeking a property that's easily reached from Zürich Airport.
Buyers seeking an apartment with year-round rental potential.
We have a full set of floorplans for this project, as well as details of the optional apartment rental package and finance options, so if you would like any more info let us know.
Read the full Evening Standard article here