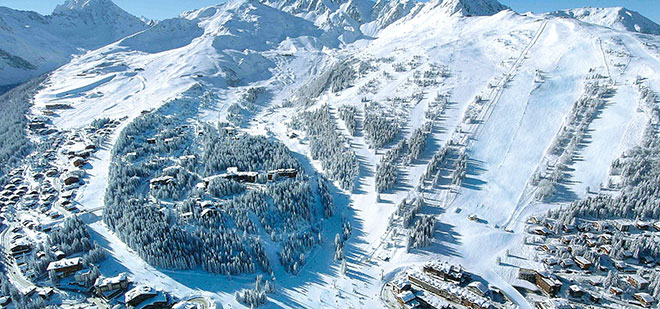 If you had never visited the Trois Vallees, it would not be a surprise if you thought Courchevel was one resort. The first of the famous three valleys is often referred to as such, "we just got back from a week in Courchevel", so why would you think it was more than one place? In fact, as the title probably gives away, Courchevel is actually made up of four separated villages; 1300, 1550, 1650 and 1850.
You might think that, with them at least all being from the same valley, these villages would be relatively similar to each other, carrying the same characteristics, styles and facilities. However you would in fact be very wrong, as each village is as different from the next as a fondue is from a foie gras.
With such accentuated differences each person will naturally prefer one over the other. While one might not be for everyone, everyone will find one they love, if that makes sense? Therefore below I have laid out the characteristics of each resort to help narrow down in your minds which best suit your requirements. You might have not asked us to do this and Courchevel might not have even been on your radar. However with access to 600km of snow sure slopes and the largest connected ski area in the world, I'm telling you it should be!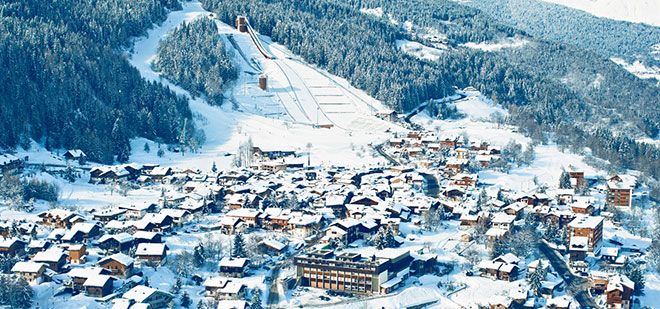 Courchevel 1300 - Le Praz
We'll start from the bottom and move up as this seems like the logical thing to do and I'll stop you right there. You've probably already discounted Le Praz as you've probably already guessed that, thanks to its name, it's set at 1300m. So you're now worried about snow coverage. Well 1. that is still a good height (a lot higher than a number of Portes du Soleil resorts) and 2. there is a cable car that takes you directly up to 1850 where you are assured snow throughout the season. So no more worrying about the snow ok?
Le Praz itself is a charming and traditional French village which, as it grew naturally and not as a ski resort, means it is a pleasant and 1960s architecture free environment. There are nice local shops and bars as well as a couple of very good restaurants. Le Bistrot du Praz in particular has been frequented by our staff on multiple occasions and is absolutely fantastic. With its own lake and ideal placement for access to other resorts including Meribel and St Martin de Belleville, Le Praz is also a great choice for enjoyment year round. So if you want to combine a quintessential French village with a world class ski area, look no further.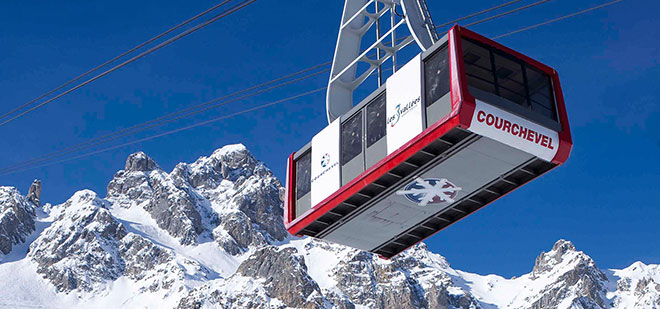 Courchevel 1550 - Courchevel Village
Moving 250 metres up the valley you find yourself at Courchevel Village, a quiet and rather tightly laid out satellite village that's good for families. There is not much to say about 1550 as it has essentially already been developed as much as it can be, with the majority of new developments consisting of renovations of existing buildings. Nonetheless it is a pleasant place to be with a highly rated pizzeria and again direct access to 1850. If you want to be in a Trois Vallees resort with minimal fuss, this is the place for you.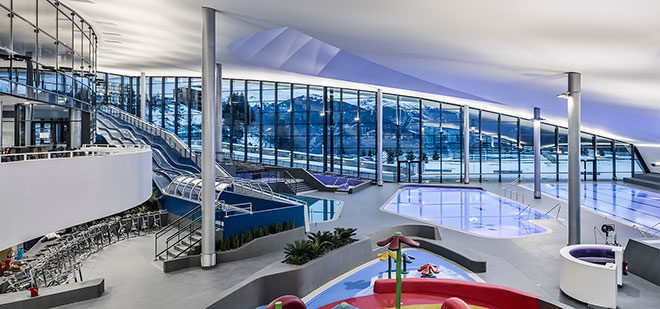 The Aquacentre
One major advantage of 1550 (and indeed 1650) is their proximity to the brand new Aquacentre which recently opened just a 10 minute walk from both resorts. This can be enjoyed all year round and has something on offer for everyone. For the kids there is a plethora of activities from the huge indoor pool and multiple slides to indoor surfing and a climbing wall. While for the adults there is a full gym for the active and relaxing spa for the less so before everyone meets up in the restaurant. Such an extensive facility is extremely hard to come by in the Alps, making this a real positive when looking for your ideal resort.
The immediate area around the Aquacentre is also to see a new 4* hotel built as well as a lift directly up to 1850 in the coming years, showing the huge levels of investment Courchevel as a whole is receiving. These continued improvements in the area's infrastructure show that Courchevel is a very smart place for investment. Not to mention all the cool new stuff you'll have to enjoy!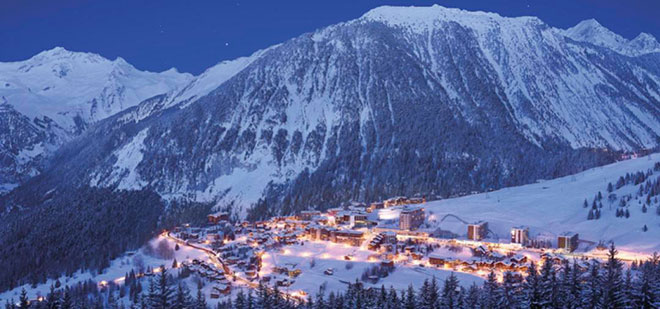 Courchevel 1650 - Moriond
Out of all of the four levels of Courchevel valley, 1650 is certainly the one creating the most buzz at the moment. As well as a new escalator which has made the Aquacentre and future lift easily accessible, 1650 is enjoying a sort of ski resort renaissance, most recently seen in Val d'Isere. All of the rather unsightly architecture put there during the 60s and 70s is being re-clad in a traditional Savoyarde style to improve the general aesthetic. There are also a number of new and renovation developments going up in the resort making it the easiest place to buy at the moment.
1650 has a great front de neige with a number of bars and restaurants, all at the base of some easier slopes making it ideal for beginners. Intermediates and experts meanwhile just need to take a few lifts to find a huge array of more challenging slopes. For the evenings the Le Petit Savoyard restaurant is one of the highest rated in the valley with some delicious local cuisine and there is a free bus service that runs to and from 1850 until late. Courchevel Moriond is the best all-rounder of the bunch and makes a perfect compromise if 1300 is too quiet and 1850 is too glamourous.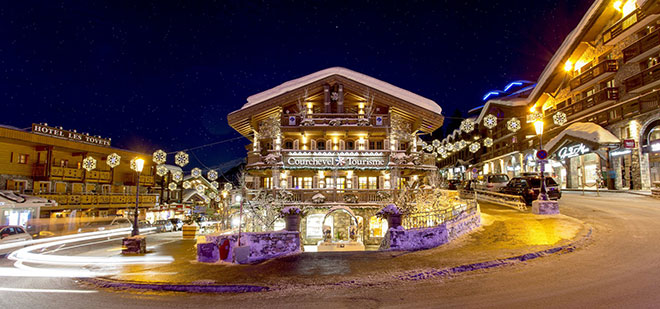 Courchevel 1850 - No Nickname...
Speaking of 1850, we reach the peak of the Courchevel resorts and, in some people's opinions, the peak of the French Alps! This high-end luxury resort is the playground for the rich, famous and royalty of the world with its multiple 5* hotels and designer shop lined high streets. If you can think of an exclusive brand, they probably have it here. There are also multiple Michelin Star restaurants including the 3* Le 1947. During the day you can enjoy spectacular slopes with stunning scenery, while night at night you can drink and dance the night away in classy bars and clubs. Courchevel 1850 is certainly not for everyone, but it is not hard to see why it is perfect for some!
You may have noticed the whole way through this article I have made sure to point out how one would get from their respective resort to 1850. That is so that if you are in the mood for a night out, or maybe there is a white out and you aren't feeling up to skiing, you will know the easiest route to the top and a day and/or night of fun!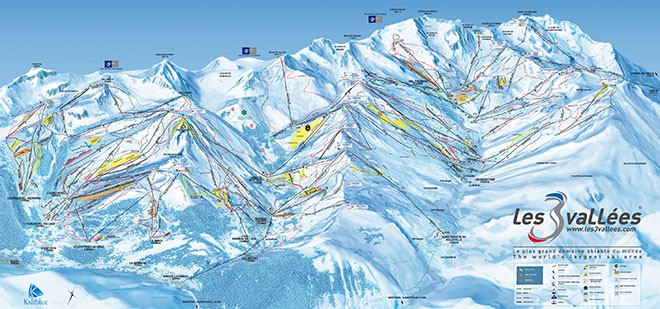 I hope this has helped determine which version of Courchevel would suit you best. As I mentioned at the start, if you aren't looking at one of them then you really should be. There's a resort to suit everyone and with the quality of skiing at your disposal you'd be mad not to give them a go.
The whole area is well linked by fast lifts, with the older ones being replaced and more introduced all the time in order to further improve the skiing experience. The local council is continuing to pump plenty of investment into the valley and help fund additional projects in order to keep Courchevel modern and relevant. You can be sure therefore that if you choose to buy here, you will never regret it.