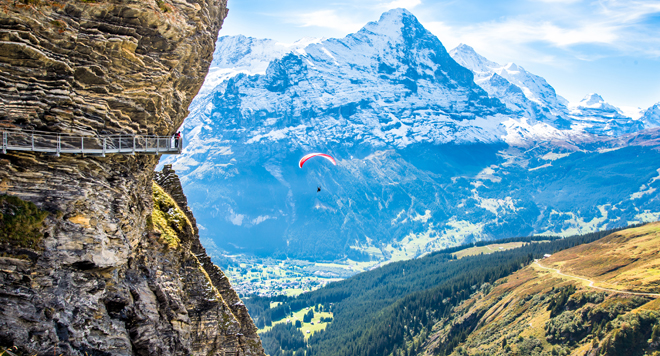 The vast majority of the property viewings we organise take place in late autumn and during the winter season. With the ski season in full swing, ski holidays planned and cold weather set in, this is totally understandable. But, if you have your heart set on the idea of buying a ski property, there is no reason why you can't do the leg work for your ski property purchase outside of the season. Summer chalet viewings, actually, make a lot of sense.

Here are 3 key reasons why you should consider getting yourself over to the Alps this summer:
1. Dual-season credentials
Most properties in the Alps are bought for winter use. That's no secret. But chalets and apartments don't cease to exist outside the ski season. So it is well worth visiting chalets and apartments in the summer to gauge the scope for dual-season use whether personal or through rentals.
Some areas of the Alps are well-established summer holiday spots. The Jungfrauregion for example is immensely popular throughout the summer months with
Grindelwald
and
Wengen
attracting hikers, mountain bikers and mountain-lovers of all ages. The scenery in this area is incredible – vivid green slopes and dramatic rock formations – and the shops and restaurants are all open.
Similarly, the traditional mountain towns of
Chamonix
,
Megeve
and
Crans-Montana
are also popular throughout the summer. With golf courses, ample restaurants/shops and an array of outdoor activities, not to mention the Omega European Masters in Crans and droves of summer climbers heading to Chamonix to summit Mont Blanc, these resorts have a real year-round pull.
Then there are the resorts with summer skiing. The likes of
Villars
,
Zermatt
,
Val d'Isere
and
Saas Fee
all have high-altitude, 365 day skiing – a massive bonus for local property owners and a major reason why property values in these resorts remain high and stable.
If you are looking for a ski property that can pay it's own way through year-round rentals then weighing up the summer activities, seeing which shops and restaurants are open, and experiencing the summer scenery first hand will be invaluable. You'll also be able to decide if you can envisage spending some of your summer in a given resort – even if you hadn't made dual-season use one of your priorities!
2. Cheaper, less busy
In the height of the ski season flights are expensive, key transport hubs such as Geneva are rammed and the traffic conditions on key roads can be perilous. For a week (or two!) of skiing, you will grin and bear these inconveniences but it is far harder to justify for a 2 or 3 day visit to the Alps to view some properties.
Ski resorts don't grind to a halt in the summer, so there is no reason to put yourself through the hassle. The flights are cheaper, the roads are less busy and you won't have to pay a premium for a hotel room. With less people around you will have free reign over your choice of accommodation and there will be far less competition for table reservations at restaurants.
If you are serious about buying a ski property, getting out there in the summer is a no-brainer.
3. Focus on your property search
Do you really want to take time out of your ski holiday to view the site of a new apartment development? Do you want to cut short the après so you can weigh up some chalet options?
No, not really and no one would blame you. Time is precious when you are on a ski holiday and often, even if you are motivated enough to arrange some viewings for a potential purchase, it can be hard to give your search the attention it needs.
Our clients often find a dedicated visit to view properties enables them to do the due diligence they need on different resorts and properties and hone in on a perfect fit.
All in all, this is a great time to get out to the Alps if a ski property is something you are after. It is easily organised, affordable and gives a great insight into these property markets outside the traditional peak season and at this time of year the cool mountain air is a welcome change.
To arrange a visit to a resort or resorts for some property viewings please get in contact. We are very happy to put together a thorough itinerary and wherever possible we will fly out to meet you, give some background on the area and acclimate you with the local property market.