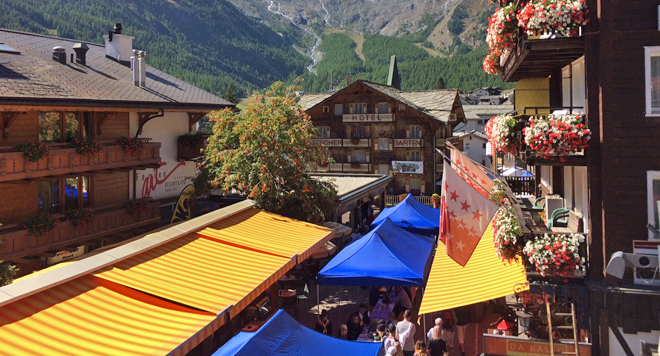 Coinciding with the launch of the Chalet Britannia Apartments development, we spent this weekend in Saas Fee for the 13th Annual Nostalgic Culinary Mile. The event itself was a resounding success and offered potential buyers a great insight into the atmosphere of the resort. As a result three of the apartments in the Chalet Britannia are now reserved!
This unique event sees the village out in force with stalls lining the main street from one end of the resort to the other showcasing the very best in local foods, wines and entertainment. A chance to preserve and appreciate the local culture, traditional fancy dress is strongly encouraged and prizes offered for the best costumes.
Our personal highlights included fine Italian food from Don Ciccio, Pilsners and Pale Ales at Pubwise and quietly watching on as a Swiss brass band attempted to load all their instruments onto a single electro taxi! But with over 30 menus available and a wide range of local drinks on offer there was something for everyone.
On top of the fine cuisine and flowing beverages, accompanied by almost uninterrupted sunshine the friendly atmosphere, one of the most striking things about this event is the level of local buy-in. This isn't just a gimmick for the tourists, this event is much a chance for the locals to enjoy themselves as it is for visitors. Encapsulating the strong sense of community in Saas Fee and lively yet cosy atmosphere of this village, this event offers a perfect opportunity for newcomers to the resort to get a feel for the place.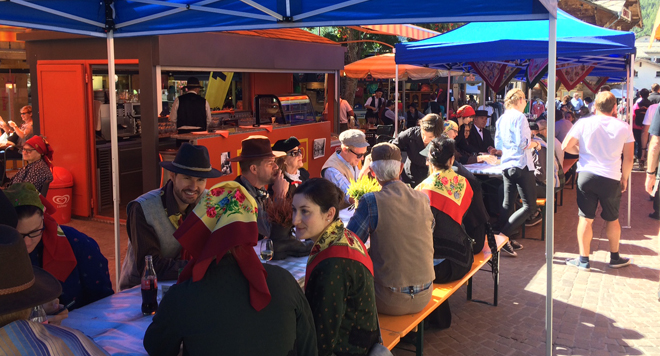 Next year's event will take place on the 1st September 2019 and we would thoroughly recommend to anyone considering buying a ski property in Switzerland – especially if you aren't 100% convinced on Saas Fee yet!
We will also be in Saas Fee for the
UIAA Ice Climbing World Cup
on 25th and 26th January 2019. Another hugely popular local event supported by food and drink stalls and local bands, the ice climbing is a sight to behold and is another great chance to see what the resort has to offer.
We will be holding other events across the Alps this winter, so watch this space.