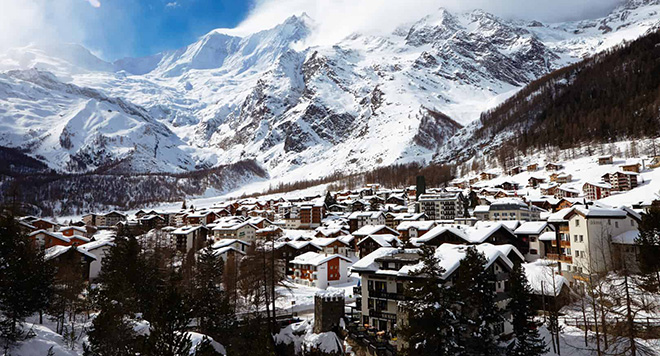 As one of our top resorts in the Swiss Alps, we asked a Saas Fee regular to give us an idea of a typical day in the high altitude paradise. So in their own words, here is a perfect day in Saas Fee:
The air is crisp, the sun is shining, and one long drag of air instantly reverses the pollution lingering in your lungs. Waking up in Saas Fee is like waking up on the set of a Christmas music video (seriously just ask Wham). Tucked away in the Swiss Alps, the postcard perfect village is closer to a 1950s Christmas movie set than real life.
The perfect day no doubt starts with a breakfast of the mountain's finest food group: carbs. Topped off with no hangover thanks to that magic mountain air. Once you're (ski) suited and booted you can make your way to the piste.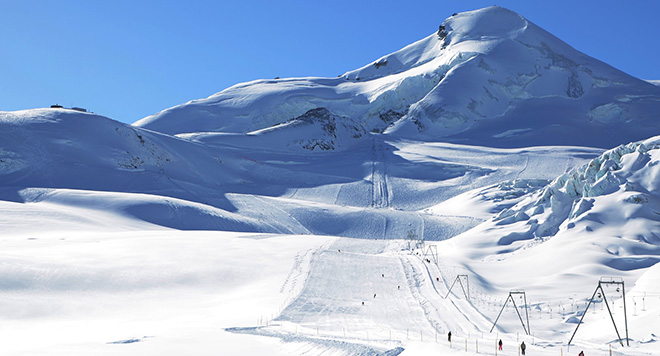 Fuelled by croissants and coffee the morning commute is somewhat different to London, yes you might find yourself crammed onto a train carriage, but the northern line this is not. Instead you travel deep inside the mountain in a tram and I guarantee when you emerge at the top your breath will be taken away, not only by the altitude!
Naturally, a perfect day in Saas Fee means there has been plenty of snowfall overnight (and not just in a dream world, something you can usually expect here). Therefore, making that first lift means come 8.30am you can find yourself bleary eyed on top of the world, ready to make some fresh tracks in the 2ft of powder that fell overnight.
From then on, the day revolves around skiing and hitting as many lines as possible! The resort is compact but trust me, it's far from boring. With dream pistes to carve on, leading the way in zig zag to your first glühwein followed by steeper black runs. The variety of conditions means you're equally left feeling challenged as you are feeling like Lindsey Vonn winning gold.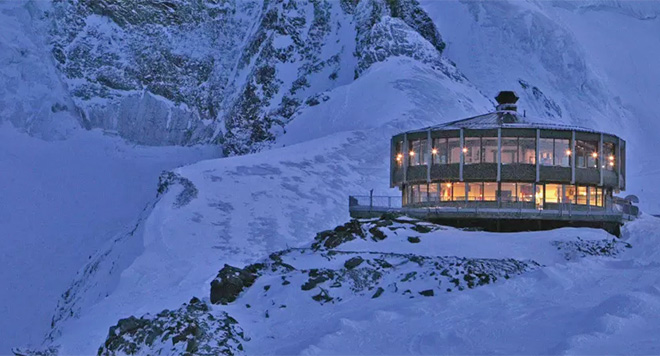 Lunch can be enjoyed in Gletschergrote, an idyllic restaurant located on the side of a slope, order Alpine Macaroni, but be sure to down a schnapps or two before you go, or you might not get your skis moving again. Obviously, a challenge is what you need because after a day of skiing that first sip of beer at the Larix is best enjoyed with sore feet and tired legs.
The next 5 pints are best enjoyed staring at the looming mountains that surround the valley, watching them go from bright white to pink to blue. By 5 o'clock music fills the village as the piste moves to the bars, and everyone warms up listening to the strange sound of German pop (this isn't so bad after a few beers).
An evening in Saas Fee is best enjoyed celebrating your day of skiing, with more beers at the oh so trendy Pubwise, followed by a steak at Schäferstube. Or if you're feeling romantic, a wander to Bodmen where you can visit the resident camel. Because naturally, a perfect day in Saas Fee is everything but ordinary.