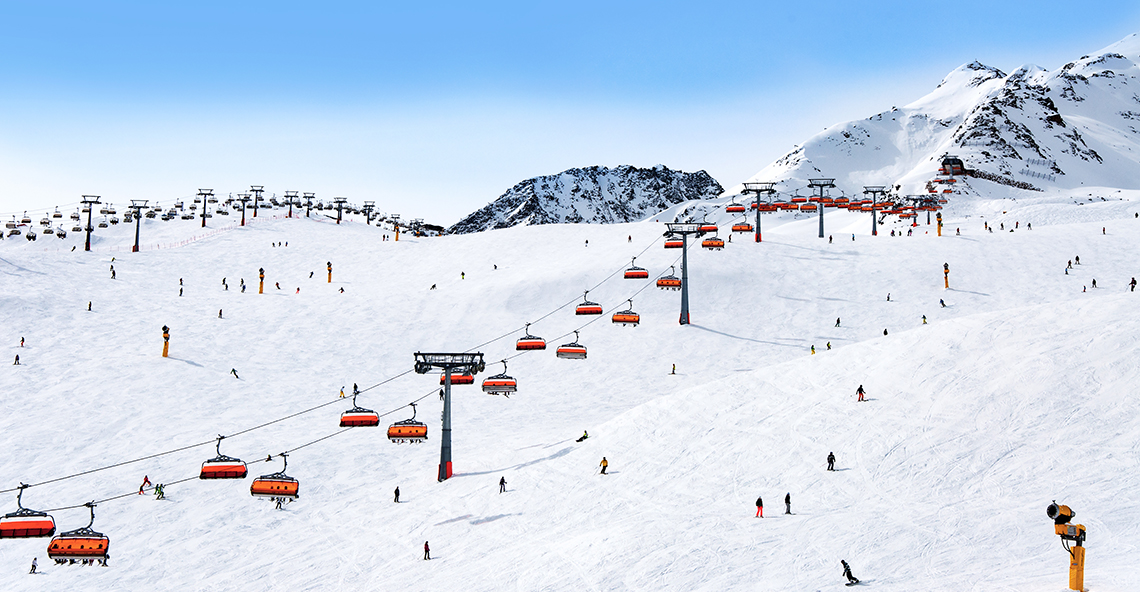 In this weekend's House & Home supplement of the FT, Liz Rowlinson invites us to "Look beyond the Alpine vistas to the infrastructure projects that will add value to your investment".

Taking examples from across the Alps, and supported by analysis from UBS and others, this superb article discusses a number of resorts benefitting from astute infrastructural investment. As always Investors in Property's Simon Malster was happy to add his insight.

With an FT subscription you can read the full article here:
Ski magic: the technology behind the best Alpine ski resorts
If not, we picked out a few of the key points and quotes in a summary of the article below:
Although not the first thing that will spring to mind when you are dreaming of a second home in the Alps, Liz argues that the potential benefits of infrastructural developments to the overall skiing experience are substantial. Whether opening new areas of skiing or providing comfier or more efficient lifts, sound investments that improve the skiing experience go on to impact resort reputation, visitor numbers, rental prospects and, therefore, property prices.
The Alps account for a massive 43% of global ski visits per annum and yet, in spite of 2 great seasons from a snowfall point of view, investment in ski lifts and snow-making is at an all time high, reflecting the fierce competition in the ski resort market and the gains available through savvy investment.
So, what type of infrastructural investments are we talking about?
Well, in the article, Liz discusses 4 key areas where sound investment and management are most likely to impact visitor numbers and property prices:
1. Linking ski domains
Our Managing Director Simon Malster was quoted in the article, arguing that
"A new lift that links two domains has the biggest positive effect by raising the profile of both resorts".
He goes on to cite La Plagne & Les Arcs (linked 2003) and Lenzerheide & Arosa (linked 2013) as examples of the positive impacts of new links between domains. Similarly you could look to the link of Grimentz & Zinal in 2013.
Liz goes on to point out that new links can be especially effective when they lengthen the season for resorts lower down on the slopes. The new K-Onnection cable car that links Zell am See-Kaprun (786m) with the Kitzsteinhorn Glacier (3,203m) is a good example, adding both altitude and extent to an already popular ski area.
2. Opening new mountain sectors
Similarly, new lifts that provide access to new mountain sectors can have a huge impact on the allure of ski resorts who are in hot competition for a share of the ski holiday market.
Liz reports that
"(I)n Obergurgl, in the Tirol's Öztal valley, the new Kirchenkogel gondola last year opened a new section of the mountain to skiers".
This has been linked with a 3% increase in visitor numbers in Obergurgl from 2018 to 2019.
3. Lift pass strategy
Through careful partnerships with other resorts, smart publicity and selected promotions, Liz also points out that property prices – and the attraction of long investment – in a ski resort can be bolstered without construction.
As of 2019, Zell am See-Kaprun will be managed by the same lift company as the Saalbach valley, the result is a new lift pass that will offer access to all the resorts in this region encompassing a total of 408km of slopes. All the resorts in this region will benefit from this collaboration, offering visitors a wider variety of slopes and more trails to explore.
Simon goes on to explain that
"For the smaller resorts like Saas Fee and Grimentz, the introduction of the annual Magic Pass [in 2016] is almost as important as new lifts in giving access to a wider range of resorts [30] for property owners".
4. Total resort rejuvenation
The final angle covered in this excellent article, is the impact of development and investment beyond the lift infrastructure.
Saas Fee
is a great example of this, with ongoing redevelopment across the village supporting a sustained price growth.
In November 2018, UBS observed a 14.3% annual increase in property prices in Saas Fee versus the previous year. Over 5 years the increase was 2.3%, and over 10 years price growth in Saas Fee has occurred at a steady 3.4% rate.
In addition to the impact of promotions such as the WinterCARD Gold and ongoing investment into lift infrastructure (6.5m to 7m CHF will be spent on refurbishing gondolas this year alone, and 5m on artificial snow-making), the opening of numerous new and renovated bars and restaurants across the village are undoubtedly driving this growth.
The quality of properties available in Saas Fee is improving rapidly too, with a number of hotels currently being developed into high-end apartments.
Next up seems to be
Villars
, where vast investment has been made into the lift network, including a new 125-person cable car was recently installed up to the Diablerets Glacier and improvements to snow-making technology.
Add in the redevelopment to the centre of the village, new bars/restaurants and complete regeneration of landmark hotels (Hotel Palace, Hotel Bellevue, Hotel Marie Louise) and, like Saas Fee before it, Villars seems to bear all the hallmarks of a resort on the up.