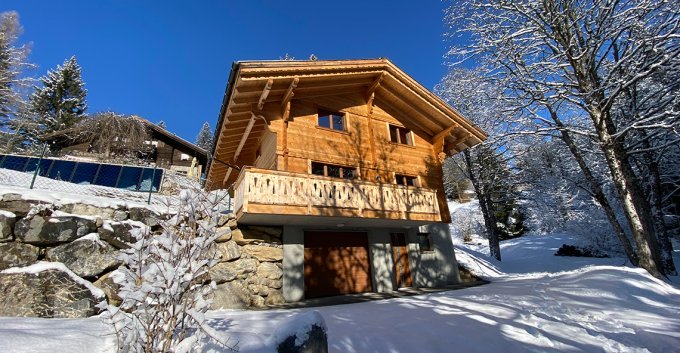 We have a lot of demand for chalets up to £1m / 1m euros so here is an update and some advice on where to concentrate your search from ski property expert Simon Malster.

You would think that France would offer the best value in this price band but in fact Switzerland probably offers the best value in terms of price per m2 per km of piste.
What I mean by that is that often chalets under one million are in remote hamlets and don't have access to much skiing. Better value are chalets in villages which link in to a big ski area. The best of these are the villages in the huge Verbier ski area and that makes them unbeatable value for the amount of skiing you get for your money. The Swiss really focused in on these properties throughout lockdown and many were sold as second homes (rather than holiday homes) and even as primary residences to Swiss buyers who decided to leave the city and head for the hills (well mountains!).
Of those resorts Nendaz is the largest but it is also the most expensive so chalets rarely come up there at that price but
Veysonnaz
and
Les Collons
also link in directly to the ski area and are better value. La Tzoumaz is on the backside of the mountain which separates it from Verbier so it is easy to ski over and in summer you can even drive over the col. Prices are still very reasonable in La Tzoumaz and we even have one now priced at just 650k sfrs – Chalet Petit Arvine
.
In some of the more expensive resorts you can still find a chalet under one million if you are prepared to get in your car to go to the ski lifts or the shops. Villars is a very upmarket resort where chalets can sell for several million but just outside the nearby village of Barboleuse we have one for 995,000 sfrs – Chalet Gawa
.
Sometimes we have a small chalet in the centre of well-known resort which makes the budget. One which I would recommend is Chalet Snowball in Saas Fee. We can't work out why it hasn't sold already as the location and views are good but we think it is because it is rather bland. It served as the old radio station for Saas Fee many years ago but when it was refurbished and sold as a chalet it lacked character. The next owner should spend a little money on it and then it could become a beauty.
In Austria we have chalets in Bad Kleinkirchheim, known affectionately as BBK by those who struggle to pronounce the full name of the resort. it is an attractive spa town less than two hours from Salzburg airport, making this one of the more accessible ski resorts in Austria. The Valentine Chalets are newly built and are ready to occupy. They are available to all foreigners (not just EU residents) so are quite a rare find.